Azerbaijan GP 2022
JUNE 12, 2022
Race Notes - Verstappen wins Red Bull one-two in Azerbaijan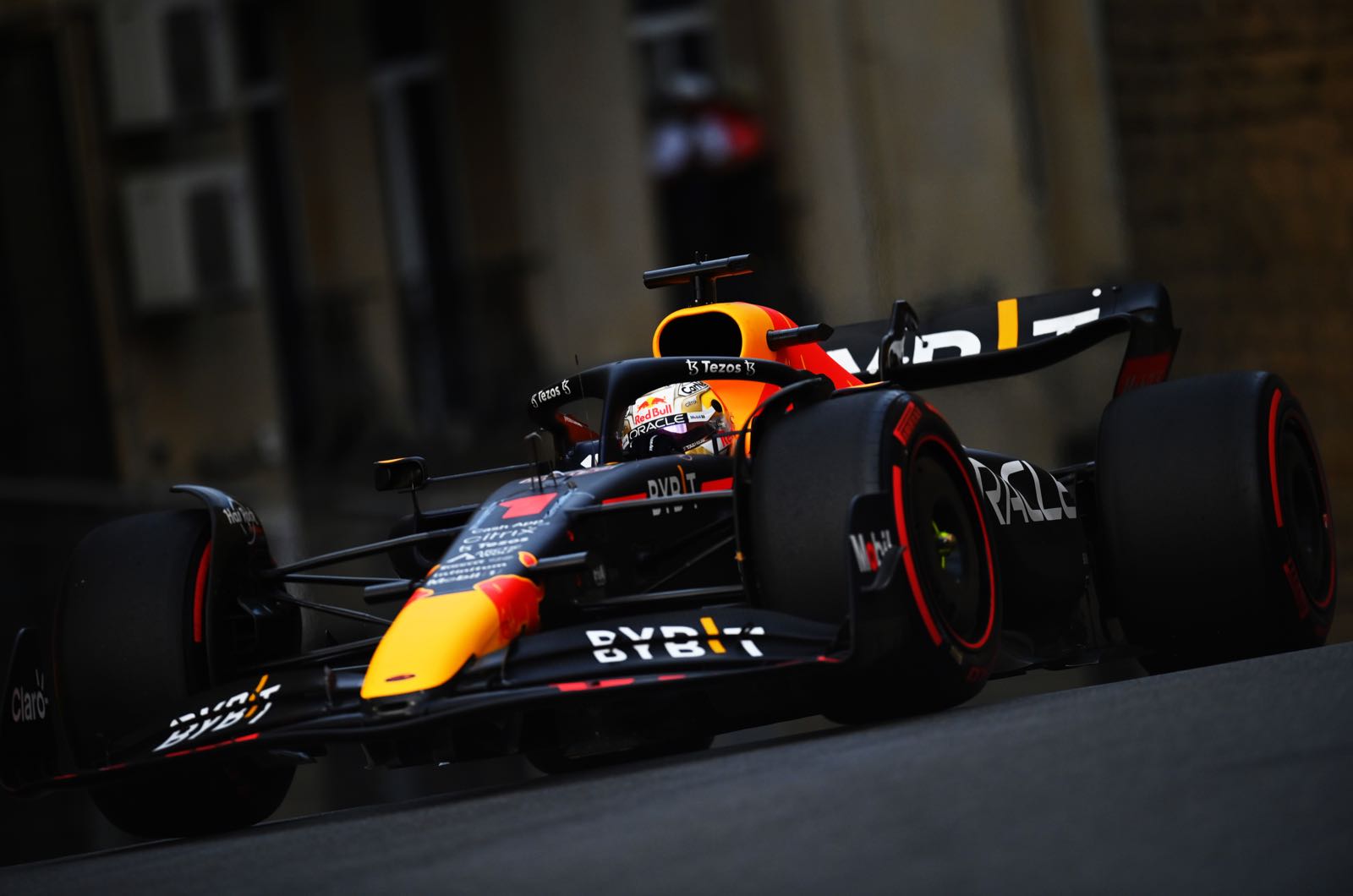 © Red Bull
By Mark Karp
Max Verstappen won the Azerbaijan Grand Prix in his Red Bull, 20.823 seconds ahead of his team mate Sergio Perez in second place. George Russell in the Mercedes GP finished third, 45.995s behind the winner.
The win is Verstappen's fifth victory of the season, and 25th of his career (tying Niki Lauda on the all-time wins list).
Verstappen now leads the Championship by 21 points over Perez, who moves up to second in the Championship, while non-finisher Leclerc drops to third.
Lewis Hamilton (1m11.679s) in the second Mercedes finished fourth, followed by Pierre Gasly (1m17.299s) in the AlphaTauri-Red Bull was fifth, Sebastian Vettel (1m24.099s) in the Aston Martin-Mercedes was sixth, Fernando Alonso (1m28.596s) in the Alpine-Renault was seventh, Daniel Ricciardo (1m32.207s) in the McLaren-Mercedes was eighth, his team mate Lando Norris (1m32.596s) was ninth, and Esteban Ocon (1m48.184s) in the second Alpine took the final point in tenth place.
Before the start on a hot day in Baku, Azerbaijan, Leclerc is on pole in the Ferrari with Perez in the Red Bull alongside on the front row, their team mates Verstappen and Sainz on row two, Russell and Gasly on row three, Hamilton and Tsunoda on row four, and Vettel and Alonso rounding out the top ten.
A one-stop or two-stop tyre strategy expected to be very close at the end. Safety cars quick often playing a role in this event.
The top 11 starting on medium tyres, Ricciardo, Ocon, Bottas, Stroll and Schumacher starting on hard tyres.
At the appointed time the grid cleared the cars made the formation lap to the grid, the lights went out and the race began with Leclerc gets a fast start but Perez comes on into the first corner and takes the lead over Leclerc Vertappen, Sainz, Russell, Gasly, Hamilton, Vettel, Tsunoda and Alonso in tenth.
At the end of the first lap Perez has a 1.8 second lead.
Latifi in 19th is given a 10-second penalty for a starting infringement.
On lap 3 Perez sets fast lap at 1m48.245s.
Sainz reports to the team, "Red Bull is quick".
On lap 6 Magnussen passes Albon for 15th.
On lap 9 Sainz pulls off from fourth place and he reports that he has had a failure. The Virtual safety car is out.
On lap 10 Leclerc, Russell, Gasly, Vettel, Hamilton, Tsunoda all pit.
On lap 11 the Virtual safety car is over. Red Bull did not pit during the period.
At lap 11 Perez leads Verstappen by 1.8 seconds, followed by Leclerc (14.8s), Russell (26.5s), Alonso (28.6s), Norris (30.0s), Ricciardo (32.7s), Gasly (35.1s), Ocon (38.2s) and Vettel (38.9s) in tenth.
On lap 13 Vettel tries to pass Ocon for ninth, but locks up into the corner and has to go down the escape road and drops down to 12th.
Leclerc sets fast lap at 1m47.531s.
On lap 15 Verstappen passes Perez for the lead under DRS.
Magnessen passes Stroll for 15th.
Hamilton is closing on Ocon in ninth.
On lap 17 Perez pits from second and switches to hard tyres and rejoins in third, ahead of Russell.
Magnussen passes Bottas for 14th.
A line of cars forming behind Alonso on his original medium tyres.
Hamilton passes Ocon for ninth place.
On lap 19. Verstappen pits from the lead for hard tyres and he rejoins in second ahead of Perez - Leclerc takes the lead.
Alonso pits hard tyres and rejoins in 16th.
On lap 20 Leclerc in the lead slows with smoke pouring out the back of the car, and stops with an engine failure.
Norris pits for hard tyres.
Gasly passes Ricciardo for fourth.
Tsunoda passes Ocon for seventh.
At lap 21 Verstappen leads Perez by 5.2 seconds, followed by Russell (14.2s), Gasly (33.6s), Ricciardo (34.9s), Hamilton (37.2s), Tsunoda (42.5s), Ocon (43.4s), Vettel (44.0s), and Zhou (45.2s) in tenth place.
Alfa Romeo reports to Zhou that there is a problem and he needs to pit to retire.
On lap 25 Vettel under DRS passes Ocon for eighth place.
On lap 26 Hamilton passes Ricciardo for fifth place.
Alonso passes Magnussen for tenth place.
On the next lap Alonso passes his team mate Ocon for ninth.
On lap 28 Norris passes Stroll for 13th.
Hamilton reports to his team that the car porpoising is hurting his back.
At lap 30 Verstappen leads Perez by 9.0 seconds as the Red Bull are cruising at the front, followed by Russell (26,2s), Gasly (47.2s), Hamilton (50.5s), Ricciardo (56.2s), Tsunoda (58.8s), Vettel (1m01.9s), Alonso (1m05.2s), and Ocon (1m12.3s) in tenth place.
Norris passes Bottass for 12th.
On lap 33 Magnussen pulls off the track with another Ferrari engine problem, the Virtual safety car is out.
Verstappen, Perez and Russell all pit for new hard tyres.
Hamilton pits for hard tyres as well. Ricciardo, Ocon and Bottas pit as well.
At lap 35 the Virtual safety car is over and the race resumes. Verstappen leads Perez, Russell, Gasly, Tsunoda, Hamilton, Vettel, Alonso, Ricciardo and Norris in tenth.
On lap 36 Hamilton passes Tsunoda into turn 1 for fifth.
Perez sets fast lap at 1m46.046s.
Tsunoda appears to have a malfunctioning rear wing DRS.
Tsunoda is shown a clack and orange flag and he pits, the team tapes the rear wing, and he rejoins in 13th.
At lap 40 Verstappen leads Perez by 15.7 seconds, followed by Russell (36.8s), Gasly (51.6s), Hamilton (55.9s), Vettel (1m03.6s), Alonso (1m09.9s), Ricciardo (1m12.9s), Norris (1m15.9s) and Ocon (1m26.7s) in tenth.
Red Bull tells Verstappen to slow his pace, Verstappen responses that he doesn't want to slow too much and cool his tyres too much. The team also tells Verstappen to not use his DRS for the rest of the race (perhaps due to the issue Tsunoda had).
Hamilton is close on the tail behind Gasly in fourth.
On lap 44 Hamilton passes Gasly under DRS for fourth place.
Latifi is handed a 5-second penalty for ignoring the blue flags
At lap 45 Verstappen leads Perez by 17.9 seconds, followed by Russell (40.3s), Hamilton (1m04.9s), Gasly (1m06.9s), Vettel (1m14.6s), Alonso (1m20.5s), Ricciardo (1m23.0s), Norris (1m25.6s) and Ocon (1m37.6s) in tenth place.
Hamilton reports that his seat has gone cold.
On lap 48 Stroll pits and retires.
Across the line Verstappen cruises to the win ahead of Perez and Russell.