Azerbaijan GP 2021
JUNE 7, 2021
Race Analysis - A Grand Prix of two races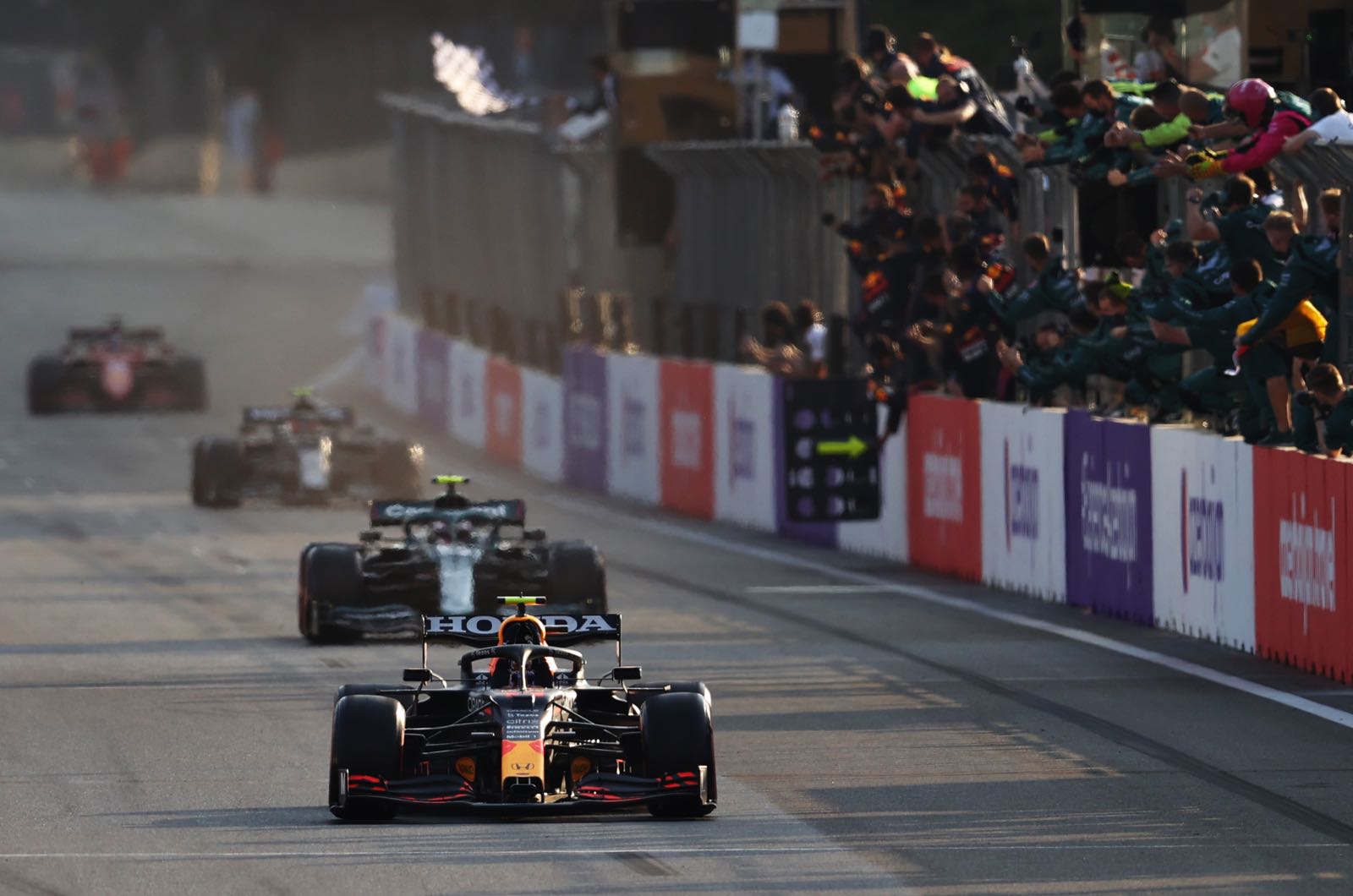 © Red Bull
By Dan Knutson
The Azerbaijan Grand Prix consisted of two races, and Sergio "Checo" Perez won the second and most important one. This is how he got to the top step of the podium.
AGAIN
Just as in Monaco, Charles Leclerc put his Ferrari on pole.
STRUGGLING
After struggling in practice, Lewis Hamilton and Mercedes got his car dialed in and he qualified second.
TEAMMATES
Red Bull teammates Max Verstappen and Perez qualified third and fourth ahead of Pierre Gasly (AlphaTauri), Carlos Sainz (Ferrari), Fernando Alonso (Alpine), Yuki Tsunoda (AlphaTauri), Sebastian Vettel (Aston Martin) and Valtteri Bottas (Mercedes).
STARTED
Unlike Monaco when he could not start the race because of accident damage, Leclerc started in Baku and took the lead ahead of Hamilton and Verstappen at the start of the 51-lap race.
LAST
Leclerc's lead did not last long as Hamilton swept by the Ferrari on the second lap. Verstappen passed Leclerc at the end of lap six.
PITS
Most of the drivers started on Pirelli's soft compound tires, with the plan to switch to the hard compound slicks.
FIRST
At the end of lap 10 Hamilton pitted and Verstappen led in Baku for the first time ever.
PEREZ
Verstappen stopped for tires at the end of lap 12, and that out Perez out front. But only for a lap before he pitted.
ASTON MARTIN
Aston Martin kept Sebastian Vettel out on track, and it was the first time an Aston Martin led a world championship grand prix for the first time.
LASTED
That lasted until the end of lap 18 when Vettel pitted.
ORDER
The order was now: Verstappen, Perez, Hamilton, Lance Stroll (Aston Martin), Gasly and Leclerc.
YET
Stroll, who had started on the hard compound tires, had yet to pit.
BLOWOUT I
Stroll's left-rear tire had a blowout as he was completing lap 30. The car was wrecked but he was okay.
"We were on course to score good points by running much longer before the pit stops and overcutting a lot of cars," he said. "I am not sure what happened to cause me to spin on the straight because there was no sign of any issues, so we need to investigate."
SC
That brought out the safety car until the end of lap 35.
FRESHER
With his fresher tires, Vettel was able to pass Gasly. On lap 40 the order was now: Verstappen, Perez, Hamilton, Vettel, Gasly and Leclerc.
BLOWOUT II
At the start of lap 46 a left-rear tire blowout sent Verstappen spinning into the wall on the pit straight.
"I didn't feel anything strange with the car and then suddenly the left rear went and I was in the wall quite hard," he said. "It's not a nice place to crash and we don't know the exact cause yet."
THE CAUSE
"We need to clearly establish the facts behind the incidents involving Lance Stroll and Max Verstappen to fully understand what happened," said Pirelli's Mario Isola. :What we can say for now is that there was also a cut found on Hamilton's tyre and that it's the rear-right tyre that actually works harder than the rear-left here.
"No warnings or vibrations were detected and none of the other tyres of a similar age or older showed any signs of excess wear. So we cannot exclude that the damage was caused by an external factor, although these things shouldn't happen and we can understand the need for answers."
RED
The safety car came out, but then officials red flagged Race 1 at the end of lap 48.
RACE 2
Race 2 began after a 34 minute delay. All the drivers had the soft compound tires fitted to their cars.
STANDING START
The pace car led leader Perez, Hamilton and the rest around for a lap and they formed on the grid for the restart.
CHARGED
Perez and Hamilton charged towards the first turn. But then Hamilton went straight on.
FLICKED
"When Checo came towards me after the restart, I turned and flicked a switch which shifts the brake balance and that caused me to lock up," said Hamilton who wound up 15th.
WENT ON
So Perez went on to win his second F1 race.
SECOND FIRST
Vettel finished second, giving Aston Martin its first F1 podium.
"The key was being able to start with a free choice of tyres in P11," he said. "It meant we could use a new set of softs to make up two places at the start and then run longer to overcut Yuki Tsunoda. It gave us a platform for the second half of the race and put us in a position to take advantage."
BADLY
"After the restart I thought that Charles (Leclerc) would pass me on the straight because we had lost performance," Gasly said after finishing third, "but I saw the podium ahead of me and I tried everything, I just wanted it so badly. It was hard but fair racing, just as we like it."
BOOST
"This definitely gives a big boost of confidence to myself and also to my team, to my side of the garage," winner Perez said. "We have such a rollercoaster through the seasons, it's important to enjoy these moments."