Azerbaijan GP 2021
JUNE 4, 2021
Friday Report - Teammates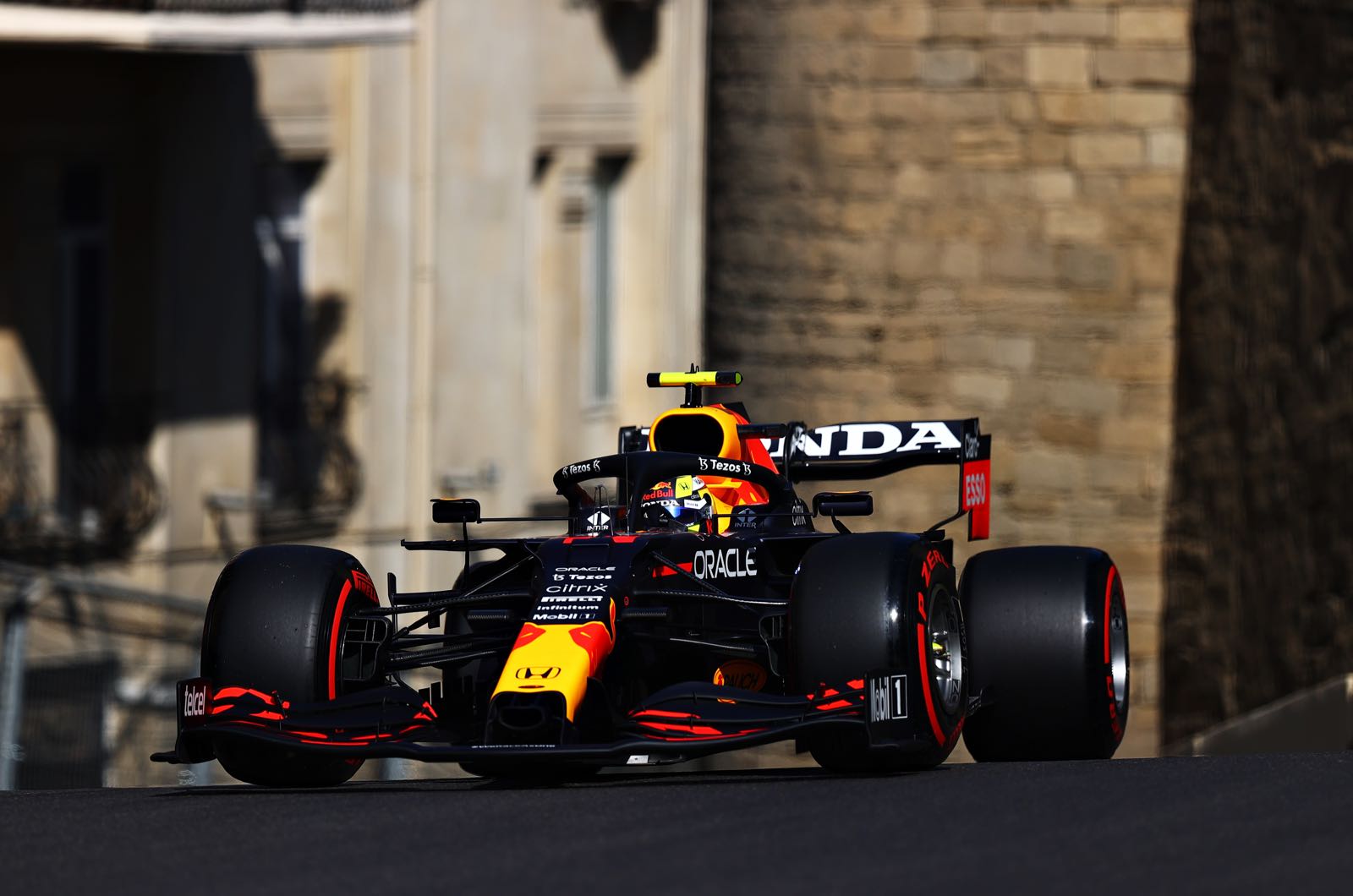 © Red Bull
By Dan Knutson
Red Bull teammates Max Verstappen and Sergio Perez were quickest in Friday's practice for the Azerbaijan Grand Prix, with Verstappen topping FP1 and Perez taking FP2.
The line-up for the weekend was: Mercedes – Lewis Hamilton and Valtteri Bottas; Red Bull Honda – Max Verstappen and Sergio Perez; McLaren Mercedes – Lando Norris and Daniel Ricciardo; Aston Martin Mercedes – Lance Stroll and Sebastian Vettel; Alpine Renault – Fernando Alonso and Esteban Ocon; Ferrari – Charles Leclerc and Carlos Sainz; AlphaTauri Honda – Yuki Tsunoda and Pierre Gasly; Alfa Romeo Ferrari – Kimi Raikkonen and Antonio Giovinazzi; Haas Ferrari – Nakita Mazepin and Mick Schumacher; Williams Mercedes – George Russell and Nicolas Latifi.
"It's a complex circuit as it combines flat-out sections with tight corners in the middle sector, making the margin for error minuscule," Stroll said of the Baku street track. "Baku is a place of special memories for me, it's here that I scored my maiden podium in F1."
First out in FP2 was Ocon. After doing their install laps and pitting, all the drivers were soon back out on track.
The ambient temperature at the start of the second 60-minute session was 82 degrees Fahrenheit (28 degrees Centigrade) and the track temperature was 120 degrees Fahrenheit (49 degrees Centigrade).
As in FP1, drivers were soon taking to the escape roads, especially at Turns 15/16. Sainz set the early pace with a 1:44.072, but Alonso beat that at 1:43.657.
Now the track was ramping up and the times were coming down, and Leclerc took the lead with a 1:43.210, and Sainz edged ahead at 1:43.162.
Latifi had some sort of problem on the Williams – the engine was overheating – went down the escape road at Turn 15, backed out, but then the car stalled. So the session was red flagged for a few minutes. And the track soon had all 20 cars on it.
And Sainz was on it too, clocking a 1:42.243 on the soft compound Pirellis. Leclerc was 0.159 of a second slower. More drivers were now doing qualifying simulations on the softs. Schumacher, however, was in the pits because of an oil pressure problem.
Perez, on the softs, went from 12th to third behind the Ferraris. But then Leclerc nosed into the barriers at Turn 15. He managed to back out and return to the pits minus his front wing. That brought out the VSC halfway through the session.
This time Perez took the lead by turning a 1:42.115 as drivers again tried to do a qualifying sim. Verstappen was second ahead of Sainz, Leclerc, Gasly and Alonso.
Hamilton, who had problems heating his tires up, was down in 11th place. Bottas was even further down in 16th .
During the final 20 minutes most drivers switched to doing race runs, and the Red Bulls had the fastest race pace. The top 10 at the end of FP2 were: Perez, Verstappen, Sainz, Leclerc, Gasly, Alonso, Giovinazzi, Norris, Ocon and Tsunoda.