Azerbaijan GP 2019
APRIL 28, 2019
Race Analysis - No blowout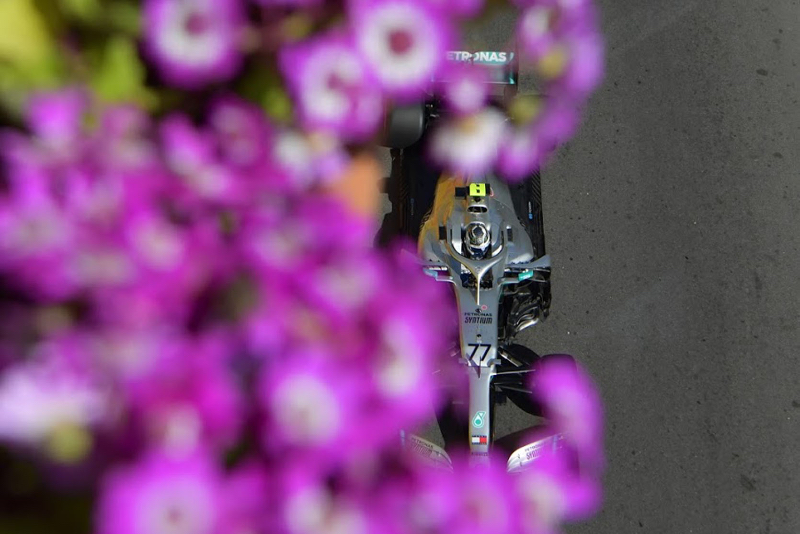 © RV Press
By Dan Knutson
Last year, Valtteri Bottas was leading the Azerbaijan Grand Prix only to have a left rear tire blowout, and that gave his Mercedes teammate Lewis Hamilton the lead on the final lap. Bottas didn't have a blowout or the crushing disappointment in this year's race as he finished first ahead of Hamilton. Here is how his victory unfolded.
I AM STUPID
Ferrari driver Charles Leclerc was fastest in all three practice sessions and the first round of qualifying. Then he made a mistake and crashed in Qualifying 2. That ruined what had been a very good chance of getting the pole.
"I am stupid," he said.
FALL BACK
Sebastian Vettel had also been quick in the other Ferrari. But he fell back to third place on the grid in qualifying.
"My first Q3 run was ok," he said, "but on the second run I didn't have anybody to tow me along, so I dealt with it just focusing on my lap and obviously I lost quite a lot, about four tenths, compared to the previous lap. But that's what happens at this track."
LOCKOUT
Bottas, won the pole by a mere 0.059 of second ahead of Hamilton.
"We didn't think we'd be quick enough to lock out the front row here," Hamilton said. "Charles in particular had been very strong all weekend. We've made improvements and we thought we'd get within one or two tenths, but not quite make it."
TOP EIGHT
Max Verstappen put his Red Bull fourth in the starting lineup. Sergio Perez (Racing Point), Daniil Kvyat (Toro Rosso), Lando Norris (McLaren) and Leclerc rounded out the top eight on the grid.
SIDE BY SIDE
When the red lights went to start the 51-lap race the Mercedes drivers took off, racing side by side.
"I could have done a better job at the start today," said Bottas. "I think I was a little bit on the cautious side. I didn't want to get the wheel spin started, so I was rather smooth on getting on power, not to kind of mess it up. But Lewis had a good start, so that's why he was on the inside and we were pretty much side by side actually through Turn 1, so I was just carrying the speed on the outside, and same thing in Turn 2, leaving enough space. It was nice and fair and I was obviously pleased to keep the first place."
A GAP
By lap 10 Bottas had pulled out a three second gap over Hamilton.
EARLY STOPS
Having started the race on Pirelli's soft compound slicks, the front runners needed to pit fairly early to switch to the medium compound tires. Vettel pitted after 11 laps, Bottas after 12 and Hamilton after 13.
ON THE MOVE
Leclerc, who started on the medium compound tires, had been working his way towards the front. He took the lead on lap 13.
AT THIS POINT
At this point, Ferrari decided lengthen Leclerc's stint as much as possible. If there was to be a safety car period, he could pit losing less time and could thus set off in attacking mode for the final stint. The opportunity never arose and Charles came in on lap 34.
DETERIORATED
As his tires deteriorated, Leclerc had been falling back into the clutches of his pursuers. Bottas took the lead on lap 31. Hamilton passed Leclerc on lap 32. And on the following lap Leclerc let Vettel go by.
TRICKY
"It was a bit tricky in the beginning of the race," Leclerc said, "because everyone around me was starting on the soft compound while I struggled a little bit to get up to speed. Once I got the tires up to temperature, I had good grip and the situation improved. We had a strong first stint and were able to gain some positions there."
ALL THE WAY
Bottas led all the way from lap 31 to the checkered flag. Hamilton closed in but never got near enough to make a passing attempt.
"At times I could really notice Lewis trying really hard to catch me and he was really close at times like in the end," Bottas said. "So I had to really respond and push as well. The main thing for I was focusing on was just purely my own driving, not falling for the silly mistakes. I managed to keep it together, so for this I'm really happy."
REALLY COOL
"Valtteri did an exceptional job all weekend," said Hamilton after finishing second. "Today he was very fair in giving space and after that he was faultless. So today he truly deserved the win. It was a great race. It was really cool that we could push as hard as we could all the way to the end. It was great that the team allowed us to do that."
UNEVEN PERFORMANCE
Vettel struggled in his first stint on the soft tires.
"That was fun driving today," he said, "although not so much in the first stint when I couldn't get the tires to work, and I didn't have as much grip as I'd expected. We were not quick and the performance was uneven because I damaged the tires trying to get them up to temperature and then, once they were there, they didn't give the performance I'd expected because, they were damaged."
IMPROVED
The situation improved after Vettel switched to the medium compound.
"After the pit stop, I really got a good pace," said Vettel who finished third, "and I had fun because I felt the car was fully under control and I felt free to push, even if it wasn't enough to put our rivals under pressure."
IN SIGHT
Verstappen wound up fourth.
"In general we had a good race," he said. "I always had the Mercedes and Ferrari in sight and I was just trying to close the gap."
CONSOLATION POINT
Shortly before the end of the race Leclerc pitted for a new set of soft compound Pirellis. That gave him the grip to set the fastest lap of the race and earn the extra championship point.
"Overall, it hasn't been the best weekend but our potential was clearly there and I hope that we will have a much better performance at the next GP in Spain again," he said.
FOUR ONE TWO
Mercedes scored its fourth one/two finish of the season. Bottas and Hamilton each have two wins.
AN IMPORTANT POINT
Thanks to the point he earned by clocking the fastest lap during the Australian Grand Prix, Bottas now leads the championship by a single point over Hamilton.