Azerbaijan GP 2018
APRIL 30, 2018
Race Analysis - Blown Victory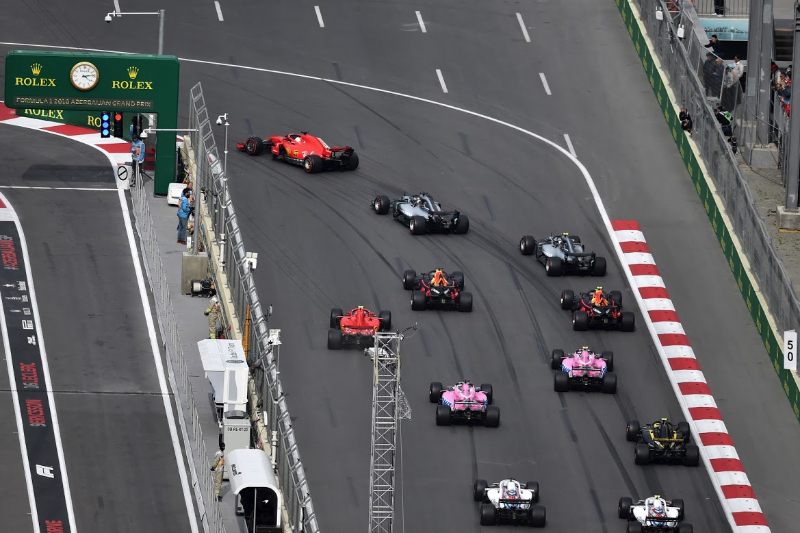 © RV Press
How Lewis Hamilton won the Azerbaijan Grand Prix
By Dan Knutson
Sebastian Vettel and Valtteri Bottas both had a good chance to win the Azerbaijan Grand Prix in the streets of Baku until, for very different reasons, those chances got blown away. And that left Lewis Hamilton perfectly placed to go from third to first and take the victory. Here is how this frenzied race unfolded to give Hamilton his first win in seven starts.
HAT TRICK
Vettel started on the right foot by earning the pole. It was the first time since 2013 he's had three poles in a row, and Ferrari's first hat trick of poles since 2007.
SMOOTH OPERATOR
At the start of the 51-lap race Vettel shot smoothly into the lead ahead of Mercedes teammates Hamilton and Bottas who had qualified second and third.
TO FINISH FIRST
To finish first you first must finish. To finish the race at all, you first must finish. A number of drivers ignored that and there were a number of collisions on the opening lap.
"The midfield pack is quite the same every race," said McLaren's Fernando Alonso who was involved. "There are always one or two cars out of the race. For whatever reason the drivers prefer to crash into another car than lift off. It is like a one lap race."
WELL CLEAR
But the front runners were well clear of all that. Vettel pulled away from Hamilton after the Safety Car went back into the pits.
NEED MORE GRIP
"Need more grip," was a terse radio message from Hamilton in the early laps. He would struggle with tire grip woes throughout the race.
FLAT SPOTS
Hamilton locked up and flat spotted his tires going into Turn 1 on lap 21, which allowed Vettel to get even further ahead. Hamilton pitted, switching from Pirelli's super soft to the soft compound slicks.
NEW ORDER
Now Vettel led over Bottas and Hamilton.
NEW ORDER II
Vettel made his stop at the end of lap 30, like Hamilton going from the super softs to the softs. So now Bottas, who had yet to stop, led over Vettel and Hamilton.
BATTLE ROYALE
Meanwhile Red Bull teammates Max Verstappen and Daniel Ricciardo had been having a battle royale for fourth and fifth. It should have had no effect on the top three, but then they collided as Ricciardo ran into the rear of Verstappen on lap 40. The team and the race officials said both drivers were equally to blame.
SAFETY CAR II
Out came the Safety Car for the second time.
PERFECT TIMING
That was perfect timing for Bottas who could dive into the pits - he took on the ultra soft Pirelli slicks - and kept the lead.
ULTRA MOVES
Vettel and Hamilton, second and third, also stopped for the ultras for the fight to the finish.
DELAYED
That fight was delayed when Romain Grosjean slid his Haas into the wall, so the Safety Car had to stay out.
GO, GO, GO!
The Safety Car finally came in at the end of 47. It was time the surviving drivers to go for it.
BLEW IT
Vettel lunged past Bottas, he but blew it when he locked up his tires.
"It didn't work but I have to fight," Vettel said. "I don't think it was overly optimistic to try the jump on the inside. Once I jumped on the inside, we were there, I locked up. I wasn't overly late, otherwise I wouldn't have made the corner at all, but I did make it, just."
Just, yes, but Vettel was now fourth behind Bottas, Hamilton and Kimi Raikkonen.
BLOWN IT
As they came around to complete the lap Bottas ran over some debris. His right rear tire blew.
"I'm absolutely heartbroken," he said. "It hurts a lot. But this is racing; some days are good; some days are bad - and some days are very bad. A small piece of debris destroyed my entire weekend. We had a good race until the puncture. The car felt really good and we were fast. I thought I had everything under control on the Safety Car restart, but then suddenly my tire exploded. I didn't see the debris and I couldn't feel it until the tire blew."
INTO THE LEAD
And thus Hamiton went on to lead the final laps.
"I have very mixed emotions today," he said after his 63rd career victory. "Valtteri deserved to win, he did an exceptional job and had a faultless drive. This is such a crazy and exciting race and I never gave up. I was constantly pushing but it was a real struggle. I feel incredibly grateful to come out with the win. You have to take the ups with the downs and I can't complain that I won."
REWARD
Second place was a good reward for Ferrari's Raikkonen who had been in a first lap crunch.
"I was expecting something to happen sooner or later," he said. "It's never too late; you need to be ready, because you never know what can happen until the race is finished."
THE TWO BEST
Sergio Perez brought his Force India home third.
"I think today I did the best two laps of my whole career," he said. "The last two laps with Sebastian (Vettel) behind, with cold tires, it was so difficult. I was on the super soft tire. I had to keep a very strong rhythm, trying to keep close to (Kimi) Raikkonen, to make sure that Sebastian didn't get close enough."
POINTS AHEAD
Hamilton moves ahead of Vettel who has led the driver's points so far this season. But Ferrari took the lead from Mercedes in the constructors' championship.