Azerbaijan GP 2018
APRIL 28, 2018
Qualifying Report - The streets of red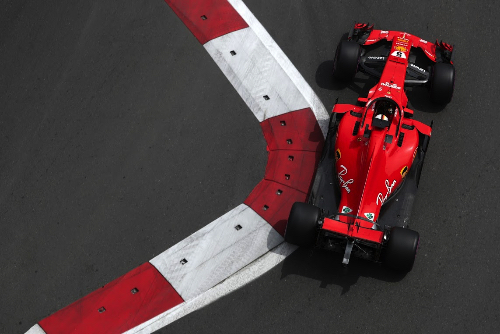 By Dan Knutson
Sebastian Vettel turned the quickest lap time through the streets of Baku to earn the pole in his red Ferrari. It is his third consecutive pole this year, and it for the first time since he did the triple back in 2013.
"It will be an intense race," he said. "Here anything can happen."
The line-up for the weekend was: Mercedes - Lewis Hamilton and Valtteri Bottas; Ferrari - Vettel and Kimi Raikkonen; Red Bull TAG Heuer - Daniel Ricciardo and Max Verstappen; Force India Mercedes - Sergio Perez and Esteban Ocon; Williams Mercedes -Lance Stroll and Sergey Sirotkin; Renault - Nico Hulkenberg and Carlos Sainz; Toro Rosso Honda - Brendon Hartley and Pierre Gasly; Haas Ferrari - Romain Grosjean and Kevin Magnussen; McLaren Renault - Fernando Alonso and Stoffel Vandoorne; Sauber Ferrari - Marcus Ericsson and Charles Leclerc.
QUALIFYING 1
The ambient temperature at the start of qualifying was 72 degrees Fahrenheit (22 degrees Centigrade) and the track temperature was 79 degrees Fahrenheit (26 degrees Centigrade).
But it was the gusty winds rather than the temperatures that were the story of qualifying.
Tire choices were Pirelli's soft, super soft and ultra soft.
Just about all the driver, including Sirotkin whose Williams had been repaired after his crash late in FP3, headed out at the start of the 18-minute session.
Bad news four minutes in as Grosjean went straight on at Turn 3 and could not get the Haas going again because the gearbox had locked.
Things went better for the Red Bulls as Ricciardo and Verstappen when first and second, but then were pushed back by Raikkonen and Vettel.
Just past the midpoint Sirotkin was 15th and on the bubble with Perez 14th and Ericsson 16th.
But the order kept changing as the drivers kept lapping. Ocon jumped all the way up to second behind Raikkonen's time of 1:42.538.
The key for the drivers was to keep going because the tires kept getting better as they got hotter and the lap times got faster.
The five drivers who were eliminated at the end of Q1 were: Vandoorne, Gasly, Ericsson, Hartley and Grosjean.
The fastest 15 drivers who moved on to Q2 were: Raikkonen, Verstappen, Hamilton, Vettel, Ricciardo, Ocon, Bottas, Sainz, Magnussen, Hulkenberg, Leclerc, Perez, Alonso, Sirotkin and Stroll.
QUALIFYING 2
Catching the slipstream and using the tow from a car in front proved to be worth as much as 0.3 of a second in Q1, so it could play a role in Q2 and Q3.
Red Bull, Mercedes and Ferrari used the super soft in Q2. That way they would be able to start the race on the harder compound and have more range than the ultra soft.
Bottas turned a 1:42.679 while Raikkonen went off on the escape road. And then he did it again!
Hamilton moved into first with a 1:42.676. Bottas was second ahead of Verstappen, Vettel, Ocon and Ricciardo.
With seven minutes remaining, Perez was tenth and on the cut line with Sainz 11th and Alonso ninth.
Vettel and Raikkonen, who was 15th, headed out on the ultra softs as did the Red Bull and Mercedes drivers just in case they needed to improve their times. Raikkonen certainly did, and he moved up to first at 1:42.150. The other five drivers managed to hold on to their super soft tire times.
The five drivers who were eliminated at the end of Q2 were: Stroll, Sirotkin, Alonso, Leclerc and Magnussen.
The fastest 10 drivers who moved on to Q3 were: Raikkonen, Hamilton, Bottas, Verstappen, Ocon, Vettel, Hulkenberg, Perez, Sainz and Ricciardo.
QUALIFYING 3
Q3 lasted 12 minutes.
For the first time this season both Force Indias were in Q3.
First out was Verstappen who did a 1:42.017.
But Vettel was much quicker with his 1:41.498. Hamilton was second after setting a 1:41.840.
Bottas, Verstappen, Ricciardo, who brushed the wall, Raikkonen, Perez, Hulkenberg and Sainz rounded out the top 10 with five minutes to go.
The dash for pole happened with less than three minutes remaining, so there would be no second chances.
Hamilton could not improve. Vettel had a lock up. Raikkonen was going fast enough for pole but then nearly lost control of the car.
So Vettel kept the pole ahead of Hamilton, Bottas, Ricciardo, Verstappen, Raikkonen, Ocon, Perez, Hulkenberg and Sainz.