Azerbaijan GP 2018
APRIL 27, 2018
Practice 2 Report - The Flying Aussie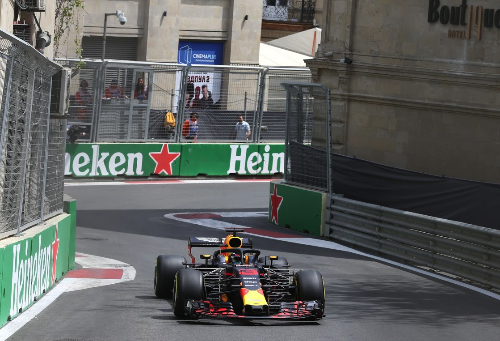 By Dan Knutson
Australian Daniel Ricciardo is flying. After winning in China, he came to Azerbaijan where he was fastest in Free Practice 1 and then did the same thing again in Free Practice 2. Despite crashing the other Red Bull in FP1, Max Verstappen was back up to speed in FP2 where he ended up third behind Ferrari driver Kimi Raikkonen.
The ambient temperature at the start of the 90-minute session was 66 degrees Fahrenheit (19 degrees Centigrade) and the track temperature was 88 degrees Fahrenheit (31 degrees Centigrade).
The line-up for the weekend was: Mercedes - Lewis Hamilton and Valtteri Bottas; Ferrari - Sebastian Vettel and Raikkonen; Red Bull TAG Heuer - Ricciardo and Verstappen; Force India Mercedes - Sergio Perez and Esteban Ocon; Williams Mercedes -Lance Stroll and Sergey Sirotkin; Renault - Nico Hulkenberg and Carlos Sainz; Toro Rosso Honda - Brendon Hartley and Pierre Gasly; Haas Ferrari - Romain Grosjean and Kevin Magnussen; McLaren Renault - Fernando Alonso and Stoffel Vandoorne; Sauber Ferrari - Marcus Ericsson and Charles Leclerc.
Bottas used the ultra soft Pirelli compound tires to go fastest in FP1 with a time of 1:44.242. Ricciardo was 0.035 of second slower on the super softs.
The 3.731-mile (6.003 km) 20-turn track is the second longest on the schedule after Spa.
"Baku is different to other street circuits - because there are places where you can pass," last year's winner Ricciardo said. "Actually, lots of places where you can pass. As opposed to Monaco and Singapore where there's not many places to overtake really.
"The trickiest thing in Baku is braking. There are so many braking points where you have to commit and you have to brake as late as you can - but there's no room for error. Once you've committed to that braking point, if you've locked a wheel, you're in the wall. I'd say the hardest part about Baku is finding the limit with braking, and just having that confidence.
"You have Turn 1, Turn 2 and then the DRS straight. We're honking down there, and then you see the wall coming, coming, coming and your instinct is to brake, brake, brake, brake. You need a lot of confidence to leave it late. That's the biggest challenge with Baku, being able to really attack the braking, it's such a high-speed circuit. Monaco is not that high-speed, it's more about cornering, and Baku is more braking.
"With a street circuit you have to love it - but you also have to respect it and understand it. I understand that, to be fast, you have to be on the limit - but put yourself there and it can bite you."
Ricciardo's teammate Verstappen hit the barriers in FP1, and the mechanics were still repairing his car as FP2 began.
"It's difficult to know what caused it to swap ends under braking," Red Bull's Paul Monaghan said of Verstappen's spin. "Nothing's broken, nothing's gone wrong. I think he's braked pretty much in the same point so we're having a hunt through to see what may lie underneath that but I don't think there's anything sinister in it and he'll be out in P2 - and he'll be quick, don't worry."
Raikkonen sat out much of FP1 as his car needed some work, but he was ready to go for FP2.
Other drivers took their time heading out. When they did, they found the track was still slippery, and they were locking up their brakes, taking the escape roads, and doing donuts to get back on to the circuit.
Ricciardo got down to business in FP2 by clocking a 1:43.947 on the super soft tires.
Verstappen got out 20 minutes into the session. He had missed an hour in FP1 as well. On his first fast lap he had to take the escape road at Turn 3 but got going again.
Hamilton, on the softs, did a 1:44.196. That put him second and ahead of Ocon and Raikkonen as the half-hour mark approached. But not for long as Bottas, also using the softs, moved into second with a 1:44.086.
Next, Ricciardo speeded up to a 1:43.512. Verstappen was getting up to speed now as he turned a 1:43.992. Not to be outdone, Bottas clocked a 1:43.570 on the ultra softs.
Now, with the midpoint of FP2 approaching, some of the drivers began their qualifying simulations. Ricciardo did a 1:43.012 and then a 1:42.816 and a 1:42.795 on the same set of ultras.
Vettel had a spin on his qualifying sim. His teammate Raikkonen did a better job, caught a fortuitous tow off of Hamilton, and jumped to second with a 1:42.818.
Verstappen's sim netted him a 1:43.018 and then a 1:42.911, which put him third.
With some 40 minutes remaining, the top 10 were: Ricciardo, Raikkonen, Verstappen, Bottas, Hamilton, Alonso, Ocon, Sainz, Magnussen and Hulkenberg. Vettel was 11th.
Without the Hamilton slipstream Raikkonen would have been a couple of tenths slower, so the Red Bulls would have been one/two.
Most of the drivers were now in the garages as the teams prepared the cars for long run simulations. And soon every car was on track.
"The main thing to look at during the long runs is car balance: getting the front axle to work perfectly with the rear axle, on all the different tire compounds," Pirelli tweeted.
Various drivers went off the escape roads at various turns but avoided the walls.
The Flying Aussie remained on top of the times in FP2, and the top 11 remained unchanged.