Azerbaijan GP 2017
JUNE 25, 2017
Race Notes - Ricciardo wins in Baku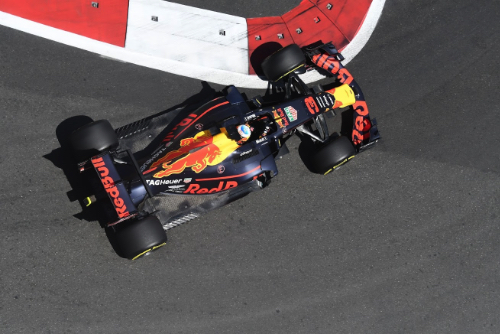 © RV Press
By Mark Karp
Daniel Ricciardo in his Red Bull won the Azerbaijan Grand Prix in Baku after Hamilton - who lead early on - had to pit to replace his headrest that was coming loose.
Ricciardo finished 3.9 seconds ahead of the Valtteri Bottas in his Mercedes who drove from the back of the field after having to stop on lap 2 after coming together with Kimi Raikkonen.
Just losing out at the finish line and finishing third was yound Canadian Lance Stroll in his Williams-Meredes, 4.0 seconds behind the winner.
The win is the first for Red Bull this season, and the fifth of Ricciardo™s career. Vettel extends his championship lead over Hamilton to 14 points.
Sebastian Vettel (5.9s) in his Ferrari finished in fourth, followed by Lewis Hamilton (6.1s) in his Mercedes in fifth, Esteban Ocon (30.2s) in his Force India-Mercedes was sixth, Kevin Magnussen (41.7s) in the Haas-Ferrari was seventh, Carlos Sainz (49.4s) in the Toro Rosso-Renault in eighth, Fernando Alonso (59.5s) in the McLaren-Honda in ninth and Pascal Wehrlein (89.0s) in the Sauber-Ferrari in tenth.
Before the start, the sun was shining and it was very warm on the grid, the drviers preparing for a physical challenge.
The two Mercedes GP cars on the front row, Hamilton taking pole with Bottas alongside. The two Ferrari™s next up on row two with Raikkonen and Vettel. Verstappen and Perez on row three and Ocon and Stroll on row four. Massa and Ricciardo rounding out the top ten.
All drivers starting on super soft tyres, except Grosjean, Ericsson and Vandoorne of soft tyres near the back.
At the appointed time the cars made the formation lap, the lights went out and the race began with Hamilton taking the lead over Bottas, Raikkonen and Vettel.
Sainz spins. Out of the second corner Bottas touches Raikkonen and both cars have damage.
Hamilton leads Vettel, Perez, Verstappen, Raikkonen, Massa, Ocon, Stroll, Ricciardo and Hulkenberg in tenth.
Bottas pits on lap two and takes on a new front wing and rejoins last. Verstappen complains to the team that he has some damage.
On lap 4 Hamilton sets fast lap at 1m46.942s. Vandoorne passes Wehrlein for 14th. then later in the lap Alonso passes Wehrlein as well.
On lap 6 Ricciardo pits from ninth for soft tyres.
On lap 8 Palmer pulls into the pits and retires with the car smoking. Hamilton sets fast lap at 1m46.294s.
On lap 9 Hamilton sets fast lap at 1m46.224s.
At lap 10 Hamilton leads Vettel by 3.5 seconds, followed by Perez (8.8s), Verstappen (9.9s), Raikkonen (12.4s), Massa (15.7s), Ocon (17.8s), Stroll (19.5s), Hulkenberg (31.2s) and Magnussen (34.9s) in tenth place.
On lap 11 Kvyat pulls off the track and retires.
On lap 12 Verstappen™s Red Bull is smoking and he is dropping down the order with an engine problem.
The safety car is out and many of the leading drivers pit.
Under the safety car Hamilton leads Vettel, Perez, Raikkonen, Massa, Ocon, Stroll, Hulkenberg, Magnussen and Ricciardo in tenth place.
The field drives around slowly as we wait for Kvyat™s car to be removed.
Hamilton complains that the safety car is, œdriving so slow. It™s dangerous for us. We can™t get the temperature in the tyres as it is¦
On lap 17 the safety car came in and the race resumed Ocon passing Raikkonen for fifth. Raikkonen came back and retook the position. The safety car is back out due to debris on the front staight.
Mercedes tells Hamilton to watch out not to overtake the safety car on the restart.
Bottas has now make up his lap and is on the tail end of the lead lap in 16th.
Hamilton slows up the field, and Vettel tags the back of Hamilton - does Vettel have front wing damage? Vettel exclaims, œHe brake tested me! What the hell is going on?
Vettel then drives up the inside of Hamilton and touches him wheel-to-wheel.
At the end of lap 19 the safety car is in and the race resumes. Ocon and Perez touch. Raikkonen slows with a right rear puncture. Raikkonen and Perez pits.
Raikkonen retires.
On lap 22 the stewards call for a red flag in order to clean the track of debris - the cars pit and come to a stop.
The order is Hamilton, Vettel, Massa, Stroll, Ricciardo, Hulkenberg, Magnussen, Alonso, Sainz and Grosjean in tenth - then Ericsson, Vandoorne, Bottas, Ocon and Wehrlein in 15th.
Hamilton gets out of his Mercedes and looks at the rear of his car.
The Hamilton-Vettel incident is under investigation.
During the red flag Force India repairs Perez™s car and he will rejoin two laps down.
Ferrari also repairs Raikkonen for him to rejoin as well.
At 18:15 local time the drivers climbed back in their cars and started back out on the track behind the safety car on lap 23.
At the start of lap 24 the race resumes and Hamilton takes the over Vettel. Ricciardo passes Stroll and Massa for third into the first corner. Stoll passes Massa for fourth.
Magnussen passes Hulkenberg and Massa for fifth.
Massa continues to drop with a right front damper failure.
On lap 25 Hulkenberg drives down the escape road with a broken suspension, after tagging the wall.
Bottas is now up to ninth.
Massa pits and retires his Williams.
On lap 26 Hamilton sets fast lap at 1m45.577s, and leads Vettel by 1.9 seconds then again on lap 28 at 1m44.942s.
On lap 29 Mercedes informs Hamilton that his headrest is coming loose.
Ocon passes Sainz for seventh place.
At lap 30 Hamilton leads Vettel by 1.6 seconds, followed by Ricciardo (5.8s), Stroll (7.7s), Magnussen (18.8s), Alonso (19.9s), Ocon (21.6s), Bottas (23.4s), Sainz (24.0s) and Grosjean (31.0s).
Mercedes tells Hamilton to pit - he pits and has his headrest repaired - he rejoins ninth.
At the same time Vettel is handed a five-second stop-go penalty for dangerous driving.
Vettel says, œwhen did I do dangerous driving?
On lap 33 Vettel pits to serve his penalty and rejoins in seventh ahead of Hamilton.
Hamilton tells Charlie Whiting, œA 10-second penalty is not enough for driving behavouir like that.
Vettel and Hamilton pass Alonso for sixth.
At lap 35 Ricciardo leads Stroll by 4.5 seconds, followed by Magnussen (17.9s), Ocon (18.9s), Bottas (19.2s), Vettel (22.4), Hamilton (22.6s), Alonso (25.9s), Sainz (29.1s) and Ericsson (50.0s).
Hamilton battles with Vettel. Grosjean complains of brake problems.
On lap 38 Ocon and Bottas pass Magnussen for third and fourth place.
Ericsson and Wehrlein touch,
On lap 39 Bottas sets fast lap at 1m44.933s as he passes Ocon for third place. Bottas goes faster the next lap at 1m44.398s.
At lap 40 Ricciardo leads Stoll by 4.9 seconds, followed by Bottas (16.3s), Vettel (20.0s), Ocon (20.4s), Hamilton (21.4s), Magnussen (27.0s), Alonso (31.1.s), Sainz (33.5s) and Wehrlein (68.6s) in tenth place.
Perez retires wirh a broken seat. Hamilton passes Ocon for fifth.
On lap 42 Bottas resets fast lap at 1m44.315s, then again at 1m44.036s.
On lap 44 Hamilton goes faster at 1m43.840s.
On lap 45 Vettel sets fast lap at 1m43.630s, then Hamilton the next lap at 1m43.469s.
On lap 47 Vettel sets fast lap at 1m43.441s.
Ricciardo leads Stroll by 6.1s folllowed by Bottas in third 8.9s behind.
Raikkonen retires his Ferrari in the pits.
At lap 50 Bottas follows Stroll by 1.8s.
On the final lap Bittas passes Stroll for second place at the finish line.
Ricciardo wins over Bottas and Stroll.