Azerbaijan GP 2017
JUNE 23, 2017
Practice 2 Report - Disjointed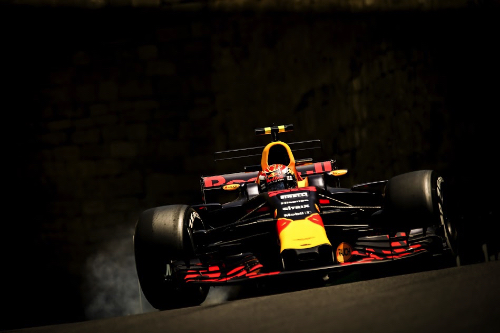 © RV Press
By Dan Knutson
Free Practice 2 for the Azerbaijan Grand Prix turned into a disjointed affair with plenty of incidents with drivers sliding off the track, a red flag when Jolyon Palmer hit the wall, and interrupted fast laps. That didnt stop Max Verstappen posting the fastest time, as he did in FP1, but Lewis Hamilton was way back in tenth in what was an eclectic top 10 by the end of the session.
The lineup for the weekend was: Mercedes Lewis Hamilton and Valtteri Bottas; Red Bull TAG Heuer Daniel Ricciardo and Max Verstappen; Ferrari Sebastian Vettel and Kimi Raikkonen; Force India Mercedes Sergio Perez and Esteban Ocon; Williams Mercedes Felipe Massa and Lance Stroll; McLaren Honda Fernando Alonso and Stoffel Vandoorne; Renault Nico Hulkenberg and Jolyon Palmer; Toro Rosso Renault Daniil Kvyat and Carlos Sainz; Haas Ferrari Romain Grosjean and Kevin Magnussen; Sauber Ferrari Marcus Ericsson and Pascal Wehrlein.
Red Bull had topped FP1 with Verstappen and Ricciardo heading the field. Verstappen set a 1:44.410 on the super soft Pirellis. Also available were the soft and medium compounds.
Perez had crashed his Force India at the Castle Turn 8, but the crew had repaired his car in time for FP2.
The ambient temperature at the start of the 90-minute session was 82 degrees Fahrenheit (28 degrees Centigrade) and the track temperature was 113 degrees Fahrenheit (45 degrees Centigrade).
Verstappen was quickly up to speed, going back on top with a 1:45.084 on the soft tires.
The track was still slippery. Vettel went straight on at Turn 1. Sainz and Kvyat also had slide offs.
Verstappen, meanwhile, was down to a 1:44.288 and then a 1:43.988 and a 1:43.894. Vettel, meanwhile, went off at Turn 8.
Hamilton was second and none other than Perez third after 20 minutes.
Just before the one-third mark of the session Bottas became the first driver to head out on super softs. But he could only do a time that put him in fourth with a 1:44.309.
So now the order was Verstappen, Ricciardo, Perez, Bottas, Ocon and Hamilton.
Then Kvyat skimmed the wall at Turn 15 and spread some debris on the track.
Raikkonen finally displaced Verstappen with a time of 1:43.723 on the super softs. Vettel beat that with a 1:43.615. Verstappen, now on the supers, responded with a 1:43.362. Bottas grabbed second with a 1:43.462.
Vettel had another off, this time at Turn 8, where he was joined by Massa. Hamilton, Alonso and Verstappen had offs as well.
Then Palmer hit the wall at Turn 8 and the session was red flagged just past the midpoint. The order was Verstappen, Bottas, Raikkonen, Vettel, Stroll and Ricciardo.
After a delay of about 10 minutes the session was restarted. While most of the drivers were on the super softs, Hamilton used the soft tires.
In the final 30 minutes Ferrari began long runs with both its drivers.
Meanwhile Alonso slowed to a stop out on the track. ºEngine, engine,¹ he radioed with disgust.
While others did race sims, Ricciardo put in a fast lap to move up to third.
Grosjean continued to complain bitterly about the brakes on the Haas a rather essential component given the high speeds and close walls.
Then Hamilton and Vettel nearly collided at Turn 1.
In the final minute Verstappen hit the barriers, not too heavily, at Turn 1.
The incident-filled session ended with the top 10 being: Verstappen, Bottas, Ricciardo, Raikkonen, Vettel, Stroll, Perez, Kvyat, Ocon and Hamilton.