Austrian GP 2021
JULY 5, 2021
Race Analysis - Maxed out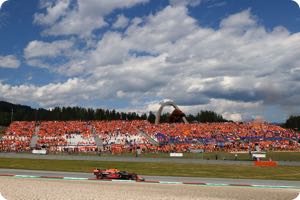 By Dan Knutson
Max Verstappen started from the pole in his Red Bull, led every lap and set the fastest race lap on his way to winning the Austrian Grand Prix.
SEVENTH
Verstappen qualified on pole for the seventh time in his F1 career.
FIRST
Lando Norris qualified second in the McLaren – his first F1 front row start.
NEXT
Next on the grid were Sergio Perez (Red Bull), Lewis Hamilton (Mercedes), Valtteri Bottas (Mercedes), Pierre Gasly (AlphaTauri), Yuki Tsunoda (AlphaTauri) and George Russell (Williams).
200
This was the 200th F1 race start for Perez.
132,000
There were 132,000 fans, most of them wearing orange to support Dutch driver Verstappen, at the Red Bull Ring on race day.
TAKE OFF
Verstappen took off in the lead when the red lights went off to start the 71 lap race. He would never lose it.
NORRIS
Norris was second ahead of Perez, Hamilton, Bottas, Gasly and Tsunoda.
OUT
Esteban Ocon was out of the race on lap one at Turn 3.
"There wasn't much I could have done as I was sandwiched between Mick (Schumacher) and Antonio (Giovinazzi) at Turn 3 in a racing incident," he said. "It's one of those things and a consequence of starting the race at the back."
BROUGHT
That brought out the safety car until the end of lap 3.
GRAVE PENALTY
Officials gave Norris a five-second time penalty after judging that he had pushed Perez into the gravel while Perez attempted to pass on the outside of Turn 4. That penalty would have grave consequences for Norris at the end of the race.
TOOK
It took 20 laps for Hamilton to catch and pass Norris for second place.
CEDED
Norris and Bottas pitted at the end of lap 30 to switch from the medium compound Pirelli slicks to the hard compound tires. Norris had to serve his five second penalty, so he ceded third place to Bottas.
SWITCH
Hamilton and Verstappen switched from the mediums at the end of laps 31 and 32 respectively. Verstappen kept the lead.
OVER
As it had been from lap 1, Verstappen was not challenged for the lead. He won in Austria for the second consecutive Sunday.
"I expected it to be good, but not this good, and the car was on rails," he said. "It was really nice to drive and the pace was incredible on both tire compounds. I could push and also look after the tires, which is exactly how you want it to be, and I could extend my gap lap after lap."
POINT
Verstappen added a point to his tally by clocking the fastest lap of the race.
WHO'S ON SECOND
Bottas crossed the finish line in second place, 17.937 seconds behind Verstappen.
"For me personally, P2 is one place better than last week and I started from fifth so not a bad afternoon," Bottas said. "As a team we got some decent points considering the gap we have to Red Bull in terms of pure pace. For me it's nice to be on the podium again in second place and I think we really maximized what we could get today. The tires held on pretty well today which was a surprise."
PENALTY
Norris crossed the line in third place, 2.046 seconds behind Bottas. That five second penalty cost Norris second place.
"I did not even squeeze him off," he said of the Perez incident. "You understeer around the corner anyway. He should've expected that he was not going to make it. I'm annoyed because it cost us P2. Hamilton had a problem and we had the pace to be ahead of Bottas.
"I would've loved to be second and not third again. So I'm a bit annoyed about that. It was lap one and people were racing, and he tried something that didn't work. His fault."
DAMAGE
On lap 30 at Turn 10 Hamilton damaged the floor of his Mercedes on a curb. The loss of downforce and speed relegated him to fourth place.
"I sustained some damage just before I overtook Lando," he said. "The rear of the car started to feel strange and it just got worse throughout the race. Otherwise it would have been a straightforward second place for me. Max is clear out front at the moment so we need to improve our car and start performing better each weekend."
FIVE-PEAT
It was Red Bull's fifth consecutive win.
AFTER
Verstappen now has a 32 point lead over Hamilton in the drivers' championship after nine races.