Austrian GP 2021
JULY 2, 2021
Friday Report - Max & Lewis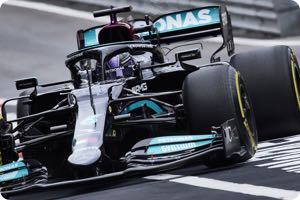 By Dan Knutson
Red Bull's Max Verstappen and Mercedes' Lewis Hamilton were the fastest drivers respectively in FP1 and FP2 for the Austrian Grand Prix.
The line-up for the weekend was: Mercedes – Lewis Hamilton and Valtteri Bottas; Red Bull Honda – Max Verstappen and Sergio Perez; McLaren Mercedes – Lando Norris and Daniel Ricciardo; Aston Martin Mercedes – Lance Stroll and Sebastian Vettel; Alpine Renault – Fernando Alonso and Esteban Ocon; Ferrari – Charles Leclerc and Carlos Sainz; AlphaTauri Honda – Yuki Tsunoda and Pierre Gasly; Alfa Romeo Ferrari – Kimi Raikkonen and Antonio Giovinazzi; Haas Ferrari – Nakita Mazepin and Mick Schumacher; Williams Mercedes – George Russell and Nicolas Latifi.
Verstappen was fastest in FP1 with a lap of 1:05.143. Leclerc, Sainz, Bottas, Tsunoda and Raikkonen rounded out the top six.
Pirelli had a prototype rear tire with a more robust construction which the drivers tested on Friday. Each driver had to do at least 12 flying laps on the tires.
Sainz and Latifi were the first out in FP2. "I see some drops of rain," Sainz reported. But it was not enough to get the track slick.
Verstappen set the early pace in FP2 with a 1:05.773. Bottas slotted into second with a 1:05.927. The early stages of FP2 were busy with nearly all 20 drivers circulating.
Fifteen minutes into the session Bottas improved to 1:05.602 to take the lead. Verstappen was second ahead of Gasly, Alonso and Tsunoda.
Leclerc ran very wide at Turn 9. "That was a scary one!" he radioed.
A few minutes later, Verstappen, on the medium compound tires, went into the lead with a time of 1:05.239. His teammate Perez, on the soft slicks, moved into second at 1:05.516.
Now a number drivers were doing their qualifying simulations on the softs including Vettel, Tsunoda and Stroll who were second, third or fourth at the 25 minute mark.
Next, Bottas, on the softs, jumped ahead at 1:04.712. Stroll improved to second with a 1:05.139.
Precisely at the midpoint of FP2 Hamilton and Verstappen were on their qualifying sim laps. Hamilton went ahead at 1:04.523, and Verstappen ended up third at 1:04.740 behind Bottas. Stroll was now fourth ahead of Vettel, Tsunoda, Gasly and Norris.
The final 20 minutes were devoted to race simulations, which were hampered by light rain albeit not enough to warrant rain tires.
It was getting slippery out there, and Hamilton slid off at Turn 4 but avoided the barriers. Norris spun coming out of Turn 1.
The top 10 at the end of FP2 were: Hamilton, Bottas, Verstappen, Stroll, Vettel, Tsunoda, Gasly, Alonso, Norris and Giovinazzi.