Austrian GP 2020
JULY 6, 2020
Race Analysis - No better way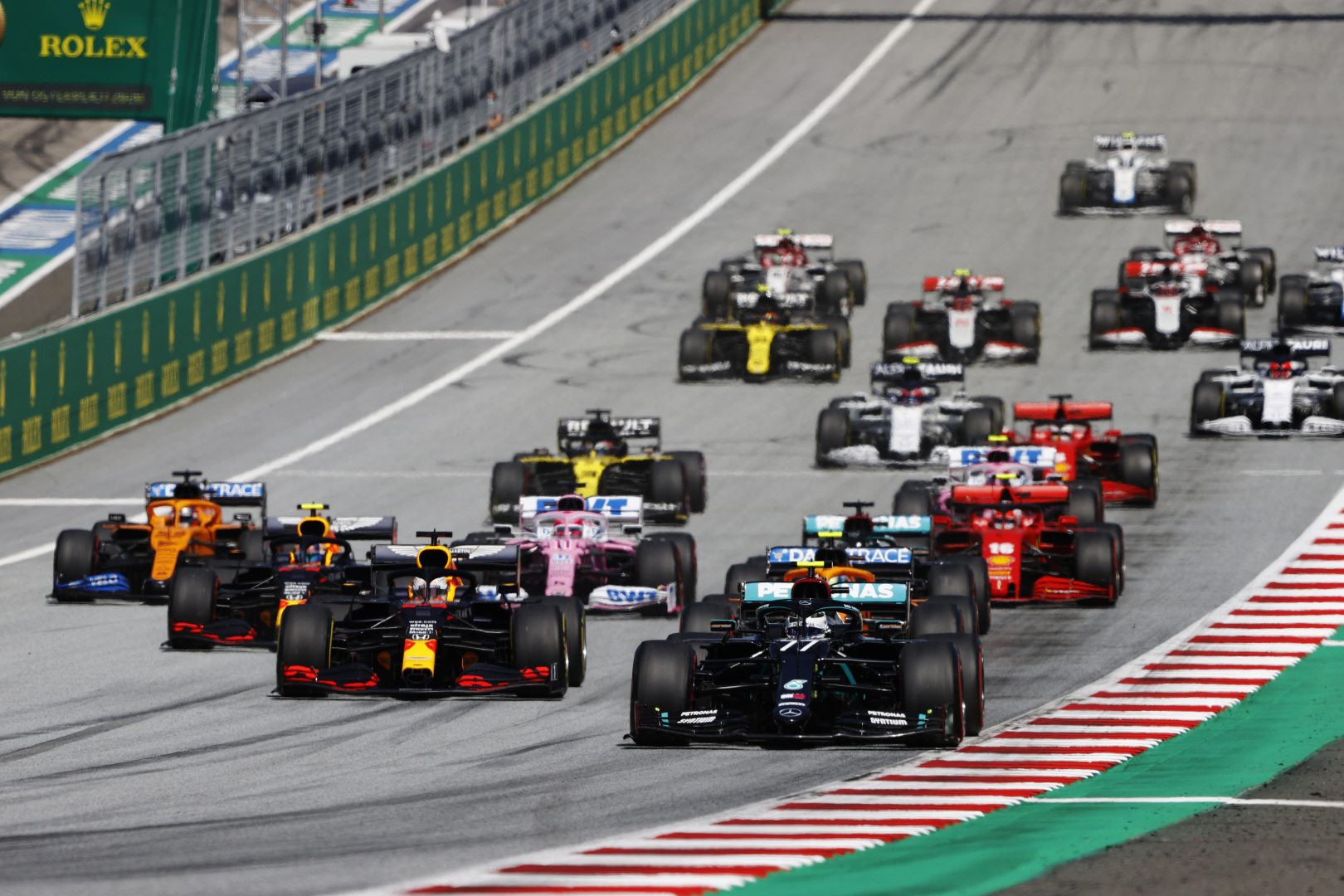 © Mercedes-Benz Grand Prix Ltd.
By Dan Knutson
Valtteri Bottas started from the pole in his Mercedes and led all 71 laps to win the season-opening Austrian Grand Prix. But it was not an easy victory as he had constant pressure from teammate Lewis Hamilton, had to cope with three restarts after safety car periods, and had to nurse the car home because of gearbox problems. Here is how his race unfolded.
THE WAIT IS OVER
The 2020 Formula 1 season was supposed to begin with the Australian Grand Prix on March 15, but was delayed until July 5 in Austria due to the Covid-19 pandemic.
EMPTY STANDS
No spectators were permitted on the grounds of the Red Bull Ring. And team members and other essential personnel had to be tested for the virus, wear masks, and stay within team groups.
MIGHTY CLOSE
Bottas earned his 12th F1 pole by a margin of 0.012 of a second over Hamilton.
PENALTY
Hamilton originally was second on the grid, but he was penalized for not slowing down for a yellow flag in qualifying – ironically for when Bottas bounced off the track – and dropped to fifth on the grid.
SECOND
Red Bull driver Max Verstappen started second, and Lando Norris (McLaren) line up a career-best third. Alex Albon was fourth in his Red Bull and Sergio Perez sixth in his Racing Point.
END RACISM
All 20 drivers wore T-shirts saying "No Racism" and lined up at the head of the grid before the start of the race and before the Austrian national anthem was played. Fourteen of them kneeled down.
THE START
Out went the red lights and the season had finally started. Bottas led followed by Verstappen, Norris, Albon, Hamilton and Perez.
FIRST OUT
Verstappen won the race in 2018 and 2019, but he was the first retirement in the 2020 event because his engine kept kicking into anti-stall mode.
SECOND
By lap 15 Hamilton was up to second place.
FIRST OF THREE
Kevin Magnussen brought out the first of three safety cars when he slid off the track in his Haas.
HARD
All the drivers pitted for tires, and all switched to the hard compound Pirelli slicks. The exception was Perez who took on the mediums.
CLOSE
Bottas was still in the lead, but Hamilton was a close second.
STAY OFF THE CURBS
Both Mercedes drivers were now being warned to "stay off the curbs" because the team was worried about the jolting damaging the gearboxes.
THE NEXT
The next safety car was due to Haas driver Romain Grosjean going off track. It was immediately followed by the third safety car when the right front wheel came off of Kimi Raikkonen's Alfa Romeo.
PENALTY
Albon overtook Hamilton, but they collided. Officials gave Hamilton a five second penalty for causing a collision.
STEADY PROGRESS
The Ferraris were not quick in qualifying, with Charles Leclerc starting seventh and Sebastian Vettel 11th. But Leclerc made steady progress through the race and because of Hamilton's penalty was classed second.
"I think we did everything perfect today to finish second," Leclerc said. "We had a little bit of luck obviously, with Lewis' penalty and some crashes here and there but it's part of the race too and yeah, that was the goal – to take every opportunity we had, even though we didn't have the pace to finish where we were I think. But P2 – I'm extremely satisfied. There's still a lot of work to do. We are still far away, we are not where we want to be, but anything is possible, so we need to keep the mental strong, all the team work as a team and I'm pretty sure we will come back where want, but it will take time."
FASTEST LAP
On the last lap of the race Norris set the fastest lap of the race. That edged him just ahead of Hamilton into third place, and so he earned his first F1 podium.
"There were a few points during the race where I thought I kind of fudged it up quite a bit," Norris said. "I dropped to fifth with a few laps to go. Carlos was almost getting past me, but I didn't give up and I managed to get past Perez and I ended up on the podium! It was a long race but I kept going, I kept trying to give it my all. A pretty cool last few laps having to push as much as I can, and you can tell, I'm a bit out of breath."
FOURTH
Hamilton wound up fourth ahead of Carlos Sainz (McLaren) and Perez. With 34 consecutive races in the points, Lewis broke the F1 record for most consecutive point finishes.
EIGHTH
Out front. Bottas took his eighth F1 victory.
"There was definitely quite a bit of pressure all through the race," he said. "I mean one safety car was still OK, but with the last safety car, I was like: 'Come on, again?' There were so many chances to get the lead if I made even a small mistake. He was really quick today, but I managed to keep it together and I could really control the race from my side and obviously no better way to start the season."
SEE YOU SOON
The F1 circus remained in Austria as the Grand Prix of Steiermark will be held at the same circuit next weekend.