Austrian GP 2020
JULY 4, 2020
Qualifying Report - Mercedes on a different level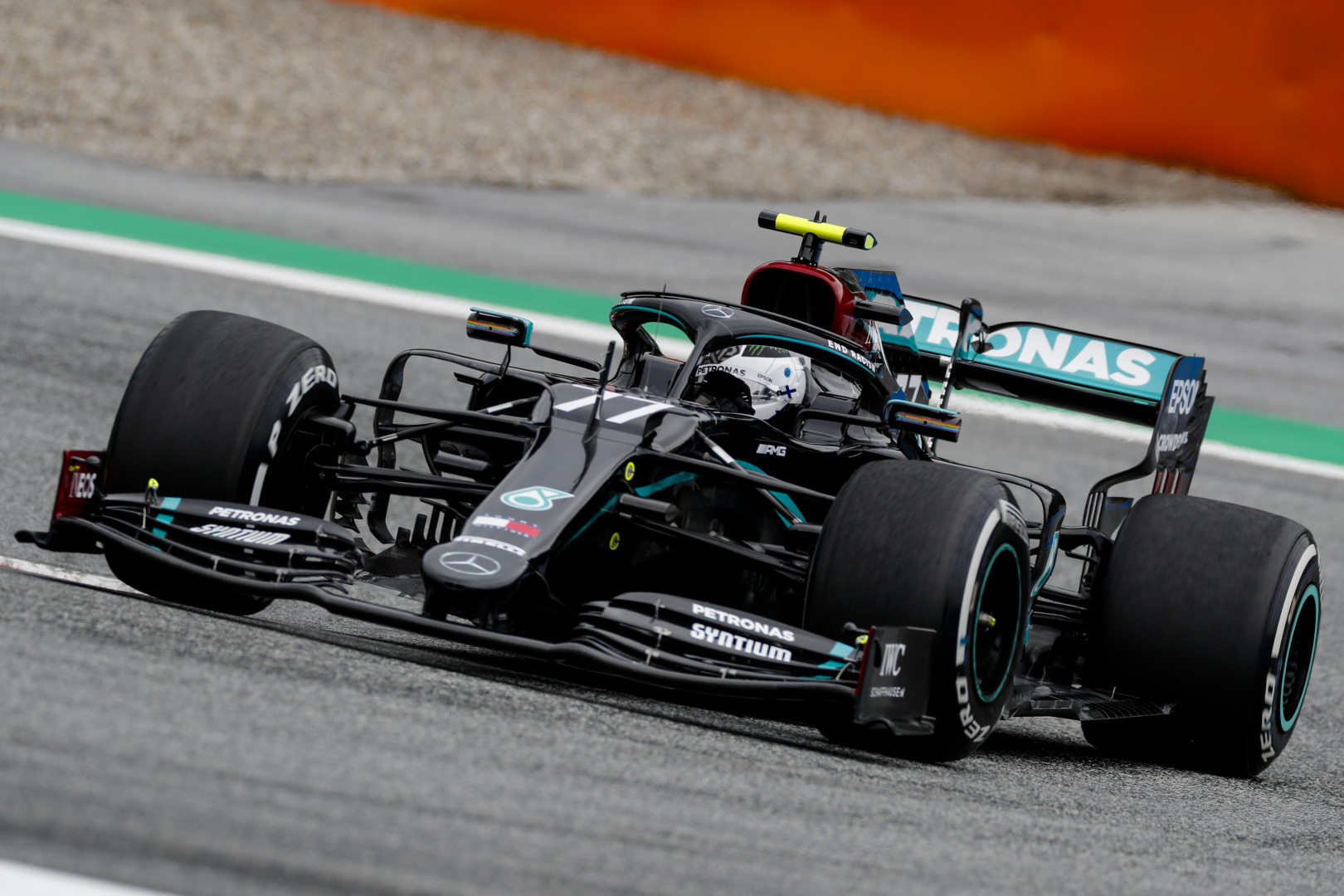 © Mercedes-Benz Grand Prix Ltd.
By Dan Knutson
Valtteri Bottas earned the pole position for what will be the first race of the 2020 F1 season. His Mercedes teammate Lewis Hamilton qualified second as their team dominated.
"I've been preparing for this for a long time," he said. "It feels so good, but tomorrow is what is important.
The line-up for the weekend was: Mercedes – Hamilton and Bottas; Ferrari – Sebastian Vettel and Charles Leclerc; Red Bull Honda – Max Verstappen and Alexander Albon; McLaren Renault – Carlos Sainz and Lando Norris; Renault – Daniel Ricciardo and Esteban Ocon; AlphaTauri Honda – Daniil Kvyat and Pierre Gasly; Racing Point Mercedes – Sergio Perez and Lance Stroll; Alfa Romeo Ferrari – Kimi Raikkonen and Antonio Giovinazzi; Haas Ferrari – Romain Grosjean and Kevin Magnussen; Williams Mercedes – George Russell and Nicolas Latifi.
Hamilton had been at the top of the timing sheets in all three free practice sessions.
QUALIFYING 1
The ambient temperature at the start of the session was 73 degrees Fahrenheit (23 degrees Centigrade) and the track temperature was 126 degrees Fahrenheit (52 degrees Centigrade).
The Alfa drivers and Latifi, who had crashed in FP3 but now had a repaired Williams, were the first on track in Q1.
Verstappen was the first of the big guns to set a time – 1:04.326. Fifteen minutes into the session Sainz was second ahead of Perez, Bottas Vettel and Norris. Hamilton was a distant 14th but then jumped up to second.
Giovinazzi was 15th and on the cutoff line, with Kvyat 14th and Raikkonen 16th.
With just two minutes to go, Stroll vaulted into first with a 1:04.309. And just about everybody was now on track.
And when it was over, the 15 drivers who advanced to Q2 were: Verstappen, Bottas, Hamilton, Stroll, Leclerc, Sainz, Perez, Vettel, Ricciardo, Gasly, Norris, Albon, Ocon, Kvyat and Grosjean.
The five drivers who were eliminated at the end of Q1 were: Magnussen, Russell, Giovinazzi, Raikkonen and Latifi.
QUALIFYING 2
Bottas and Hamilton were the first out of the pitlane. They were on the soft Pirelli slicks, but Verstappen tried the medium compound tires.
Bottas posted a 1:03.530, and Hamilton beat that at 1:03.325. Norris was third ahead of Stroll, Perez, Ricciardo, Leclerc, Verstappen, Sainz and Vettel.
Then Verstappen did another lap and moved up to sixth.
Most of the drivers – except Stroll – now waited in the pits to make one final run in Q2. Then they all headed out, and Verstappen was now on the soft tires.
Hamilton improved to a 1:03.096 but Bottas took first with a 1:03.015.
Albon jumped up to third, while Norris, Perez, Stroll, Sainz, Verstappen, Ricciardo and Leclerc rounded put the top 10.
The five drivers who were eliminated at the end of Q2 were: Vettel! Gasly, Kvyat, Ocon and Grosjean.
QUALIFYING 3
Q3 lasted 12 minutes, but nobody headed out in the first couple of minutes. Then they all exited the pits except for Stroll and Ricciardo.
Bottas set the first time – 1:02.939 – a lap record. Hamilton's 1:03.061 put him second ahead of Verstappen, Albon, Sainz, Perez and Leclerc.
Norris, Stroll and Ricciardo did not post times.
So now it came down to the final four minutes. Stroll was the first to go out and had the track to himself, and got sixth place.
The others were now doing there runs. Bottas slid off in the gravel. Hamilton improved but was still 0.012 of a second behind Bottas who earned his third pole for the Austrian Grand Prix.
Verstappen, Norris, Albon, Perez, Leclerc, Sainz, Stroll and Ricciardo rounded out the top 10.