Austrian GP 2020
JULY 4, 2020
Practice 3 Report - Three for three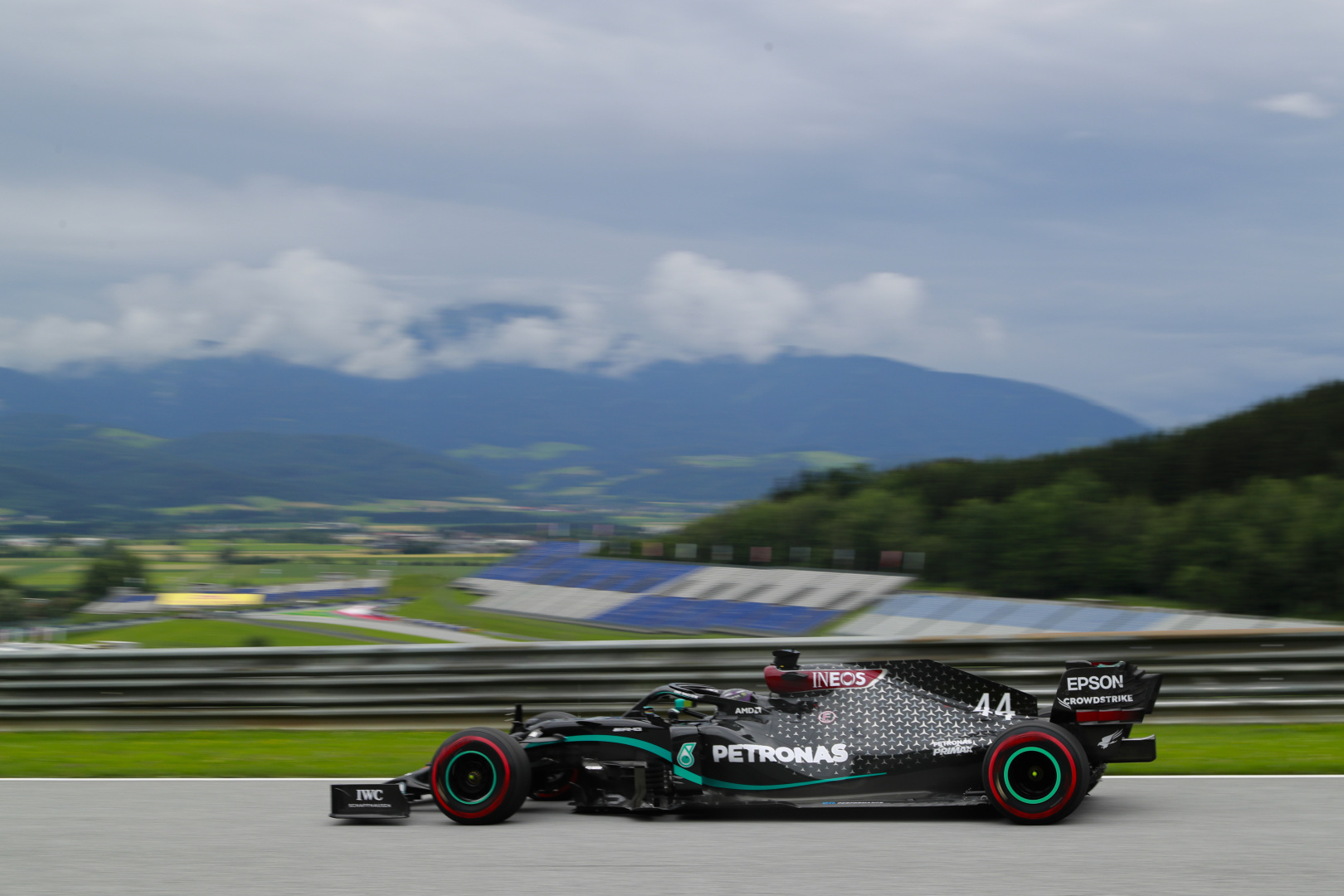 © Mercedes-Benz Grand Prix Ltd.
By Dan Knutson
There have been three official practice sessions in the 2020 Formula 1 season, and Lewis Hamilton has been fastest in all of them. Number three was Free Practice 3 for the Austrian Grand Prix.
The line-up for the weekend was: Mercedes – Hamilton and Valtteri Bottas; Ferrari – Sebastian Vettel and Charles Leclerc; Red Bull Honda – Max Verstappen and Alexander Albon; McLaren Renault – Carlos Sainz and Lando Norris; Renault – Daniel Ricciardo and Esteban Ocon; AlphaTauri Honda – Daniil Kvyat and Pierre Gasly; Racing Point Mercedes – Sergio Perez and Lance Stroll; Alfa Romeo Ferrari – Kimi Raikkonen and Antonio Giovinazzi; Haas Ferrari – Romain Grosjean and Kevin Magnussen; Williams Mercedes – George Russell and Nicolas Latifi.
Hamilton was fastest on Friday with a lap of 1:04.304.
"We have also been able to continue to improve the car compared to last year, so that's a big positive," he said after FP2. "The track was a little bit greasy and while the grip will pick up, it feels like the track only improved a very small amount. It was looking good out there today, but you can never take too much from practice. You never know what power and fuel other teams are running. So we will take today's result with a pinch of salt, try and improve the car tonight and come back for the fight tomorrow."
The ambient temperature at the start of the 60-minute session was 70 degrees Fahrenheit (21 degrees Centigrade) and the track temperature was 109 degrees Fahrenheit (43 degrees Centigrade).
Norris and Magnussen were the first drivers out on the track to do their install laps. Sainz was the first driver to clock a time –a 1:06.307.
Only seven drivers ventured out during the first 15 minutes – Norris, Magnussen, Sainz, Kvyat, Grosjean. Ocon and Gasly. And Sainz was the only driver to do flying laps.
Then, finally, the drivers started to circulate. Vettel took the lead with a 1:05.159. Then Hamilton beat that by 0.019 of a second.
The session was red flagged at the 24-minute mark when the rookie Latifi spun and crashed in Turn 1.
"Sorry guys," he radioed.
The order at that time was: Hamilton, Vettel, Leclerc, Ricciardo, Bottas, Verstappen, Stroll, Albon, Ocon and Sainz.
After 10 minutes FP3 was restarted. Hamilton, on the medium compound Pirellis, headed the queue of drivers at the end of pitlane.
But it was Vettel, who was on the soft Pirelli slicks, who went ahead with a 1:04.851. But he didn't stay there for long as teammate Leclerc beat that with a 1:04.703.
With just under 20 minutes remaining, the two Mercedes drivers were out for fast laps on the soft tires. Bottas turned a 1:04.277 and Hamilton came by at 1:04.130.
Other drivers were doing their soft tire runs, and the order was now Hamilton, Bottas, Leclerc, Vettel, Ocon, Ricciardo and Verstappen with 12 minutes remaining. But Verstappen had yet to run the softs, and when he did, he jumped up to third with his 1:04.413.
Stroll's soft tire run yielded seventh place, and Albon's fifth place.
In the last five minutes a number of drivers headed out on the soft Pirellis, including Perez who jumped from 18th to fourth.
The top 10 at the end of FP3 were: Hamilton, Bottas, Verstappen, Perez, Leclerc, Albon, Vettel, Stroll, Gasly and Norris.