Austrian GP 2019
JUNE 29, 2019
Qualifying Report - Great!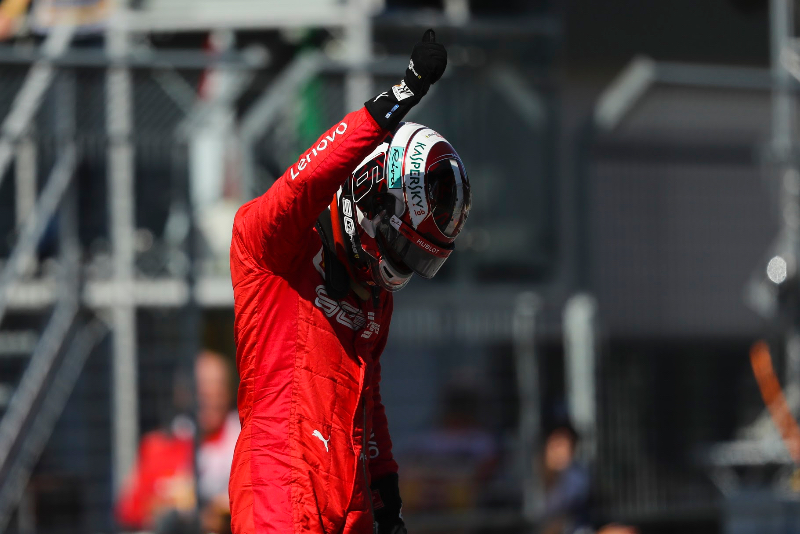 © RV Press
By Dan Knutson in Spielberg
"It just felt great!" Charles Leclerc said after winning the pole position for the Austrian Grand Prix in his Ferrari. He beat out Lewis Hamilton (Mercedes) and Max Verstappen (Red Bull) for the prime grid placing.
The line-up for the weekend was: Mercedes – Lewis Hamilton and Valtteri Bottas; Ferrari – Sebastian Vettel and Leclerc; Red Bull TAG Heuer –Max Verstappen and Pierre Gasly; Renault – Daniel Ricciardo and Nico Hulkenberg; Haas Ferrari – Romain Grosjean and Kevin Magnussen; McLaren Renault – Carlos Sainz and Lando Norris; Racing Point Mercedes – Sergio Perez and Lance Stroll; Alfa Romeo Ferrari – Kimi Raikkonen and Antonio Giovinazzi; Toro Rosso Honda – Daniil Kvyat and Alexander Albon; Williams Mercedes – George Russell and Robert Kubica.
Leclerc was the best in FP3 as he turned a time of 1:03.987 in the Ferrari.
Albon and Sainz would be sent to the back of the grid with engine change penalties. Hulkenberg would be dropped five grid places because of new parts in his power unit, and Magnussen was destined for a five-place penalty as well due to a new gearbox.
QUALIFYING 1
The ambient temperature at the start of the 60-minute session was 82 degrees Fahrenheit (28 degrees Centigrade) and the track temperature was 126 degrees Fahrenheit (52 degrees Centigrade).
Magnussen and his new gearbox took the lead with a time of 1:04.796 but didn't stay there very long.
With 10 minutes to go, all the drivers were on track and Leclerc was out front with his 1:04.304. Gasly was second ahead of Vettel, Norris and Magnussen.
A couple minutes later Hamilton popped from 12th to third while Leclerc improved his own time.
With seven minutes left in Q1, Albon was 15th and on the cutoff line for the transfer to Q1. Perez was 14th and Raikkonen was 16th.
Then Verstappen carved his way up to second.
And in the final seconds Verstappen jumped to the front and Hamilton snatched second.
The order around the cutoff line changed and then changed again in the final minutes.
The five drivers who were eliminated at the end of Q1 were: Perez, Stroll, Kvyat, Russell and Kubica.
The fastest 15 drivers who moved on to Q2 were: Verstappen, Hamilton, Bottas, Leclerc, Vettel, Norris, Gasly, Giovinazzi, Sainz, Grosjean, Raikkonen, Ricciardo, Albon, Hulkenberg and Magnussen.
Given the short lap, a mere second covered first through 17th.
QUALIFYING 2
The front runners would try to use medium compound Pirellis for this session so that they could use the more durable compound tire at the start of the race.
Hamilton, Bottas and Verstappen were on the mediums, but Leclerc and Vettel ran the soft slicks.
Leclerc took the lead by posting a 1:03.459. That put him ahead of Vettel, Verstappen, Bottas and Hamilton.
Meanwhile, the stewards announced that after the session they would investigate Hamilton impeding Raikkonen in Q1. More penalties loomed.
With six minutes left in the session, Magnussen was 10th and on the bubble for the transfer to Q2. Giovinazzi was ninth and Hulkenberg was 11th.
The final runs began in the final four minutes of Q2.
The five drivers who were eliminated were: Grosjean, Hulkenberg, Albon, Ricciardo and Sainz.
The fastest 10 drivers who moved on to Q3 were: Leclerc, Vettel, Hamilton, Verstappen, Bottas, Gasly, Raikkonen, Giovinazzi, Norris and Magnussen.
QUALIFYING 3
Q3 lasted 12 minutes, but given the short lap time a driver might be able to squeeze in an extra lap or two during the session.
The two Alfas were the first to head out. The others waited in the pits. With eight minutes remaining, the other drivers bar Vettel were on track.
Raikkonen and Giovinazzi were first and second…but then Hamilton took the lead with a 1:03.900. Leclerc beat that with a 1:03.208, Bottas posted a 1:03.559 and Verstappen a 1:03.853.
Gasly was fifth ahead of Raikkonen, Giovinazzi, Norris and Magnussen.
Vettel had yet to post a time, and the Ferrari mechanics had been working on his car.
Less than two minutes were on the clock as the drivers headed out for their final runs.
Vettel would not join them as there was a problem with his car.
Hamilton's time was a 1:03.262. But Leclerc put in a 1:03.003 to win his second F1 pole.
Verstappen was third ahead of Bottas, Magnussen, Norris, Raikkonen, Giovinazzi, Gasly and Vettel.