Austrian GP 2019
JUNE 29, 2019
Practice 3 Report - Mixed up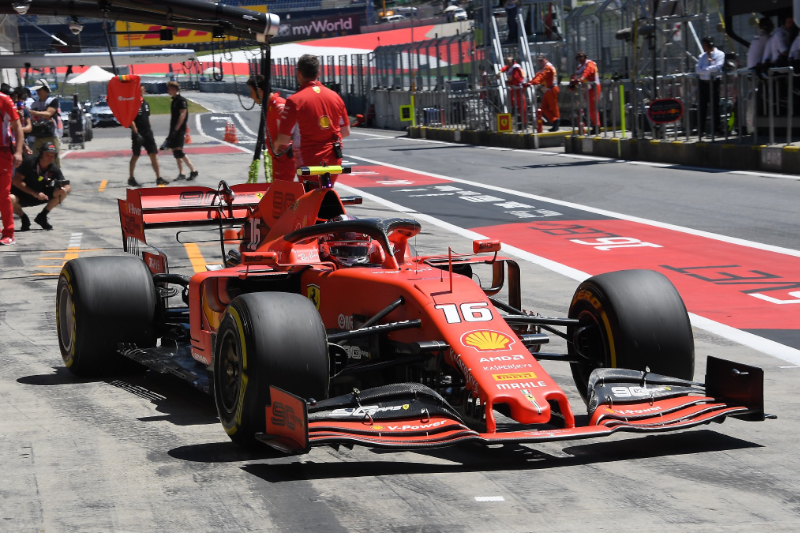 © RV Press
By Dan Knutson in Spielberg
The top lap times in Free Practice 3 for the Austrian Grand Prix produced a mixture between Ferrari and Mercedes. Charles Leclerc went quickest in his Ferrari, and was ahead of Lewis Hamilton (Mercedes), Valtteri Bottas (Mercedes) and Sebastian Vettel (Ferrari).
The line-up for the weekend was: Mercedes – Hamilton and Bottas; Ferrari – Vettel and Leclerc; Red Bull TAG Heuer –Max Verstappen and Pierre Gasly; Renault – Daniel Ricciardo and Nico Hulkenberg; Haas Ferrari – Romain Grosjean and Kevin Magnussen; McLaren Renault – Carlos Sainz and Lando Norris; Racing Point Mercedes – Sergio Perez and Lance Stroll; Alfa Romeo Ferrari – Kimi Raikkonen and Antonio Giovinazzi; Toro Rosso Honda – Daniil Kvyat and Alexander Albon; Williams Mercedes – George Russell and Robert Kubica.
Leclerc went fastest on Friday with a lap of 1:05.086.
"The conditions were quite tricky and the wind changed quite a lot," he said after FP2, "but overall the car felt quite good so that's positive but I expected Mercedes to be strong Saturday, so it is going to be very difficult to keep them behind but we will do everything."
Verstappen and Bottas had separate accidents in FP2, but now they were ready to go in FP3 in their repaired cars.
Giovinazzi was the first on track, and he was only one of seven drivers to even to an install lap right away.
The ambient temperature at the start of the 60-minute session was 77 degrees Fahrenheit (25 degrees Centigrade) and the track temperature was 117 degrees Fahrenheit (47 degrees Centigrade).
Only four drivers had clocked times by the 15-minute mark, and Albon was on top at 1:06.175. A couple of minutes later Bottas became the first driver of the top teams to venture out. He was on the soft compound Pirelli slicks as he set a 1:05.510.
Leclerc beat that at 1:04.826. He was now ahead of Bottas, Vettel and Albon.
Finally, after 24 minutes, Hamilton took to the track. By now Leclerc was down to 1:04.275. Hamilton only managed to get to fourth place.
Halfway through FP3 the order was: Leclerc, Bottas, Vettel, Verstappen, Hamilton, Albon, Norris, Perez, Magnussen and Kvyat.
Several drivers continued to lap the track, but most were in the pits with 20 minutes remaining in FP3 as they prepared for their qualifying simulations.
Bottas was then the first to have a go on the soft slicks and qualifying mode. He clocked a 1:04.221.
Leclerc beat that by setting a 1:04.120. Vettel's 1:04.356 put him third. But now Hamilton was on his fast lap, and his time of 1:04.130 moved him into second ahead of Bottas, Vettel, Verstappen, Gasly and Sainz with a dozen minutes remaining.
Next, Leclerc lowed the mark to 1:03.987. Vettel improved but stayed fourth.
With five minutes remaining, the top five were in the pits while most of the rest were lapping. Then, with three minutes to go, Leclerc and Bottas decided to have another go. But Leclerc came straight back in as did Bottas. Hamilton now left the pits.
So the end of FP3 saw the order as: Leclerc, Hamilton, Bottas, Vettel, Verstappen, Norris, Gasly, Sainz, Giovinazzi and Kvyat.