Austrian GP 2019
JUNE 28, 2019
Practice 2 Report - Free 2 crash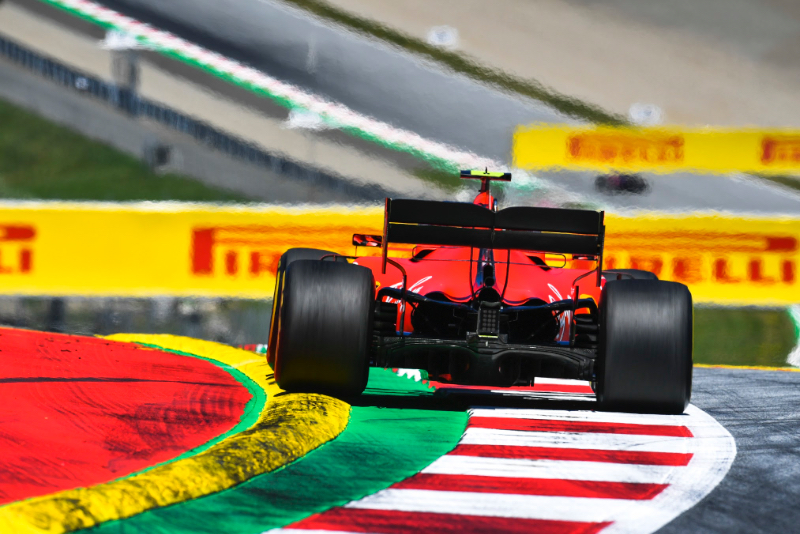 © RV Press
By Dan Knutson in Spielberg
Free Practice 2 for the Austrian Grand Prix was all about the drivers trying out their cars in race and qualifying runs. It was also about drivers feeling free to crash as Max Verstappen and Valtteri Bottas caused the session to be red flagged twice in their separate accidents. The crash-free Charles Leclerc topped FP2 in his Ferrari.
The line-up for the weekend was: Mercedes – Lewis Hamilton and Bottas; Ferrari – Sebastian Vettel Leclerc; Red Bull TAG Heuer – Verstappen and Pierre Gasly; Renault – Daniel Ricciardo and Nico Hulkenberg; Haas Ferrari – Romain Grosjean and Kevin Magnussen; McLaren Renault – Carlos Sainz and Lando Norris; Racing Point Mercedes – Sergio Perez and Lance Stroll; Alfa Romeo Ferrari – Kimi Raikkonen and Antonio Giovinazzi; Toro Rosso Honda – Daniil Kvyat and Alexander Albon; Williams Mercedes – George Russell and Robert Kubica.
Hamilton was fastest in FP1 with a time of 1:04.838.
The Haas drivers were out first in FP2.
The ambient temperature at the start of the 90-minute session was 86 degrees Fahrenheit (30 degrees Centigrade) and the track temperature was 124 degrees Fahrenheit (51 degrees Centigrade).
Only six drivers bothered to do flying or even install laps in the early minutes. Grosjean topped the times at 1:06.613.
Finally, a dozen minutes into the session, the Ferrari drivers made an appearance along with Bottas, and a couple minutes later, Hamilton.
Leclerc used the medium compound Pirelli slicks to hop into the lead with his 1:05.558. Bottas, meanwhile, ran wide at Turn 10 as did Hamilton on their quick laps.
Hamilton's second run put him second. Bottas moved to fourth behind Norris 20 minutes into FP3.
Next, Vettel grabbed the second slot to give Ferrari a one/two. But now for long as Bottas, on the mediums, grabbed the lead with his 1:05.417.
At the half-hour mark the order was: Bottas, Hamilton, Leclerc, Vettel, Verstappen, Norris, Sainz, Grosjean, Kvyat and Raikkonen.
Having done their initial runs on the medium and hard tires, most drivers were now in the pits.
It was time for the qualifying simulations to begin. But not quite yet as Verstappen brought out the red flags 35 minutes into the session when he spun off and backed his car into the barriers at Turn 10. He got a motorbike ride partway back and then ran and walked down the pit entrance road to the Red Bull garage.
The session restarted after an eight-minute stoppage. Some 14 drivers immediately took to the track. Verstappen, of course, was done for the day.
Now it was time for the qualifying simulations on the soft Pirelli slicks.
And now Bottas crashed! The red flags came out halfway through FP2.
Trying to save a spin, Bottas went straight through the gravel trap and smashed directly into the tire barriers at Turn 6.
This time the red flag stoppage was nine minutes, so 36 minutes remained in FP2 assuming nobody else crashed and caused red flags.
The qualifying sims resumed. Vettel spun off in Turn 10! But he avoided the barriers and got going again. Meanwhile Leclerc was out front with a time of 1:05.117 followed with a 1:05.086.
Gasly moved up to third behind Bottas and ahead of Hamilton, Sainz, Grosjean, Raikkonen and Vettel.
With time running out, the drivers got going on their race runs. With no more crashes, the top 10 remained: Leclerc, Bottas, Gasly, Hamilton, Sainz, Grosjean, Raikkonen, Vettel, Verstappen and Norris.