Austrian GP 2019
JUNE 28, 2019
Practice 1 Report - First blood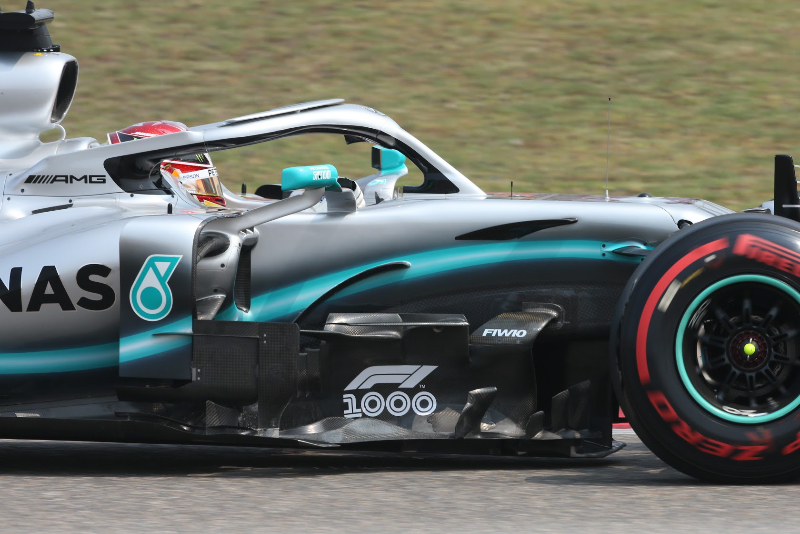 © RV Press
By Dan Knutson in Spielberg
Lewis Hamilton drew first blood in Austria as he posted the fastest lap time in his Mercedes in Free Practice 1. Sebastian Vettel turned the second-best lap in his Ferrari, which was 0.144 of a second slower. However, Hamilton had been on the soft compound Pirelli slicks while Vettel used the medium compound tires.
The line-up for the weekend was: Mercedes – Hamilton and Valtteri Bottas; Ferrari – Vettel and Charles Leclerc; Red Bull TAG Heuer –Max Verstappen and Pierre Gasly; Renault – Daniel Ricciardo and Nico Hulkenberg; Haas Ferrari – Romain Grosjean and Kevin Magnussen; McLaren Renault – Carlos Sainz and Lando Norris; Racing Point Mercedes – Sergio Perez and Lance Stroll; Alfa Romeo Ferrari – Kimi Raikkonen and Antonio Giovinazzi; Toro Rosso Honda – Daniil Kvyat and Alexander Albon; Williams Mercedes – George Russell and Robert Kubica.
The 10-turn 2.683-mile (4.318 km) Red Bull Ring is located in the mountains of Austria's Styria region.
"Going to Austria feels like racing in nature," Perez said. "You're driving an F1 car through the hills and it's such a beautiful place. I enjoy the Austrian food as well: it's some of the best of the year.
"It's a fun little track because it's quite short with only a few corners and the grid is always really tight. Every tenth really does make a big difference to your qualifying position. Even though it's a short lap, there are some interesting corners. The best section for me is turns nine and ten – the last part of the lap – because they are really quick and you have to be committed. The track drops away too so it's easy to run wide. When you hit the apex just right, it feels very satisfying."
Verstappen was the first out on track.
Missing from action was Bottas who needed an engine change in his car because of an oil leak.
The ambient temperature at the start of the 90-minute session was 79 degrees Fahrenheit (26 degrees Centigrade) and the track temperature was 113 degrees Fahrenheit (45 degrees Centigrade).
Vettel, on the medium compound Pirelli slicks, clocked a 1:07.075, but Gasly, also on the mediums, beat that with his 1:06.385.
As in France a week earlier, Ferrari was testing new parts and comparing them to the old versions. As a result, Leclerc, who got down to a 1:06.169, and Vettel who sliced 0.009 of a second off of that, were putting in a lot of laps early in the session.
Only seven drivers completed a flying lap in the first 20 minutes. And now Hamilton headed out on the soft compound Pirellis. He moved up to 10th, then fifth.
Bottas, his car repaired, was also on track. So was Verstappen who turned a 1:06.100 followed by a 1:05.938 and a 1:05.488 using the mediums.
Verstappen, Vettel, Leclerc, Hamilton, Ricciardo and Sainz were the top six at the half-hour mark.
At the 40-minute break, when each driver must hand back one set of tires to Pirelli, the order had changed considerably and was now: Verstappen, Bottas, Hamilton, Gasly, Norris, Vettel, Leclerc, Ricciardo, Sainz and Hulkenberg.
After a lull of seven minutes, Leclerc headed out to get back to work on the track. And he got up to speed, posting a 1:05.409 on new mediums.
Then Bottas, running the soft compound, got down to 1:05.299. Leclerc beat that at 1:05.141.
"Did I break something?" a worried Leclerc radioed. All is fine replied the team.
Bottas then broke the 1:05 barrier by 0.001 of a second when he turned a 1:04.999.
At the one-hour mark the order was now: Bottas, Leclerc, Hamilton, Gasly, Verstappen, Sainz and Ricciardo.
Then Verstappen used the soft slicks to move up to third.
"I don't know what's happening under the brakes, weird feeling with the rears," Bottas radioed after going off at Turn 3.
Hamilton's took the lead with a 1:04.838. But he had damage on the front wing and pitted.
And then Vettel, on the mediums, moved up to second by turning a 1:04.982.
The session red flagged with four minutes remaining after Hulkenberg went off out of Turn 9, broke his front wing, and left chunks of it on the track.
And so FP1 wound down with the top 10 being: Hamilton, Vettel, Bottas, Leclerc, Verstappen, Gasly, Sainz, Ricciardo, Magnussen and Norris.