Austrian GP 2018
JULY 1, 2018
Race Notes - Verstappen wins at Red Bull Ring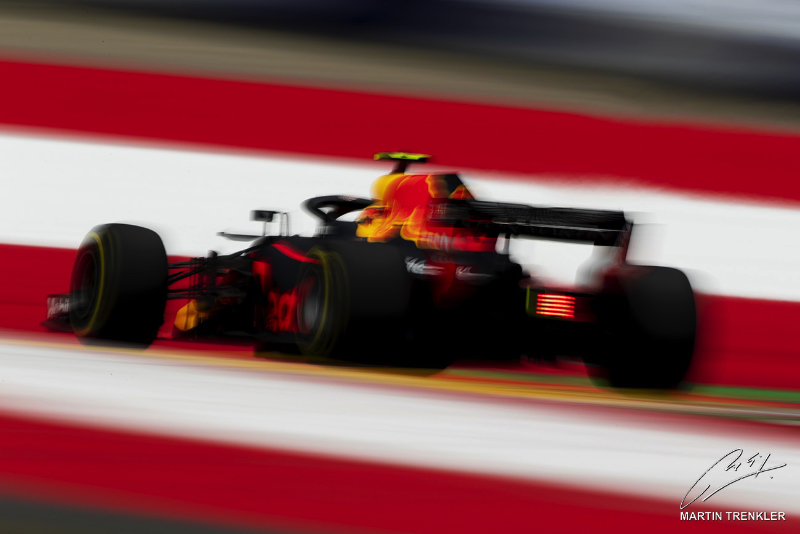 © Martin Trenkler
By Mark Karp
Max Verstappen won the Austrian Grand Prix in his Red Bull-Renault by 1.506 seconds over a charging Kimi Raikkonen in the Ferrari in second place. Sebastian Vettel finished third, 3.181s behind the winner.
The win is Verstappen's fourth career victory. Vettel retakes the lead of the drivers championship by 1 point, while Ferrari now leads the constuctors championship by 10 points.
Romain Grosjean (1 lap) in the Haas-Ferrari finished fourth, followed by his team mate Kevin Magnussen in fifth, Esteban Ocon in the Force India-Mercedes was sixth, his team mate Sergio Perez was seventh, Fernando Alonso in the McLaren-Renault was eighth, Charles Leclerc in the Sauber-Ferrari was ninth and his team mate Marcus Ericsson finished in the final points position in tenth place.
Before the start Leclerc has a five-spot grid penalty for a gearbox change. Hartley will start from the back with a power unit change. Vettel penalised three postions at the start for balking Sainz yesterday. Also, Alonso will start from the pitlane.
All drivers expecting a one stop race, Mercedes and Red Bull on supersoft tyres at the start, the rest of the top ten on ultrasoft tyres.
The temperatures are 10 degrees hotter than the rest of the weekend.
At 10 after the hour, the grid cleared and the field set off - the lights went off and the race started with Bottas on pole, Raikkonen came down the middle of the Mercedes, Bottas gets squeezed out with Hamilton taking the lead from Raikkonen.
Further on in the lap Raikkonen goes wide, and Verstappen takes second, but Bottas gets the jump and reclaims second place.
Vandoorne has some damage and pits.
Vettel passes Grosjean for sixth.
At lap 5 Hamilton leads Bottas, Verstappen, Raikkonen, Ricciardo, Vettel, Grosjean, Magnussen, Hulkenberg and Ocon in tenth.
On lap 8 Ricciardo is closing on Raikkonen, while Vettel is closing on the pair.
On lap 12 Hulkenberg's engine goes on the main staight and he is out.
On lap 14 Bottas slows and he coasts to a stop with a reported gearbox failure. The virtual safety car is deployed.
On lap 20 Ricciardo passes Raikkonen for third place.
Raikkonen and the two Red Bulls pit, along with other drivers for soft tyres.
On lap 16 the race resumes with Vettel getting the jump on Magnussen for fifth place.
At lap 20 Hanilton leads Verstappen by 13.1 seconds, followed by Ricciardo (16,1s), Raikkonen (17.8s), Vettel (22.2s), Magnussen (30.1s), Perez (33.6s), Grosjean (35.5s), Ocon (41,6s) and Sainz (43.5s) in tenth place.
Hamilton with a 12 second lead still needs to pit over the next four runners already pitted during the virtual safety car,
On lap 25 Hamilton pits from the lead for soft tyres, and rejoins in fourth behind Raikkonen with 11 lap fresher tyres.
Red Bull runs 1-2 at the Red Bull Ring.
Leclerc is pressuring Stroll and passes him for 14th place.
At lap 30 Verstappen leads Ricciardo by 4.8 seconds, followed by Raikkonen (5.7s), Hamilton (6.4s), Vettel (8.8s), Grosjean (32.5s), Ocon (40.4s), Sainz (44.3s), Magnussen (45.7s) and Perez (50.7s) in tenth place.
Ricciardo, Raikkonen and Hamilton are closing up on the track battling for second place.
Raikkonen reports that Ricciardo rear tyres are blistered.
On lap 36 Sainz pits for supersoft tyres with a slow stop.
Vettel closes on Hamilton in fourth.
On lap 38 Raikkoen battles with Ricciardo and gets past him for second place.
The next lap Ricciardo pits for supersoft tyres, while on the track Vettel passes Hamilton for third place.
Hamilton complains that the team has thrown away the chance of a win, while James Allison takes responsibility for the error on the radio.
At lap 40 Verstappen leads Raikkonen by 6.9s followed by Vettel (8.9s), Hamilton (10.5s), Ricciardo (30.0s), Grosjean (43.8s), Ocon (54.3s), Magnussen (55.1s) Perez (61,7s) and Ericsson (63.6s) in tenth place.
Hamilton reports his rear tyres are blistering.
On lap 46 Ricciardo on supersoft tyres sets fast lap at 1m07.591s.
At lap 50 Verstappen leads Raikkonen by 6.0 seconds, followed by Vettel (7.9s), Hamilton (10.3s), Ricciardo (29.1s), Grosjean (57.4s), Magnussen (63.1s), Ocon (64.8s), Perez (1 lap) and Gasly in tenth place.
On lap 53, Hamilton pits again for supersoft tyres and rejoins in fifth right behind Ricciardo.
The next lap Ricciardo pulls to the side of the track with a mechanical problem.
On lap 55 Hamlton sets fast lap.
Hartley has a problem and runs slowly around the track and pulls off and retires.
Raikkonen is slowly closing on Verstappen, the gap down to 4 seconds.
Perez passes Ocon, who is struggling with tyres, for seventh place.
On lap 58 Hamilton sets fast lap at 1m07.241s.
At lap 60 Verstappem leads Raikkonen by 3,9 seconds, followed by Vettel (6.1s), Hamilton (28.3s), Grosjean (1 lap), Magnussen, Perez, Ocon, Gasly and Leclerc in tenth place.
On lap 63 Hamilton pulls off the track with a loss of power.
On lap 65 Alonso passes Gasly for eighth place.
On lap 66 Raikkonen sets fast lap at 1m06.975s and closes to 2 seconds behind Verstappen.
Ericsson passes Gasly for tenth.
With 2 laps to go, Verstappen leads bt 1.8 seconds.
On lap 71 Raikkonen sets fast lap at 1m06.957.
At the line Leclerc passes his team mate Ericsson for ninth place.
Verstappen wins over the Ferrari's of Raikkonen and Vettel.