Austrian GP 2016
JULY 2, 2016
Saturday Team Quotes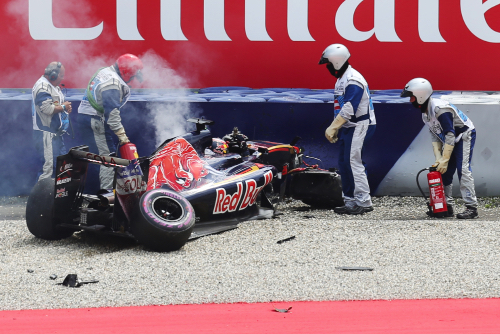 © Active Pictures
Mercedes GP
Lewis Hamilton (1st, 1:07.922): "This is definitely one of those tracks that I have to keep working at and I've been building up to today's qualifying session. It's not an easy track to execute the perfect lap and admittedly it's not my best circuit. As a driver I'm someone who brakes nice and deep and here you have to lift off the accelerator early, keeping your minimum speed high, which is not something I'm used to doing. The track dries up so quickly here - it's a great feature of this circuit and made qualifying really interesting. Hopefully tomorrow will be a bit cooler which will help me in managing my tyres and I can get off to a good start. The race will be interesting and I'm hoping it will be a good day."
Nico Rosberg (2nd, 1:08.465): "It was a huge team effort today, with both sides of the garage working together to get my damaged car ready for qualifying. It was a tricky session with the rain and the perfect lap didn't quite come together which meant Lewis was quicker. The five place grid penalty will be costly as Lewis will start from the front tomorrow and it will be tough to fight through the other cars with the ultra-soft. It will definitely be an exciting race, though, and there's still a lot to play for."
Paddy Lowe, Executive Director, Technical: "It was a more eventful day then perhaps we expected. It started with a suspension failure on Nico's car during P3 which was due to an unexpected load in one of the rear suspension members over the exit kerb at Turn 2. This left us with a lot of work to do between sessions, to turn Nico's car around, to understand the failure and to make suitable alterations to both cars. Working with the team back at the factory as well as at the circuit we made some modifications to the suspension on both cars in time for qualifying. Unfortunately, we are now subject to a five-place grid penalty for Nico because the gearbox was damaged during the accident. It was a monumental team effort from the mechanics and engineers in the garage to get the car out on time, with both sides of the garage working together to get the job done. These are the moments when you see real teamwork come together, where we work as a single entity for the good of the team. But that wasn't the end of the excitement as the threat of rain lingered over the entire qualifying session. The most impressive thing for me was to see Nico go straight out of the garage in his completely rebuilt car and set three purple sectors in Q1 on his first flying lap. We took the ultra-soft for Q2 very early - committing because of the incoming threat of rain. Q3 was incredibly tense starting with the intermediate tyre on a track that was drying rapidly and we swapped for the dry tyres at just the right time - Lewis and Nico contributing with fantastic laps to secure the front row. It will be an interesting top ten tomorrow with penalties and a range of different tyres. It looks like it will be another exciting afternoon."
Toto Wolff, Head of Mercedes-Benz Motorsport: "First of all, I want to take a moment to recognise the awesome job by our mechanics today. As qualifying started, Nico's car was still being put back together after the suspension failure this morning; 15 minutes later, he was top of the timesheets. That was teamwork of the very highest quality and another confirmation of what a great group of people we have. Overall, it has been a pretty intense day, with a lot of unexpected challenges, so it's fantastic to end up P1 and P2 in qualifying - even though Nico will take a gearbox penalty tomorrow after it was changed following the accident this morning. Qualifying was one of those sessions where it's much easier to make mistakes than get everything right - and it was all about hitting that perfect window for the final lap on dry tyres, because the conditions were changing so fast. We managed to get both cars onto the right tyres, then the drivers didn't put a foot wrong to take the top two positions; both of them put in great laps right at the end. Looking at tomorrow, we have some different approaches at the front of the grid in terms of tyre choice, plus Nico will be on a recovery strategy to make up ground after his penalty, so I think there's still plenty of action to come..."
Ferrari
Sebastian Vettel (4th, 1:09.781): "The car was very good, very strong all day. I don't think anything was missing, the only thing missing was time. 4th place is ok, puts us to 9th tomorrow, but it's not ideal because it all came down to the last lap. The track was surprisingly dry, maybe drier than I expected, with hindsight I should have taken more risks. It didn't come down to the pace, or the car, it came down to the driver, and the three drivers that were in front of me took more risks. The later you crossed the line, the better it was. For tomorrow everything can happen, maybe there will be some rain, it will be significantly cooler and it will matter how you look after the tyres. We are in a good place and it is a shame for the result, because I thought it could be a good session today. The car was really good to drive and I thought we could be closer to the top. About the kerbs, it's clear that you'd better not touch them, and I think for next year we need to find a solution, but for tomorrow there's nothing that can be done."
Kimi Raikkonen (6th, 1:09.901): "Today a lot of things happened. In Q3 the rain came, but by the end of the session the track was drying up, so it was difficult to know if it was ready for dry or wet tires. When the conditions got a bit tricky, we did not get it right because of many little things and did not manage to put a good lap together when it mattered. It is a bit disappointing to finish sixth, I felt there was more to come, but with the guys in front being penalized it's not too bad. The car has been handling well all weekend, in dry and wet conditions and we had the speed, so I expect it will be ok. Tomorrow it will be a difficult day for everybody, the conditions will dictate a lot how long the tires will last, it will be a key point. We'll try to do a lot better than today."
Williams-Mercedes
Valtteri Bottas (8th, 1:10.440): "Qualifying was a special case today with the conditions in Q3. Everything was looking good in Q1 and Q2 in the dry, but tyre warm-up was difficult in the mixed conditions. In the beginning we struggled with the intermediate tyres, and once we got onto the slicks the main problem was to try to get heat into the tyres. But the race is tomorrow and there is the possibility to overtake here, so I'm sure we can have a better day. I think in any conditions we need to try to aim to have both cars in the top five, that's a good target for us tomorrow."
Felipe Massa (10th, 1:11.977): "The conditions in Q3 were very tricky, one lap you're third, then the next lap you're 10th. It's very difficult to understand the situation when the track is improving so much. I was the first car to start the last lap, so the last car had the track a lot drier. But that's the way it is, so let's concentrate on tomorrow to try to have a good race, a good strategy and finish with very good points."
Rob Smedley, Head of Performance Engineering: "It was a disappointing session, the conditions at the end just didn't work for us. It could have worked out in our favour if we'd got another lap in, but we didn't. Felipe was the second car out with the dry tyre, so he had a little bit of a disadvantage there because we just missed getting that third lap, which Hulkenberg got. Valtteri was fourth last across the line and it wasn't too bad for him, but we expected a little bit more from today. We've got to look forward to tomorrow, the car is quick on high fuel and was quick this morning when we were about half a second off Mercedes and pointing towards the front, right in the mix with Ferrari and Red Bull. With a dry day tomorrow, we can be competitive."
Red Bull-Tag Heuer
Daniel Ricciardo (7th, 1:09.980): "It was quite fun coming into Q3 knowing that it was going to be wet and I like it when you have to adapt quite quickly. We got out on the intermediates and started with a pretty good pace and I was happy, but I knew it was going to dry by the end of the session and the slick tyres were going to be better. In hindsight I would have liked to have come in a bit earlier and at least had two laps on the slick tyre so that's probably where we missed out in getting those extra few positions. I think I'll start fifth now from some of the penalties, which is alright and we did well in Q2. We got through on the super softs so that hopefully pays dividends tomorrow and we can be closer to our rivals."
Max Verstappen (9th, 1:11.153): "The conditions today meant we had to switch from dry to wet and then back to dry, which made it interesting. We were out too early and of course everyone goes faster at the end of the session. I passed the line with 50 seconds to go which meant everyone had time on a drier track. It's difficult to say where we would have been. The pace was good, but we start too far back. We made a good call with the tyres in Q2 so we start on super softs tomorrow so we shall see how we go. I said about the kerbs causing problems yesterday and I think my point was proven again today. Daniil had quite a big crash due to them early on. Not many people agreed with me yesterday but I think they could find out for themselves."
Christian Horner, Sporting Director: "Variable conditions in Q3 made for a very exciting finish to today's qualifying, but creates a situation where you are never certain of your final position, with hindsight it would have been better to allow for two laps on slick tyres. With that in mind, we don't feel our positions on the grid for tomorrow's grand prix reflect our real ability this year at the Red Bull Ring. We started on the intermediates but in the knowledge that we would need to change but not knowing when. In conclusion, after a positive Q2, we will hope to better capitalise on the expected changeable conditions tomorrow and both drivers are itching to put in a good performance in front of the Austrian crowd at our home race."
Force India-Mercedes
Nico Hulkenberg (3rd, 1:09.285): "A great qualifying session and I'm feeling very happy and satisfied with our performance. The drying track today reminded me of my pole position from Brazil 2010 and I have to say I really enjoy these tricky conditions. You don't know where the grip is; you have to take some risks and you have to switch to dry tyres at just the right moment - which is something we did today. It was just a super effort from the whole team and it puts us in a great position for the race. There will be a lot of quick cars around us, but my car feels good and we've been strong here in all the sessions so I think we can bring home a lot of points."
Sergio Perez (16th, No Time): "I'm feeling disappointed about what happened during qualifying. We found a good balance with the car this morning and we should have easily made it through to Q3. I was on my second run during Q1 when I felt something strange at the rear of my car. I managed to recover to the pits and we saw that it was a suspension failure, but unfortunately there was not enough time to fix the car and my session was done. It's a big missed opportunity today, but I won't give up because I know we can recover some ground tomorrow and still be in the fight for points."
Robert Fernley, Deputy Team Principal: "Qualifying a car in the top three for the second race in a row is a great result and further proof of the steps forward we have taken recently. Nico fought at the front for the whole of Q3 and the team made all the right calls, not only in terms of tyres but also in terms of timing, as he was one of the last drivers to take the chequered flag. Nico delivered a clean lap in tricky conditions and the grid penalty for Rosberg means he will start from the front row tomorrow, which gives him a great opportunity for a strong result. Sadly we lost a big chance with Sergio, who suffered a suspension failure early in the session. Starting in P16 is not ideal, but he knows he's got a quick car and should be able to make his way through the field and into the points."
Renault
Kevin Magnussen (17th, 1:07.941): "There was a little bit more time in the car as I made a mistake in the last corner on my fastest lap but, generally, this is about where we are for qualifying. We're working to improve that but for now, we did what we could. Tomorrow, I have a feeling we will be a little bit closer, and hopefully something out of the norm will happen like rain or a safety car at the right time and we will be ready to maximise the opportunity if it comes. So fingers crossed!"
Jolyon Palmer (18th, 1:07.965): "Without the red flag and then the yellows flags, and with a fresh set of tyres, I think we could have had a nibble at Q2 with a perfect lap. Certainly the car has felt better this weekend, more consistent and stable but we just didn't have quite enough to qualify better. Race strategy is a bit unknown due to the track resurfacing which has meant higher degradation, and the ultrasofts lose their bite pretty quickly, so we'll be looking for every chance to move forwards."
Alan Permane, Chief Race Engineer: "There's scope for an interesting race tomorrow. It was a solid effort but it was frustrating to have the red flag late in the Q1 session and then the subsequent waved yellows for the flying lap when the session restarted. Both drivers had potential to squeeze out just a little more pace from their cars and with the lap times so close here, Q2 could have been achieved. An interesting race should be in store. The resurfacing has seen a higher level of tyre degradation at what has been traditionally a one-stop race. In addition, we have the ultrasoft tyres here so different strategy permutations are available. Yesterday's rain means that teams have less tyre data than otherwise, so there's potential for strategies to evolve as the race goes on. The weather is likely to be cooler without the rain we've seen in the last two days too; there is lots to think about."
Toro Rosso-Ferrari
Carlos Sainz (15th, No Time): "Definitely not a good Saturday for me today. We faced an electrical issue in this morning's FP3 and we decided to change the engine for precautionary reasons ahead of this afternoon's qualifying. Unfortunately I was only able to do 10 laps before having to stop... For sure we could've qualified higher today and I'm disappointed with the result. You certainly never want to qualify so far back, but now we just need to think of a good strategy for tomorrow and push for a strong comeback. I will give it my all to finish in the points!"
Daniil Kvyat (20th, 1:08.409): "Not the qualifying we wanted. It's a real pity! During Q1 I went on the outside kerb at turn 8 and the right suspension failed. The crash was unavoidable, but fortunately I'm okay. It's being a tough weekend so far and we have a lot of things to analyse, but I'm sure that, with hard work, we can get on top of things by tomorrow. In the race anything can happen and we will fight hard to achieve the best possible result."
Phil Charles, Chief Race Engineer: "Today definitely did not go to plan for us. I don't think any of us like to have to perform reliability investigations at the track. Unfortunately we have had to do that for both cars today after qualifying. These investigations often take quite some time to form conclusions. So I am usually careful to try not to conclude on these things before all avenues of the investigation have been explored. In fact we often find the most obvious initial conclusion are later discounted. So I apologise if I am a little vague for the moment, however what I can say for now is that regarding Carlos it looks like he suffered with an electrical problem, which unfortunately appears to have caused some rather unfortunate, and spectacular, consequences on his power unit. We will change it for another from his current pool so he will start from the grid as usual tomorrow. For Daniil we are still putting together the full picture of what caused his accident today. I think it is only fair to say so far we see that Daniil has come into contact with the large sausage kerbs on the exit of T8 and that from the data we see some large and oscillatory loads in the suspension as a result. Unfortunately after this the car made contact with two barriers. This has left us with some damage to the nose and front of the car as well as to the rear suspension. It is likely that we will have to change chassis tonight."
Sauber-Ferrari
Marcus Ericsson (21st, 1:08.418): "It was a tough qualifying for us. It didn't start too badly for me, as I had a good feeling on my first set of ultrasoft tyres and managed to set a decent lap time. My first lap on the second set of ultrasoft tyres was not ideal and on my second try the red flag came out. At the end of Q1 I got the chance to do another lap, but then yellow flags were waived, so I could not finish this run properly. Overall, a bit unfortunate. For tomorrow it will be difficult, but we need to stay focused and try to fight back."
Felipe Nasr (22nd, 1:08.446): "It was a difficult qualifying. The ultrasoft tyres did not work out as expected. I was struggling with the grip during a whole lap. I went out on the supersoft tyres at the end of Q1, and I was quicker on the harder compound. We have to understand why that was the case. Tomorrow is another day. Starting from the back of the field we have to try something different. It will be a tough race, but the weather can also come into play if it rains."
McLaren-Honda
Jenson Button (5th, 1:09.900): "We start from P3 tomorrow, which is mega! It was an enjoyable session - I thought it was all over in Q2 after I locked up into Turn Three. It was spitting with rain at Turns One and Two, so I didn't think it would affect me into Turn Three, but I ran wide and just stayed on. It's going to be a tough day tomorrow: nobody really understands how the tyres are going to deliver, but starting from third means we'll be in a good position. I always love those conditions and I was just trying to save it for the last lap. Luckily there was no yellow flags - I took a lot of risks but it all worked out today. For now, I'm just going to enjoy this moment..."
Fernando Alonso (14th, 1:08.154): "Certainly, this wasn't a smooth qualifying session for us. In Q2, with the threat of rain hanging over us, we tried to leave the garage as early in the session as possible. Unfortunately, for some reason, my car was fitted with used Option tyres from Q1, rather than fresh rubber. Then, when we fitted new tyres for the second run, I came across a yellow flag and had to abort the lap. That's disappointing because we really needed to capitalise on the mistakes of others today. For tomorrow's race tomorrow, we'll need mixed conditions if we want to recover from 14th on the grid. The forecast tomorrow is for rain, so let's wait and see..."
Eric Boullier, Racing Director: "First, Jenson and the team did an absolutely fantastic job throughout an extremely tough and tricky qualifying session. In Q3, on both the Intermediate and the Option tyre, Jenson looked utterly assured. He set the second-fastest lap-time on the wet-weather rubber, then locked down fifth overall as the field collectively switched to Options as the track rapidly dried. While Jenson drove superbly, I also want to pay tribute to our engineers and mechanics, who all worked together in extremely testing circumstances to ensure the car was in the right place at the right time to take full advantage of the changeable conditions. Second, while there was a small oversight with tyre-sets for Fernando on his first lap in Q2, it was the waved yellow flags he encountered on his second run, at the exit of Turn Three after Jenson ran wide into the gravel, that effectively ended his chances of getting into Q3. With the weather worsening, he would not get another roll of the dice. We've experienced both sides of the coin this afternoon; our aim for tomorrow must be to minimise the occurrence of any mistakes, and to ensure that we're always in a position to make the most of any opportunity in what could be an extremely unpredictable and eventful race."
Yusuke Hasegawa, Honda: "It was a happy ending to come away with the best qualifying result so far for the McLaren-Honda team, especially after a chaotic qualifying session with the rain coming in between Q2 and Q3. As the track changed from wet to dry in Q3, the team made a good decision at the right time to go to dry tyres, and Jenson drove brilliantly to put his last lap up into P5. On the other hand, Fernando was unlucky to be caught up in the yellow flags and could not put in a clean lap in Q2. Tomorrow the weather again is forecast to be unstable, so our hope is to make the most of our qualifying position to bring home some points for the team."
Manor GP-Mercedes
Pascal Wehrlein (12th, 1:07.700): "Yes, it's an incredible feeling for me and the whole team. I feel very proud of us today; it's a measure of how hard we have all been working and a nice reward for that effort. My lap in Q1 was really good first of all. It was a nearly perfect qualifying. The strategy was excellent; we were always one of the first cars out on track and everything just came together in Q1, despite the fact that there was a red flag and yellow flag interrupting our flow. Then in Q2 I set my lap on my first run on the supersoft tyre. We switched to the ultrasoft tyre but by then the rain was really coming and there was no way to improve. Easy to say I guess, but were it not for the rain, Q3 might even have been possible today. I have to be honest and say that tomorrow is a different story. We have struggled with tyre degradation in the races and we're missing a bit of rear downforce at the moment, which is hard on the rear tyres. The forecast is for the weather to be a little bit unpredictable, so hopefully that might shake things up and help us. My plan is to drive every lap as fast as possible and see where we get to!"
Rio Haryanto (19th, 1:08.026): "First of all, it was a great job by the whole team to get us into Q2. Yes, it's a shame I didn't get the chance to improve my lap time at the end of Q1, as there was certainly a lot more in the car. I didn't get a clear track in my second run so I was banking on my third run after the red flag, but then the yellow came out and we had to abort the lap. We've definitely been working towards the race so our qualifying pace was a nice surprise, but I think I will be more comfortable with the car in race trim. We're gradually making good steps with improving the car and I think we can have a strong race tomorrow."
Dave Ryan, Racing Director: "The whole team can be extremely proud of our performance today. It's a reflection of an enormous amount of hard work, both back at base and trackside. Pascal drove fantastically well and can feel very pleased with a perfect lap - in Q1 and Q2. His Q2 was all the more impressive for having been set on the supersoft tyre. Rio definitely missed out on a bit of luck today. He didn't have a clear track for his second run and with the yellow flag he couldn't improve on his third lap either, but there was certainly more to come from him and I'm sure he'll be very motivated for tomorrow's race. Tomorrow is another day though; the race brings its own specific challenges and it's going to be very tough, but we're up for it and we will do our very best."
Haas-Ferrari
Esteban Gutierrez (11th, 1:07.578): "I'm pretty happy as I made my best qualifying run of the season. It was fun to get the maximum out there on track. It wasn't easy coming from Friday, where we had very limited running. Going into final practice, I was not completely comfortable with how the tires were working, so it was quite a challenge to head directly into qualifying. In the end, it was pretty fun putting in some good laps in Q1 and Q2. Tomorrow, I'll be aiming for points. This is our target and I'll be fighting all the way."
Romain Grosjean (13th, 1:07.850): "I had hoped for better. On my first run in Q2 on scrubbed tires, the rear end completely went into turn six and I went into the gravel. I damaged quite a bit of the floor. By the time we repaired it to go out, some of the rain had started, which impacted my fastest lap time. We could've done better. It's a bit of a shame, but we're not in a bad place for the race. I think we have a good balance for Sunday. We've been working well on that. I'm looking forward to tomorrow."
Guenther Steiner, Team Principal: "Very exciting qualifying for us today. A lot was happening, which is great for the spectators and great for us to keep us on our toes. Both drivers did a great job and, in the end, we qualified 11th and 13th, which is a very good result for us. We were six thousandths of a second out of P10, so we're getting close. The weather is very temperamental here. As we saw today, it can start sunny and then quickly change, but we are happy with the circuit and I think everything is out there for us tomorrow. We would've liked to have been in Q3. However, we're looking forward to the race tomorrow and hopefully getting back in the points."