Austrian GP 2016
JULY 4, 2016
Race Report - Winning Hit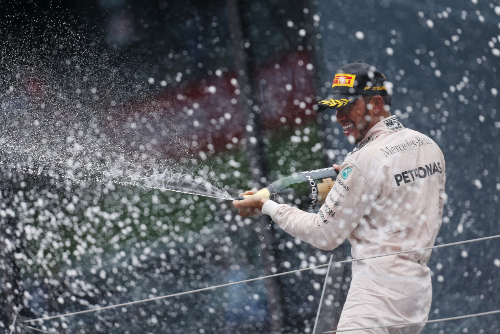 © Active Pictures
By Dan Knutson in Spielberg
Lewis Hamilton won the Austrian Grand Prix on after clashing with and then passing his Mercedes teammate Nico Rosberg on the final lap of the race.
Hamilton went around Rosberg on the outside of Turn 2, and Rosberg hit him.
"He made a mistake into Turn 1," Hamilton said of Rosberg, "and so I had an opportunity to go down the outside into Turn 2. I left a lot of room on the inside, and I guess he locked up and crashed into me. I think he had a problem with his brakes."
The hit cost Rosberg, who indeed had had brake problems, the win.
"I am absolutely gutted; it is unbelievable," Rosberg said. "The sport sometime...I was sure to win that race and then I lost it on the last lap. It is pretty intense."
Mercedes team boss Toto Wolff was not pleased: "Brainless! Seeing both cars nearly colliding is upsetting. It could have easily been a double DNF."
Rosberg brought his crippled car across the line in fourth place, which allowed Max Verstappen (Red Bull) and Kimi Raikkonen (Ferrari) to celebrate second and third on the podium.
Race officials later stated that the accident was Rosberg's fault. They gave him a 10 second penalty, but that was not enough to make him lose fourth place.
The stewards' statement: "Having taken note of the extensive evidence given by both drivers and the video and telemetry data, it was apparent that Car 44 (HAM) was in front of Car 6 (ROS) - i.e. more than fully alongside - and that the driver of Car 44 could have clearly made the turn (T2) on the track, if not for the resultant collision.
"Car 6 did not allow Car 44 'racing room' and hence the driver of Car 6 was responsible for the collision."
Rosberg gave his response on Facebook.
"It doesn't change my result but still they give me the blame, which sucks," he said.
The day before, a tricky Qualifying 3 session on a damp track has seen Hamilton win the 54th pole of his career. He shared the front row with Nico Hulkenberg who had qualified his Force India third but had then been promoted after Rosberg had to take a five place grid penalty for having a new gearbox in his Mercedes and dropped to sixth.
Sebastian Vettel had been fourth quickest in his Ferrari but he too had a five place grid penalty so he lined up ninth.
McLaren's Jenson Button, therefore, moved from fifth to third on the grid. Raikkonen started fourth in his Ferrari ahead of Daniel Ricciardo (Red Bull), Valtteri Bottas (Williams), Verstappen, Vettel, and Felipe Massa (Williams).
Massa, however, would start from pit lane after a front wing change, as would Daniil Kvyat who had crashed his Toro Rosso the day before.
The Ferrari and Red Bull drivers had set their fastest lap times in Q2 using Pirelli's super soft tires, whereas the Mercedes drivers had used the less durable ultra soft compound slicks, and therefore it looked like they would be on the back foot strategy-wise for the 71-lap race.
Yet much cooler ambient and track temperatures on Sunday compared to Sunday played in favor of Mercedes. Furthermore, rain on Sunday morning meant that the track was still cool and slick as the start of the race approached.
Hulkenberg dropped to fourth at the start, while Button grabbed second behind Hamilton and ahead of Raikkonen. Rosberg got by Ricciardo to claim fifth place.
By lap five Hamilton had a 2.5 second lead over Button who was being hounded by Raikkonen.
Raikkonen took second away from Button on lap 7. Hulkenberg, meanwhile, was slipping backwards and was now in eighth place. Rosberg was now in fourth place ahead Verstappen, Vettel and Ricciardo.
Button pitted at the end of lap nine for a set of Pirelli's soft compound tires. Rosberg did the same a lap later, and he fell back to 14th place.
Ricciardo made his stop at the end of lap 14, and Verstappen came in a lap later.
Out in front, Hamilton's ultra softs were holding on better than expected - no one thought he could go 16 laps on them. But Rosberg, now up to fourth, was lapping over a second quicker than his teammate.
Lap 20: Hamilton, who had yet to stop, had a 4.3 second lead over Raikkonen. But one lap later he finally pitted and got a set of the soft compound Pirellis. He came back out behind Rosberg.
Raikkonen led lap 22 and made his stop then. So Vettel took over first place on lap 23 ahead of Rosberg, Hamilton, Verstappen, Ricciardo and Raikkonen.
Vettel's right rear tire exploded on the pit straight just after he had completed lap 26. He slewed to a halt, and out came the Safety Car.
"I think you see, the rear right exploded," Vettel radioed to the team. "Nothing I can do. Engine off, sorry guys."
"I went over the debris so check the pressures," Rosberg radioed.
At the end of laps 28 and 29 the Safety Car led the field through the pits so workers could clean the debris off the track.
"I didn't feel anything, or rather, I felt it when it was too late and it exploded out of the blue," Vettel would say later. "There were no signs before that, everything was normal. I spoke with the people on the pit wall and everything looked the same, the pace was the same as the lap before, the tires felt fine, the lap times were fine.
"It's completely a question mark on why the tire had the failure. Obviously the idea was to go on as long as possible with that set of tires and to shape our race on that idea, but I don't think it was an aggressive strategy, as lots of people went longer than us on the same tires."
The Safety Car came in at the end of lap 31, at which time the order was Rosberg, Hamilton, Verstappen, Ricciardo, Raikkonen, Bottas, Felipe Nasr (Sauber), Button, Romain Grosjean (Haas) and Kevin Magnussen (Renault).
By lap 40 Rosberg had a 1.7 second lead over Hamilton. The order of the top six remained the same, but Button was now up to seventh. The gap went down to 0.9 of a second after Rosberg slid wide at Turn 2 on lap 44.
The top five remained stable at lap 50, but Button was chasing Bottas for sixth place.
Hulkenberg, who had a five second time penalty for pit lane speeding, was way down in 12th place. "I'm thinking of bailing out," he radioed. "I have so much vibration." He pitted at the end of lap50 for a new set of tires.
He later retired the car.
"I'm pretty disappointed and gutted, to be honest," the Hulk said. "It was a really tough race and nothing really worked out for us. The start wasn't great and I dropped a couple of positions on lap one, but the opening stint was very difficult because the car was sliding around and the tires were graining.
"That became the story of my race because the balance of the car wasn't allowing me to manage the tires and I was suffering with so much graining. With a new set I could manage just three of four laps before they fell away. Towards the end of the race I had some vibrations with the car and the team saw that I was critical on brake wear, which is why we retired the car in the end."
Now Raikkonen closed in on Ricciardo. And Hamilton's engineer told him it was "Hammer time" and to close the gap on Rosberg.
Hamilton pitted for another set of the softs at the end of lap 54, and he came out just ahead of Ricciardo/Raikkonen.
Rosberg stopped one lap later for the super soft Pirellis.
Verstappen led lap 56. Rosberg was second and Hamilton third.
"Why is he on a softer tire than me?" Hamilton demanded when the team informed him of Rosberg's tire selection.
Raikkonen finally got ahead of Ricciardo on lap 57.
Setting fastest laps, Hamilton closed in on Rosberg. The gap was 0.4 of a second on lap 60.
Rosberg took the lead from a spirited Verstappen on lap 61. Now Hamilton got stuck behind Verstappen and lost time to Rosberg. By the time Hamilton had passed Verstappen on lap 63 he was now 1.5 seconds behind the leader.
Raikkonen was now up to fourth ahead of Button, Ricciardo, Grosjean and Perez. Ricciardo had pitted for a set of the ultra soft tires, and he soon passed Button.
On lap 67, Hamilton, who had just set the fastest lap of the race, was 0.7 of a second behind Rosberg. That gap narrowed even more has Hamilton closed right in.
Then, on the last lap, the winning hit happened in Turn 2.
"Nico made a mistake into Turn 1," Hamilton said. "You know, we were racing right until the last lap. He made a mistake, clipped the inside curb and went wide and I got a good run on him up to Turn 2. He blocked the inside, so the only place I could go was down the outside. So I was on the racing line.
"He was in my blind spot, so I assumed he was still there, so I went very wide, left him plenty of room and as I started to turn - I was at the edge of the track - he collided with me."
Rosberg, of course, saw it differently.
"I defended on the inside and I felt I was in a strong position," he said. "I was convinced I would make it stick. I went deep because that was the best way to defend my corner to keep him outside a little bit. Of course I need to leave him room on the track, which is what I was doing, and then Lewis just completely caught me by surprise and turned in.
"He said I was in his blind spot and he couldn't see where I was, so maybe that was the reason, but it caught me surprise that he turned in before he reached the edge of the track even though I was there. I couldn't react and we collided, which was devastating."
Verstappen certainly wasn't devastated as he moved into second place in a race in which he had done just one pit stop.
"The car was performing well, as were the tires," Verstappen said. "I managed to overtake some cars at the start and had some good battles so that was really good fun. From there on I did my own race, Kimi (Raikkonen) was catching fast but I managed to hold him off until the end. I expected P3 but got the P2, I was surprised but very happy to pick up another position in the last lap.
"The Safety Car definitely helped us today and allowed us to make the most of the pit stops. Towards the end we had to deal with the pressure but that just means you can't make any mistakes, and we didn't today. I hit some traffic which cooled the tires and made it a bit tricky but we finished with no problems."
Raikkonen had mixed emotions about his third place.
"It was not an easy day but I did my best," he said. "Third position is an okay result but I'm a bit disappointed with where we ended up: considering the first part of the race, we expected more here as a team. At the beginning we had good speed to catch up a bit with the Mercedes, but then after my pit stop it was not easy to recover.
"I lost precious time trying to pass Ricciardo, I got close to him many times, but then I was losing traction trying to get out of Turn 2. Once I got past him I had a very good speed and I was very happy with the handling. In the last part of the race I think I could have passed Max (Verstappen), but with the yellow flags on track it was not possible.
"Handling-and-speed-wise today we got the maximum out of the car, but it was not enough because we want to be up there with both cars."
Ricciardo finished where he started - fifth - as he was too far behind to catch Rosberg and his damaged Mercedes.
"We didn't expect to be on the podium here in Austria," the Red Bull driver said. "Obviously I wish I was up there with Max, but from my side the race was a bit disappointing. At the beginning we seemed to get passed before Turn 8 which is not normal, so that was a bit frustrating but then once it settled we just weren't quick.
"I was obviously trying to push on the tire and then get what I could out of it. It seemed we could hold the pace, but then when everyone was improving and getting quicker and quicker we were just getting slower and slower. For now I just want to understand why and look into it."
Button wound up sixth - his best finish of the season.
"I knew the race was going to be difficult," he said. "Starting near the front definitely helps because you can race in clear air and do your own thing a little bit more, but, with two DRS zones around this place, we couldn't keep the other cars behind. While our pace was okay, once a car came past, they could overtake in places we never knew were possible.
"Nonetheless, we beat the Williams cars on sheer pace, and I think we did a great job today with our race strategy. We really got the maximum from everything. Through every session, we've been improving; every run we've done, we made the car better and better."
Grosjean was back in the points for the first time five races as he took seventh place in the Haas.
"The first lap was not great," he said. "I was pushed out by another car and I lost quite a few positions. After that we stayed out on the super softs, even though the tires were going away. I managed to pick up some pace and run well. The Safety Car came when we had planned our stop, so that helped a little bit.
"After that I was behind (Jensen) Button. I was trying to chase him and overtake him, but it was just too hard to follow another car and then be able to pass."
By finishing eighth, Sainz finished in the points for the seventh time in nine races.
"We started from the back and did a good start, managing to get into the top 10 in the early stages of the race," he said. "Suddenly, after the second pit-stop during the Safety Car period, we were nearly last. Which meant we had to do a very good last stint on the soft tires - 35 laps - overtaking lots of cars and managing to get back into the top eight, something a bit unexpected after seeing myself back in P15 with half the race to go."
Bottas started seventh but could only finish ninth.
"We definitely expected more points today," he said. "The main problem was getting the tires to work and to last, so that is something we need to understand before Silverstone because the temperatures could be similar to what they were here today. I don't think our car was too bad this weekend; we just really struggled to get the tires to work."
Pascal Wehrlein earned his first ever F1 point by coming home tenth. It was also only the second time the Virgin/Marussia/Manor team has finished in the points.
"It's incredible," he said. "I'm so happy! It's just been one of those weekends and to end it this way is a fantastic reward for everyone. At one point I was feeling quite dejected, because we were a little unlucky with our strategy in relation to the Safety Car. I'd just pitted, so when I came out after my second stop, I was last.
"That wasn't such a great feeling, but we just had to work with what we had, which was soft tires all the way to the finish - 40 laps! To finish the race in the points from that position by running for more than half a race distance on a single set of tires is an incredible achievement."
While the Manor team celebrated like they had won the race, the winning Mercedes team had some "issues" to solve. Mercedes team boss Toto Wolff has threatened he will now issue team orders to stop his drivers colliding as they did in Spain and again in Austria.
"In Barcelona I was much easier about it because we had 29 races without any collision," Wolff said. "It was clear it was eventually going to happen, and it wiped out both cars. From my naive thinking I said to myself 'OK, that's it, they've learned their lesson, they've seen the consequences and it's not going to happen anymore'. But here we go, it happens again.
"So the only consequence is to look at all the options available on the table, and one option is to freeze the order of a certain stage in the race. It's unpopular, it makes me puke myself, because I like to see them race, but if racing is not possible without contact, then that's the consequence."
Still, as hard as Hamilton and Rosberg are racing each other these days, it's hard to believe that there will not be another "winning hit" race.