Austrian GP 2016
JULY 3, 2016
Race Notes - Hamilton wins Austrian GP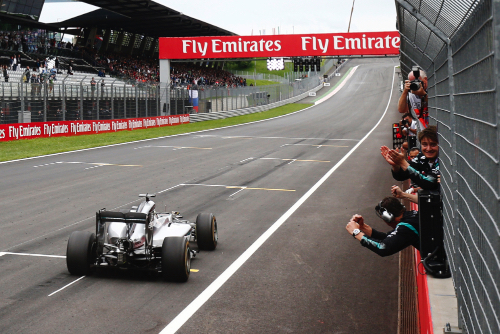 © Active Pictures
By Mark Karp
Lewis Hamilton won the Austrian Grand Prix for Mercedes GP, with a final lap pass on his team mate Nico Rosberg, who had come back from his sixth place start to lead the race. The two team mates came together and Rosberg with a damaged car limped around to finish fourth.
Max Verstappen in his Red Bull-Tag Heuer - running 56 laps in his final stint on soft tyres - finished 5.7 seconds behind in second place, and Kimi Raikkonen, right behind (6.3s) in the Ferrari finished in third place.
Nico Rosberg (16.7s) in the second Mercedes limped home to finish fourth, followed by the second Red Bull of Daniel Ricciardo (30.9s) in fifth place, Jenson Button (37.7s) in the McLaren-Honda finished sixth, Romain Grosjean (44.6s) in the Haas-Ferrari was seventh, Carlos Sainz (47.4s) in the Toro Rosso-Ferrari was eighth, Valtteri Bottas (1 lap) in the Williams-Mercedes was ninth and Pascal Wehrlein in the Manor-Mercedes scored his first world championship point finish in tenth.
Before the start, Massa would start from the grid after making a change of his front wing.
Hamilton starts from pole, with Hulkenberg alongside in the front row. Button and Raikkonen in row two, Ricciardo and Rosberg in row three, Bottas and Verstappen in row four, and Vettel and Gutierrez rounding out the top ten.
Race control reporting a 20% chance of rain. The front three drivers starting on ultrasoft tyres, while Raikkonen and Ricciardo starting on supersoft tyres.
At the appointed time the drivers set off on the formation lap - the lights go out and the race begins with Hamilton takes the lead from Button Raikkonen and Ricciardo. Hulkenberg back to fifth. Hamilton with a 0.6s lead after the first lap with Button holding up Raikkonen and the rest.
On lap 2 Rosberg passes Ricciardo down the inside of turn 8 to take fifth.
On lap 3 Daniil Kvyat pulls off the track at turn 1 and retires the Toro Rosso.
On lap 5 Rosberg sets fast lap at 1m11.681s. Hamilton sets fast lap the next lap at 1m11,661s.
On lap 6 Rosberg passes Hulkenberg for fourth place, Verstappen follows him as well and takes Hulkenberg as well.
On lap 7 Raikkonen passes Button for second place. Hulkenberg continues to fall back with Vettel and Ricciardo getting through. Hamilton sets another fast lap at 1m11.180s.
On lap 9 Rosberg and Verstappen get past Button. Hulkenberg and Alonso are the first to pit. Hulkenberg on supersoft, and Alonso on soft tyres.
On lap 11 Rosberg pits for soft tyres.
At lap 12 Hamilton leads Raikkonen by 4.2 seconds, followed by Verstappen (7.3s), Bettel
Gutierrez Massa, Nasr and Ericsson battling for ninth.
On lap 13 some drivers are reporting rain drops
On lap 14 Wehrlein pits. Rosberg sets fast lap at 1m10.738s, and again the next lap at 1m10.069s.
On lap 15 Verstappen pits from third.
Hamilton is holding on before pitting, looking to see if the rain will come or not. Hamilton, Raikkonen and Vettel in the top three positions yet to pit with Rosberg the first who has pitted in fourth.
Nasr passes Gutierrez for eighth. Buttob and Hulkenberg also get past Gutierrez.
Rosberg has closed to 12s behind the leader Hamilton. Rosberg sets another fast lap at 1m09.929s.
Some rain drops continue to fall in turn 2. Hamilton pits from the lead for soft tyres and has a slow stop with trouble putting on the left rear tyre - his team mate Rosberg passes Hamilton in first corner,
On lap 23 Raikkonen pits from the lead taking on soft tyres, rejoining in sixth, handing the lead to Vettel.
On lap 25 Hulkenberg pits and rejoins in 20th. Button passes Grosjean for seventh.
On lap 27, Vettels right rear tyre fails, and he spins down the start straight and comes to a rest going into the first corner. The safety car is deployed. A number of drivers pit.
Under the safety car Rosberg leads Hamilton, Verstappen, Ricciardo, Raikkonen, Bottas, Nasr, Sainz, Button and Grosjean in tenth place.
Rosberg asks the team to check his Mercedes as he ran over a lot of debris from Vettels car.
All drivers but Gutierrez and Haryanto now run on soft compound tyres.
At the start of lap 32 the safety car comes in and the race restarts, Rosberg takes the lead followed by Hamilton and the two Red Bulls.
Magussen is handed a 5-second penalty for blocking.
Massa and Perez are battling for tenth place.
On lap 33 Rosberg sets fast lap at 1m09.521s, and then again at 1m09.449s.
Hulkenberg and Grosjean are given 5 second time penalties for speeding in pitlane.
At half distance, on lap 35 Hamilton follows Rosberg by 1.952 seconds.
Button battles Nasr for seventh place and passes the Brazilian. Hamilton sets fast lap at 1m09.244s.
Perez and Massa battle over tenth place. Hamilton sets another fast lap at 1m09.010s.
Ricciardo reports drops of rain to his team
At lap 41 Rosberg leads Hamilton by 1.9 seconds, followed by Verstappen, Ricciardo, Raikkonen, Bottas, Button, Grsojean, Nasr and Massa in tenth place.
On lap 44 Rosberg runs wide at turn 2, and Hamilton closes to under one second behind the leader, within DRS range.
Hamiltons engineer reports that his suspension loads are critical at turn 9.
On lap 46 Sainz passes Hulkenberg for 12th place.
Button is chasing Bottas for sixth place, while Raikkonen is closing on Ricciardo in fourth.
Hulkenberg reports to his team, ºGuys I am thinking of bailing, I have so much vibration.¹
On lap 52 Bottas pits supersoft tyres. Hamilton sets fast lap at 1m09.166s.
Mercedes tells Hamilton to close the gap now, ºits hammer time¹.
On lap 55 Hamilton pits for soft tyres and rejoins ahead of Ricciardo and Raikkonen.
The next lap Rosberg pits for supersoft tyres and rejoins just ahead of Hamilton.
At lap 56 Verstappen leads Rosberg by 2.9s, followed by Hamilton, Ricciardo, Raikkonen, Button, Grosjean. Perez, Sainz and Alonso in tenth place.
Mercedes tells Hamilton that Nico is ahead of him, and has softer tyres and needs to pass him on track - Hamilton ask why he is on a softer compound than him?
Hamilton sets fast lap at 1m08.744s, and closes to 0.8 seconds behind Rosberg.
Rosberg closes on Verstappen with 45 laps on his soft tyres.
Rosberg passes Verstappen for the lead, and Hamilton passes him as well the next lap.
Raikkonen complains that blue flags are not being shown to the backmarkers ahead of him.
On lap 63 Hamilton sets another fast lap at 1m08.598s.
At lap 65 Hamilton leads Rosberg by 1.2 seconds, followed by Verstappen, Raikkonen, Ricciardo, Button, Grosjean, Perez, Sainz and Bottas in tenth.
Alonso and Hulkenberg both retire.
On lap 67 Hamilton sets fast lap at 1m08.411 seconds, and closes to 0.390 second behind Rosberg.
On lap 69 Hamilton closes right behind with two laps to go.
On the final lap Hamilton makes a move to pass Rosberg under DRS, the two drivers go side-by-side into turn 2, Rosberg goes wide and drives into Hamilton - Rosbergs front wing is damaged and Hamilton takes the lead.
Rosberg limps around on the final lap. Perez is stranded in the gravel trap.
Hamilton takes the win, with Verstappen second and Raikkonen third - Rosberg limps home to take fourth place.
Hamilton reports to the team, ºI was on the outside - it was not me that crashed.¹
Hamilton while trying to explain the incident with Rosberg receives some boos from the crowd.