Austrian GP 2016
JULY 2, 2016
Practice 3 Report - Red Ahead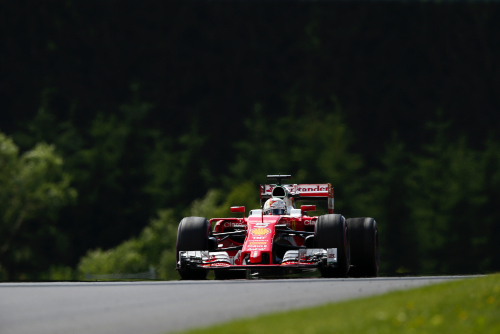 © Active Pictures
By Dan Knutson in Spielberg
The red Ferraris of Sebastian Vettel and Kimi Raikkonen were ahead of the rest of the competition in Free Practice 3 for the Austrian Grand Prix. Lewis Hamilton ended up third while his Mercedes teammate Nico Rosberg ended up crashing.
The ambient temperature at the start of the 60-minute session was 75 degrees Fahrenheit (24 degrees Centigrade) and the track temperature was 106 degrees Fahrenheit (41 degrees Centigrade.)
The line-up for the weekend was: Mercedes - Lewis Hamilton and Nico Rosberg. Ferrari - Sebastian Vettel and Kimi Raikkonen. Williams Mercedes - Felipe Massa and Valtteri Bottas. Red Bull TAG Heuer - Daniel Ricciardo and Max Verstappen. Force India Mercedes - Nico Hulkenberg and Sergio Perez. Renault - Kevin Magnussen and Jolyon Palmer. Toro Rosso Ferrari - Daniil Kvyat and Carlos Sainz. Sauber Ferrari - Marcus Ericsson and Felipe Nasr. McLaren Honda - Fernando Alonso and Jenson Button. Manor Mercedes - Pascal Wehrlein and Rio Haryanto. Haas Ferrari - Romain Grosjean and Esteban Gutierrez.
Rosberg had been quickest in both Friday sessions. His time of 1:07.373 in FP1 was the fastest lap ever around the 9-turn A1 Ring. The official lap record of 1:08.337 was set by Michael Schumacher in 2003.
"There are some changes to the circuit this year with the new asphalt and curbing; from my point of view those changes are pretty cool and it's still a really enjoyable track to drive," he said Friday. "The new asphalt seems to be suiting our car quite well, maybe better even than the old tarmac, but tire usage will be the decisive factor this weekend as we saw quite a lot of graining during our dry running."
Wehrlein and Gutierrez were the first two out on the track. Vettel set the early pace with a lap of 1:07.797 using the Pirelli ultra soft tires with the purple sidewalls. Raikkonen used the same tires to clock a 1:07.977.
Hamilton and Rosberg were also lapping on the purple tires, but they doing long runs on used tires andu were a full three seconds slower than Vettel who had now improved to a 1:07.307 (now the fastest ever lap at the track), and Raikkonen who was down to a 1:07.603 and then a 1:07.558.
Hamilton's rear tires were blistering and he pitted even though the team asked him to stay out for a few moew laps.
Verstappen was third in the early going ahead of Massa, Hulkenberg and Ricciardo. Then, 18 minutes into the session, Ricciardo climbed to third with a 1:07.798.
It was 28 minutes into the session when Raikkonen turned a 1:07.234 on the ultras, and he followed that up with a 1:07.300.
Halfway through FP3 the top six were: Raikkonen, Vettel, Ricciardo, Bottas, Massa and Verstappen. All were below the 1 minute 8 second mark. Hamilton was 17th and Rosberg 20th.
Ricciardo then improved to a 1:07.639, a touch faster than his teammate's 107.761.
Hamilton and Rosberg headed out on a set of the ultra soft Pirellis when there were 22 minutes remaining in the session. Rosberg was on a quick lap and set the fastest first sector time, only to spin into the barriers at Turn 2. That brought out the red flags with 20 minutes left in FP3.
The left rear suspension had collapsed, or there had been some other sort of failure on the left rear of the Mercedes - the left rear tire had been wobbling - to trigger the accident.
The session was restarted with 12 minutes remaining. Fast man Vettel was the first out on track, and he went to the top of the screens with a 1:07.098.
Hamilton was also out there, but his 1:07.754 was only good enough for fourth. He then moved into third with a 1:07.308.
Bottas spun off at Turn 9 as the session went into its last five minutes, as which time virtually every driver was on track.
FP3 ended with Ferrari drivers Vettel and Raikkonen ahead of Hamilton, Ricciardo, Verstappen, Bottas, Massa, Hulkenberg, Button and Alonso.
"Qualifying should see times in the 1m06s; maybe lower. Providing it stays dry of course," Pirelli tweeted.