Austrian GP 2016
JULY 1, 2016
Practice 1 Report - Record Smasher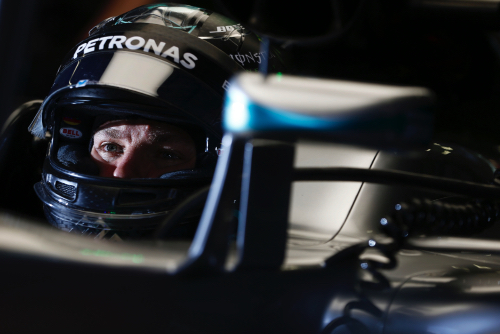 © Active Pictures
By Dan Knutson
Nico Rosberg smashed the lap record around the A1-Ring in Free Practice 1 for the Austrian Grand Prix. He clocked a 1:07.644 in his Mercedes. While it was not "official" it still beat that the old record of 1:08.337 set by Michael Schumacher in 2003.
The ambient temperature at the start of the 90-minute session was 66 degrees Fahrenheit (19 degrees Centigrade) and the track temperature was 88 degrees Fahrenheit (31 degrees Centigrade.)
The line-up for the weekend was: Mercedes - Lewis Hamilton and Nico Rosberg. Ferrari - Sebastian Vettel and Kimi Raikkonen. Williams Mercedes - Felipe Massa and Valtteri Bottas. Red Bull TAG Heuer - Daniel Ricciardo and Max Verstappen . Force India Mercedes - Nico Hulkenberg and Sergio Perez. Renault - Kevin Magnussen and Jolyon Palmer. Toro Rosso Ferrari - Daniil Kvyat and Carlos Sainz. Sauber Ferrari - Marcus Ericsson and Felipe Nasr. McLaren Honda - Fernando Alonso and Jenson Button. Manor Mercedes - Pascal Wehrlein and Rio Haryanto. Haas Ferrari - Romain Grosjean and Esteban Gutierrez.
In FP1, however, Alfonso Celis drove Perez's Force India.
The 2.688-mile (4.326-km) 9-turn track had been completely resurfaced since last year's grand prix. And the curbs had been modified so that it would now be more difficult for the drivers to ride over them.
"The new curbs will have a big impact and we need to adapt out set-up accordingly," said last year's winner Rosberg. "The team has been out there measuring everything to see what impact will it have on the set-up, the tires, everything.
"What the asphalt is like has a big impact on the set-up of the car, it's crucial and we're paying a lot of attention to it. Then we just need to learn more once we're out there driving."
Palmer and Wehrlein were the first out on the new tarmac.
The drivers had a choice of Pirelli's ultra soft, super soft and soft compound slicks for the weekend, but rain was in the forecast so the rain tires would likely be used as well.
Verstappen set the first time - a 1:11.707, which he then lowered to a 1:10.099. The Red Bull team had presented his teammate Ricciardo with a cake to celebrate his 27th birthday just before the start of the session.
Rosberg got up to speed with a 1:09.154 on the super soft tires. Then Hamilton beat that with a 1:08.808 also using the supers. Rosberg responded with a 1:08.166.
That topped Michael Schumacher's lap record of 1:08.337 from 2003.
Hamilton spun in Turn 3, and then Grosjean spun trying to avoid him.
Not to be outdone, Vettel spun in Turn 1, and Grosjean followed that up with a spin at Turn 8.
At the 40-minute mark the top 10 were: Rosberg, Hamilton, Ricciardo, Vettel, Verstappen, Raikkonen, Bottas, Button, Kvyat and Massa. The top five were all under the 1 minute 09 second barrier. Everybody was now in the pits gearing up for the second half of the session.
The lull ended when new (unofficial) lap record setter Rosberg headed out with 40 minutes left in the session. He was on the ultra soft tires for the first time, and he lowered the lap record to 1:07.644. He then lowered that to a 1:07.373.
Hamilton then did an ultra soft run which yielded a slow time of 1:13.050.
There were 30 minutes remaining in the session when Verstappen went straight off at Turn 6 after hitting the new yellow curbs at Turn 5 and breaking the right front suspension on his Red Bull.
Massa was now in third place with a time of 1:08.824 on the ultra soft Pirellis, but he didn't stay there for long. Others were making their ultra runs now. Vettel clocked a 1:08.022 to move into second place. Raikkonen's 1:08.222 put him in fourth place.
Hamilton finally got some good laps in, but his 1:07.995 and his 1:07.730 were nowhere near as good as his teammate's 1:07.373.
With 15 minutes remaining, the order was: Rosberg, Hamilton, Vettel, Raikkonen, Ricciardo, Sainz, Massa, Verstappen, Kvyat and Bottas.
"The top runners are now all on the ultra soft tire. But with such a short lap, there's a smaller difference in lap times between compounds," Pirelli tweeted.
The session wound down under sunny skies with the drivers doing long runs - everybody but Verstappen was on the track in the final minutes - and the top 10 remained the same.