Austrian GP 2015
JUNE 22, 2015
Race Report - The king of the mountains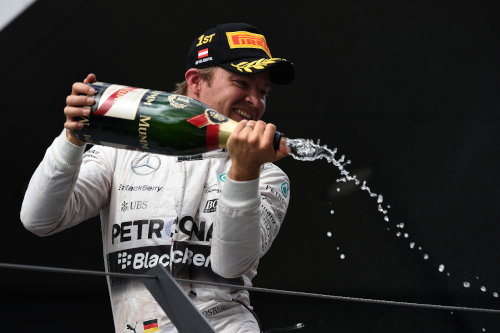 © Active Pictures
BY DAN KNUTSON IN SPIELBERG, AUSTRIA
The Red Bull Ring is surrounded by mountains, and the king of those mountains is Nico Rosberg, who won the Austrian Grand Prix after defeating his Mercedes teammate Lewis Hamilton. Rosberg also won in 2014.
"It's an awesome feeling, of course, to win again here," he said. "The start made the race. It was a great start and I managed to defend in the first couple of corners and then I really just tried to push flat out this time. I was really happy with the car and happy to see the gap open up to Lewis, so it really worked out perfectly today."
Hamilton finished second. Felipe Massa took his first podium of the season with his third place in his Williams. Sebastian Vettel looked destined for that third spot until a lengthy stop in the Ferrari pit dropped him to fourth. Valtteri Bottas (Williams) and Nico Hulkenberg (Force India) rounded out the top six.
As Rosberg said, the start made the race. He had qualified second, but beat pole sitter Hamilton into the first turn.
"I had a problem with the wait revs," Hamilton explained. "I took my foot off the gas and it was still on - like the throttle was still on - and then I dumped the clutch and just lots and lots of wheel spin. So it's not the best way to start the race - but something we will work on to improve on my side of the garage."
Rosberg then fended off Hamilton on the first lap and slowly pulled away. Still, Hamilton was in contention if he could stay close enough and maybe get ahead of Rosberg during the pit stops. But it was not to be because Rosberg was quick, and then Hamilton drove over the white line at pit exit. That earned him a 5 second penalty added to his race time, so he would have to pass Rosberg and get 5 seconds ahead of him. But Rosberg was even quicker in the second stint.
"It was pretty straightforward," Hamilton said of his race. "Just keeping up with Nico in the first stint, and then in the second stint Nico generally had better pace so he did a fantastic job today, so congratulations to him and otherwise it was just bringing the car home."
Rosberg's only concern was a vibration from the right front tire, which led to some frantic calls to his engineer.
"It was just a vibration picking up on the right front," he said. "So, just telling them to keep an eye on it - but it was fine in the end. It sort-of stabilized so it was not a problem. It just came from the tire wear and just feels a bit uncomfortable when that happens - but, no, it was all fine."
It was not all fine with Ferrari's 13 second pit stop that dropped Vettel down to fourth. Massa was happy with that though. Vettel came back and attacked, but could not pass Massa.
"We managed to keep the pace, which was good - but maybe a little bit slower compared to him," Massa said. "I expect him to be close to me at the end of the race and he was but I managed to keep him behind which was the most important thing."
The Ferrari crew had difficulty with the right rear wheel nut during the pit stop.
"The issue during the pit stop is something that can happen," Vettel said. "I had a problem, but generally the guys are the quickest on the pit lane so there's nobody to blame. We are a team and when you push to the limit these things can occur. I would have preferred to get the trophy for third place of course, but we'll come back next year with the same objective.
"The car was very good, I think we made another step ahead and we had a great pace. This is a very short lap so there's not so much to create, but in the next races there are more high speed corners and we can better show that we're a bit closer even if today's result doesn't show so well. In the last part of the race I've tried to stay close to Felipe, but he was very quick on the straights."
Vettel's woes were nothing like his teammate Kimi Raikkonen who ended up parked underneath Fernando Alonso's McLaren during a first lap crash.
"I don't know exactly what happened before the crash," Raikkonen said. "I had some wheel spin in an unusual place. I was at a quite high speed, suddenly went left and end up there. I did not see anything coming, everything happened very quickly. Unfortunately at that time my race was over, it has been a poor weekend, now we have to think about next one."
Alonso view: "I got a good start, and made up a lot of places into Turn One and Turn Two. Kimi ahead of me had started on the Prime (soft) tire, and he exited Turn 2 with a lot of wheel spin - I went to overtake him and he lost the car to the left, and that's exactly where I was - so we both went into the wall. Luckily, we're both fine. It was a strange incident, because he lost the car in fifth gear, so it must have been very low grip."
Both drivers were uninjured and the safety car came out for 6 laps. When the racing resumed, Rosberg resumed his stake on the lead.
At the end of the 71 lap race Bottas was in fifth place.
"I was hoping for a bit more from the race personally," he said. "I enjoyed the overtaking that I made, it was just a shame it wasn't further up. Midway through the race I had a brake issue which I had to manage a bit."
After winning the Le Mans 24 Hour race, Hulkenberg scored his best finish of the season in Formula 1.
"I'm very satisfied with sixth place today," he said. "Going into the race we always knew it would be difficult to keep the Williams of Bottas behind me, so bringing the car home in sixth was probably the maximum we could achieve. I had some good wheel-to-wheel battles with him and we swapped places a few times, but it was hard to match their absolute pace. Overall it's been a great weekend: I found a nice rhythm and I have been very happy with the performance of the car."
Pastor Maldonado wound up seventh in his Lotus after battling Max Verstappen in the Toro Rosso.
"It's great to get another seventh position and the points that come with it," Maldonado said. "It was a big moment fighting with Max. The super soft tires were very hot so losing their grip and you lose a lot of downforce close to the car ahead, but everything was under control! I wanted to get the position and I think we deserved it."
It was indeed an intense duel with Verstappen.
"I think we did everything we could and had some good fights," Verstappen said. "I enjoyed every lap to be honest! The car worked really well and especially the last few laps were quite exciting. We were very close to ending in P7, but I'm very happy with P8, it's a great result for the whole team. We've learned more about the tires and I think that the updates we brought are positive, so all in all, everything felt really good in the race."
Sergio Perez took ninth, and his points combined with Hulkenberg's moved Force India from seventh to fifth in the constructors' championship.
"I had a great start and first lap: the target was to get ahead of Maldonado as he was the first driver on the prime tire and we managed to do that," Perez said. "In the first stint I had a lot of pressure from both the Lotus drivers, but we held strong and the race was looking really good. Unfortunately, we lost some time in a slow pit stop and it was a bit difficult to recover after that, especially as that placed us behind Ericsson and Nasr. The second stint was not very easy because I had some very strong vibrations on the front tires and that cost me some pace."
Daniel Ricciardo had a troubled weekend and started 18th in his Red Bull, so he was happy to salvage a tenth place finish.
"I was pleased with the car during the race," he said. "I was trying to push as much as I could towards the end to catch Perez but the boys behind me were fighting for the podium and I had to respect that. I was really happy with the option tire, the balance of the car worked well. To finish tenth is a good result from where we started today."
Ricciardo's problems were trifle compared to McLaren Honda as Alonso and Jenson Button had a combined total of 50 grid place penalties for assorted power unit and gearbox changes. Then Alonso crashed and Button retired after just eight laps.
"Murphy's Law famously states 'Anything that can go wrong, will go wrong,'" Eric Boullier, McLarens's Racing Director said. "As far as McLaren-Honda is concerned, this afternoon proved it 100 percent correct."
Meanwhile, at the opposite end of the spectrum, everything went right for the Nico Rosberg, King of the Mountains.