Austrian GP 2015
JUNE 21, 2015
Race Notes - Rosberg leads Mercedes 1-2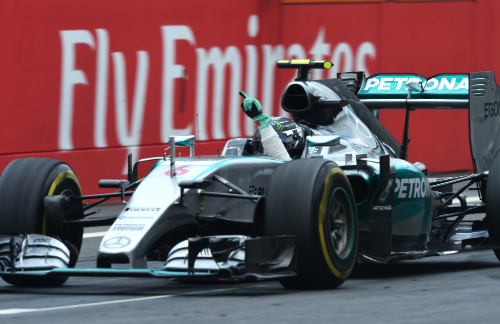 © Active Pictures
Nico Rosberg, after taking the lead into the first corner, won the Austrian Grand Prix for the second year in a row, over his Mercedes team mate Lewis Hamilton by 8.8 seconds, and cut his lead in the World Championship to just ten points. Felipe Massa finished in his Williams-Mercedes in third, 17.5 seconds behind Rosberg.
The win is Rosberg's third win of the season and his eleventh career victory. Mercedes GP has now won seven of the eight races so far this season.
Sebastian Vettel (18.1s), after running third early on, has a slow pitstop to finish fourth in his Ferrari, followed by Valtteri Bottas (53.6s) in the second Williams in fifth, Nico Hulkenberg (1m04.0s) in the Force India-Mercedes in sixth, Pastor Maldonado (1 lap) in the Lotus-Mercedes in seventh, Max Verstapppen (1 lap) in the Toro Rosso-Renault in eighth, Sergio Perez (1 lap) in the second Force India in ninth and Daniel Ricciardo (1 lap) in the Red Bull-Renault) in the final points paying position in tenth place.
Before the race, t emperatures up from earlier in the weekend.
Drivers had the choice of the red yellow sidewalled soft tyres and the red sidewalled supersoft tyres, the top ten all starting on the supersoft compound.
The Mercedes duo of Hamilton on Rosberg starting on the front row, Vettel and Massa on row two, Hulkenberg and Bottas on row three, Verstappen and Nasr on row four and Grosjean and Maldonado rounding out the top ten.
The cars set off on the formation lap and come back to the grid. The lights go out and the race gets underway Rosberg gets a good start and takes the inside away from polesitter Hamilton and takes the lead. Raikkenen and Alonso crash, the McLaren ending up on top of the Ferrari. The safety car is deployed - both drivers get out of their cars and are okay.
Daniil Kvyat pits for a new front wing and after coming together with Perez, but continues. Will Stevens pulls his Manor off the track.
On lap 2, behind the safety car Rosberg leads Hamilton, Vettel, Massa, Hulkenberg, Verstappen, Bottas, Nasr, Sainz, and Grosjean in tenth place.
On lap 3 Button pits, while the track marshals clear the cars from the track and clean up debris.
Hamilton is told to take care not to lock his tyres on the restart.
At the start of lap 6 the race resumes, with Rosberg continuing to lead - the long break helping drivers who are trying a one-stop race.
On lap 7 Ricciardo passes Merhi for 13th. Carlo Sainz passes Perez for 9th. Ericsson is under investigation for jumping the start.
On lap 10 Button pits his McLaren and retires. Rosberg sets fast lap at 1m12.419s.
Ericsson is handed a drive-through penalty for jumping the start.
At lap 10 Rosberg leads Hamilton by 2.4 seconds, followed by Vettel (5.4s), Massa (7.3s), Hulkenberg (8.8s), Verstappen (9.6s), Bottas (10.6s), Nasr (13.0s), Sainz (13.7s) and Perez (15.0s) in tenth place.
On lap 14 Hamilton closes to under 2 seconds behind Rosberg.
Lotus tell Grosjean to try to pass Perez ahead of him. Bottas passes Verstappen for sixth place.
On lap 19 Rosbreg sets fastest lap at 1m12.001s.
At lap 20 Rosberg leads Hamilton by 2.4s, followed by Vettel (8.9s), Massa (12.4s), Hulkenberg (17.0s), Bottas (19.0s), Verstappen (22.2s), Nasr (26.3s), Sainz (27.5s) and Perez (30.2s) in tenth place.
On lap 22 Ericsson comes to a halt on the main straight, but then the car comes back to life and the Sauber continues.
On lap 23 Grosjean pits.
On lap 26 Hulkenberg and Sainz both pit - Sainz with problems with the left front tyre. Grosjean and Nasr battle and Grosjean takes 12th place. Verstappen pits.
Bottas pits for soft tyres and comes out just behind Hulkenberg.
Sainz is handed a five-second penalty for speeding in the pitlane. Verstappen passes Kvyat for tenth place.
At lap 30 Rosberg continues to lead Hamilton by 3.2 seconds, followed by Vettel (12.5s), Massa (17.4s), Perez (40.7s), Maldonado (41.9s), Hulkenberg (44.7s), Bottas (45.9s), Ricciardo (50.8s) and Verstappen (55.5s) in tenth place.
On lap 32 Sainz complains to the team, 'no power, no power'Ï
On lap 33 Rosberg pits from the lead for a good stop. Massa pits the next lap from fourth.
Hamilton pits on lap 35 and comes out behind Rosberg. Rosberg sets fastest lap at 1m12.894s. Grosjean reports a gearbox problem on his Lotus, and pits. Vettel pits fdrom the lead and has a problem changing the right rear tyre.
On lap 37 Bottas passes Maldonado for sixth place. Sainz pits and retires.
Hamilton is handed a five-second time penalty for crossing the pitlane exit line while leaving the pits.
Grosjean pits and retires. Ricciardo in 8th place is still yet to make his first pitstop.
Maldonado passes Nasr on the outside of turn 2 to take tenth place.
Maldonado passes Kvyat - Nasr follows him through.
On lap 45 Rosberg's lead is out to 6.7 seconds. Kvyat pits.
Rosberg is told on the radio "the debris is dislodged, aero balance should be back to normal"
On lap 48 Ericsson pits for supersoft tyres. Vettel is closing on Massa in third place, now only 2.7 seconds behind.
At lap 50 Rosberg leads Hamilton by 6.4 seconds, followed by Massa (23.0s), Vettel (25.4s), Bottas (44.0s), Hulkenberg (48.2s), Verstappen (55.6s), Maldonado (63.6s) Ricciardo amd Perez in tenth.
On lap 51 Maldonado passes Ricciardo for eighth. Ricciardo then stops for his first pitstop - taking his five-second penalty and rejoins in 11th place.
Vettel continues to slowly close on Massa, the gap down to 1.8 seconds.
Ricciardo closes on Nasr and passes him for the final point in tenth place.
At lap 60 Rosberg leads Hamilton by 5.6 seconds, followed by Massa (22.6s), Vettel (23.7s), Bottas (49.8s), Hulkenberg (59.4s), Verstappen (65.8s), Maldonado (66.4s), Perez (1 Lap) and Ricciardo in tenth place.
Maldonado closes on Verstappen in seventh. Perez complains of a bad vibration from his Force India.
Rosberg complains of a vibration from his right front tyre.
Vettel closes to 0.4 seconds behind Massa in third place.
Maldonado tries to pass Verstappen on the outside of turn 2, but can't make the pass. Vettel closes on the tail of Massa.
On lap 69 Maldonado passes Verstappen for seventh place.
Vestappen complains that his tyres are completely gone.
At lap 70 Rosberg leads Hamilton by 2.2 seconds, followed by Massa (17.9s), Vettel (18.5s), Bottas (52.6s), Hulkenberg (62.7s), Maldonado (1 Lap), Verstappen, Perez and Ricciardo in tenth.
Rosberg comes across the finish and wins.