Austrian GP 2014
JUNE 22, 2014
Race Notes - Rosberg takes Mercedes one-two at Austrian GP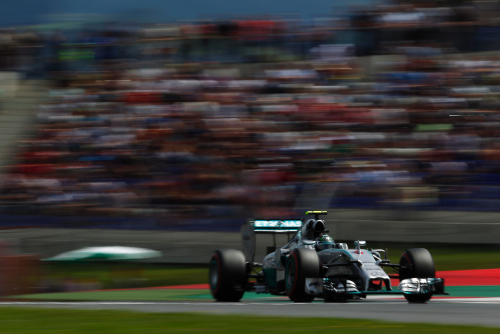 © Active Pictures
Nico Rosberg won the Austrian Grand Prix today at the Red Bull Ring in his Mercedes GP, in another team one-two, 1.932 seconds ahead of Lewis Hamilton in second place. Valtteri Bottas in the Williams-Mercedes finished in third place - his first career podium finish, 8.172 seconds behind the winner.
Pole sitter Felipe Massa (17.358s) in the second Williams, finished in fourth, followed by Fernando Alonso (18.553s) in the Ferrari in fifth, Sergio Perez (28.546s) in the Force India-Mercedes was sixth, Kevin Magnussen (32.031s) in the McLaren-Mercedes was seventh, Daniel Ricciardo (43.522s) in the Red Bull-Renault was eighth, Nico Hulkenberg (44.137s) in the second Force India was ninth, and Kimi Raikkonen (47.777s) in the Ferrari finished in the final points paying position.
Rosberg's win is his third of the season and sixth of his career. He overtakes his 1982 World Championship winning father Keke (5 wins) on the all-time wins list.
Rosberg extends his lead in the Drivers™ Championship to 29 points over Hamilton.
Before the start a lot of the paddock was cheering for the return of Williams to the front row of the grid, Massa taking pole with Bottas slotting in second place on the grid. Rosberg and Alonso on the second row, Ricciardo and Magnussen on the third row. Hamilton starting in ninth place.
At the start Massa takes the lead, Rosberg jumps up into second, with Bottas third. Bottas takes second place back at turn two. Hamilton up from ninth to fifth place on the first lap. Hamilton then passes Alonso for fourth. Vettel losses drive and limps around on the second lap.
On lap 4 Vettel reports that he has drive again on his Red Bull, and continues.
Red Bull reports to Ricciardo that Vettel had a problem with the electronics when using the overtake button, and that as a precaution he should avoid using it.
On lap 7 the two Williams of Massa and Bottas run 1-2, while the two Mercedes GP™s of Rosberg and Hamilton run third and fourth. Alonso™s Ferrari is fifth.
Drivers are reporting issues of rear tyre graining, and the lap times are slowing as drivers treat their tyres with care, especially in the first three corners.
At lap 10 Massa leads Bottas by 0.9 seconds, followed by Rosberg (1.2s), Hamilton (0.8s), Alonso (5.9s), Raikkonen (7.6s), Magnussen (2.3s), Perez (0.2s), Button (0.5s) and Kvyat (1.1s) in tenth place.
On lap 11 Magnussen, Kvyat and Ricciardo all pit.
Rosberg pits the next lap and switches from super-soft to soft compound tyres.
On lap 13 Gutierrez pits and suffers a problem exiting the pits with his right rear tyre not secured on the car - the mechanics push the car back to the Sauber pits. Hamilton pits the next lap.
On lap 15 Massa pits from the lead, and rejoins behind Rosberg. Bottas pits on the next lap. rejoining in second behind Perez, and ahead of Hamilton.
Rosberg passes Bottas for second place.
Perez, who started on soft tyres, is yet to pit, running in the lead.
On lap 19 Alonso passes Maldonado for seventh place.
At lap 20 Perez leads Rosberg by 0.4 seconds, followed by Bottas (0.9s), Hamilton (0.4s), Massa (0.8s), Button (3.8s), Alonso (6.3s), Maldonado (2.9s), Magnussen (3.4s), and Hulkenberg (1.4s) in tenth place.
Gutierrez is handed a 10 second stop-go penalty for an unsafe release.
Perez continues to lead the field on soft tyres, still yet to pit.
On lap 22 Vettel pits for new tyres - the World Champion runs last.
On lap 23 Gutierrez pits to serve his penalty.
Mercedes tells Hamilton to coast more into the corners to save and cool his brakes.
On lap 25 Hulkenberg passes Maldonado for ninth at turn 2.
On lap 26 Kvyat goes off into the gravel - he appears to have a suspension problem on the right-rear.
Rosberg passes Perez for the lead - Bottas follows him through into second place.
Now free of Perez, Rosberg sets fastest lap at 1m13.706s.
Maldonado and then Grosjean both pit.
On lap 29 Perez pits for the first time, on a two-stop strategy.
At lap 30 Rosberg leads Bottas by 1.5s followed by Hamilton (0.6s), Massa (3.2s), Perez (2.5s), Alonso (3.7s), Magnussen (9.5s), Hulkenberg (1.8s), Ricciardo (4.9s) and Raikkonen (2.1s) in tenth place.
Bottas is challenging Rosberg for the lead. Hamilton joins the pair as well.
On lap 31 Perez, with fresh tyres, sets fast lap at 1m13.169s. The leaders are starting to thread through backmarkers.
On lap 36 Red Bull radios Vettel to pit and retire the car - another challenging day for the World Champion.
On lap 38 Mercedes tells Hamilton that he is good on fuel consumption.
On lap 39 Hamilton and Hulkenberg both make their second pitstops.
At lap 40 Rosberg leads Bottas by 0.4 seconds, followed by Massa (3.7s), Alonso (4.3s) Hamilton (11.5s), Perez (3.6s), Magnussen (1.6s), Ricciardo (1.2s), Raikkonen (2.8s) and Button (0.6s) in tenth place.
Rosberg pits from the lead on the next lap - rejoining ahead of Hamilton. Magnussen pits as well.
On lap 41 Bottas pits from the lead. Hamilton sets fast lap at 1m12.217\s. Bottas rejoins behind Hamilton.
On lap 43 Massa pits from the lead - Alonso, yet to make his second stop takes over the top spot. Sutil pits as well.
Raikkonen pits the next lap.
On lap 48 Alonso pits from the lead, handing it back to Rosberg.
Perez, in fourth, leads Massa, but still needs to pit for super-soft tyres before the end of the race.
The Mercedes of Rosberg and Hamilton run one-two, but there are still concerns over the brake wear.
At lap 50 Rosberg leads Hamilton by 1.8 seconds, followed by Bottas (5.8s), Perez (2.9s), Massa (0.6s), Alonso (4.6s), Button (4.7s), Magnussen (6.9s), Hulkenberg (4.6s) and Ricciardo (2.1s) in tenth place.
Massa is putting pressure on Perez for fourth place.
On lap 55 Perez pits and switches to super soft tyres. Maldonado pits the next lap.
Ricciardo closes on Hulkenberg in ninth place.
On lap 59 Button makes his final stop from seventh place. Perez sets another fast lap at 1m12.142.
At lap 60 Rosberg continues to lead his team mate Hamilton by 2.1 seconds, followed by Bottas (6.1s), Massa (3.5s), Alonso (1.0s), Magnussen (14.7s), Perez (2.1s), Hulkenberg (6.1s), Ricciardo (1.1) and Raikkonen (3.8s) in tenth place.
On lap 60 Vergne pits and retires with brake issues.
Alonso closes to within a second of Massa in fourth place.
On lap 65 Perez is pressuring Magnussen and passes the McLaren driver for sixth place.
Hamilton closes to 1.2 seconds of his team mate Rosberg in the lead.
With four laps remaining Mercedes tells both drivers to go to the same engine management strategy.
On the final lap Ricciardo makes an aggressive pass of Hulkenberg to take eighth.
Rosberg continues to the flag to win, Hamilton in second place. Bottas finishes in third.