Austrian GP 2001
MAY 13, 2001
Austrian GP, 2001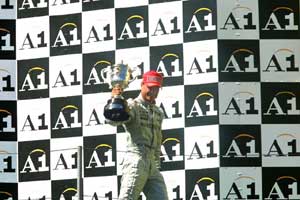 © The Cahier Archive
David stakes his claim
THE 2001 FIA Formula 1 World Championship will be fought over by Michael Schumacher and David Coulthard. Mika Hakkinen is out of the game now. Schumacher has 42 points, Coulthard 38 and Hakkinen 4. With one third of the championship now gone it would be a miracle if Mika could do it. And it would not be wise for McLaren to let him. It may be fair to let both drivers win but Ferrari proved once and for all in Austria that Rubens is not equal number one to Schumacher. He is number two...
He had to pull over after some fairly forceful comments over the radio by team boss Jean Todt. By a curious twist of fate the conversation was broadcast live on Italian RAI television. Todt kept repeating his demands to Rubens. Barrichello did not reply. In the end he let Michael pass him in the final few meters of the race. After the race Rubens was less than warm about the team. But he did not say anything outrageous.
"I just don't want to make any statement before I talk to the team," he said.
But on this occasion Michael was beaten. It was not necessarily his fault because while challenging Juan-Pablo Montoya for the lead, both men ended up getting tangled up (without touching) and slid offline in a pas-de-deux of ego and ambition. The result was that Rubens slipped ahead and there he stayed until David Coulthard outpaced him during the mid-race pit stops and although David was hounded all the way by the Ferraris he held on to win.
It was a much-needed victory for McLaren. Qualifying had been a disaster with the two silver grey cars lining up in seventh and eighth places on the grid. And then on Saturday evening came the sad news from England that Ilmor partner " and a key member of the team " Paul Morgan had been killed while flying one of his collection of World War II aeroplanes.
At the start of the race Hakkinen's car did not budge from its grid position. His car stalled. "I am not sure exactly what the problem was," he said. "It could be technical or it could be me."
And he wasn't the only one. Also left on the grid were both Jordan-Hondas and Nick Heidfeld's Sauber. This was a great bonus for those in the mid-grid because in a flash the fifth, sixth, eighth and 11th placed men has disappeared. Those in amongst the stallers had the most exciting time with cars going in all directions. There were several near collisions and these played into the hands of those further back who had a few extra tenths of a second in which to react. And so there were some startling position changes: Eddie Irvine came from 13th to sixth. Jos Verstappen came from 16th to seventh and Giancarlo Fisichella went from 19th to 12th.
At the front the two Williams-BMWs proved that they had the best launch-control systems and it was Montoya ahead of Ralf Schumacher as they went into the corner. Just to make sure that Ralf understood the point, Juan-Pablo braked as late as possible. Ralf got the picture.
It looked like it was all over. But that was not to be the case at all. It quickly emerged however that the two Michelin cars were struggling with heavy fuel loads and quite quickly Ralf began to have brake trouble.
"I had a brake pressure problem and the pedal got longer and longer and in the end there was nearly no pressure left at all. I had to retire."
That took 10 laps.
With his brother out of the way Michael Schumacher was able to zero in on Montoya and soon the pressure became intense. Barrichello, Jos Verstappen and Coulthard were close behind, watching the action.
"You could see from where I was sitting that it wasn't a question of 'if something happens between Michael and Juan Pablo', it was a question of when and where."
And so it was. On lap 16 on the run up to the second corner Michael made his move on the outside. The two cars were side by side but Montoya did not give way.
"He braked quite late," explained the Colombian. "I braked late as well, I locked the rears and ran wide." Schumacher slid alongside him. Michael said he was upset about it but Michael never gets any sympathy in these matters because of his previous record in F1.
"There was no way he could make that corner and all he was trying to do was take me with him out of the circuit," said Schumacher. "Be sure I will have a word with him."
To the casual observer it looked as though Michael had lost his cool a little. Could it be that Montoya is getting to him?
As the two men scrambled back into the race: Schumacher now ahead of Montoya but Barrichello, Verstappen and Coulthard were through and away. So was Kimi Raikkonen. And Olivier Panis. Michael was sixth. Juan Pablo seventh. It was not long before the Arrows had to pit " as it always has to do. That left Coulthard attacking Barrichello. Rubens held him and then began to build a gap but then as Coulthard's fuel load reduced so the car became quicker. On lap 47 Barrichello pitted. Three fast laps later in came David and he emerged ahead
"From where I was on the grid it was important to start heavy and keep my options open, depending on how the race went. I was able to lean the engine out early on after the first few laps and save quite a few laps of fuel as well as taking advantage of the Safety Car. And that enabled me to go quite long. Once David was ahead it was all over. The Ferraris hassled him in the closing laps but he had it all under control.
"Track position was the most important thing," he said. "So I wasn't too concerned. I was quite comfortable and wasn't under any real threat."
But there was no champagne on the podium " as a mark of respect for Morgan.
"Winning this Grand Prix is a big boost for everybody in the team," David said very simply.
Everyone except Hakkinen...
Behind Coulthard and the two Ferraris was a big gap all the way back to Raikkonen. He was nearly 40 seconds behind Barrichello. He was helped, of course, by the retirements and delays of those ahead of him.
"Maybe there was some luck at the start," he admitted, "but the car was good all the way through."
Raikkonen drives with such assurance that one tends to forget that this was only his sixth race in Formula 1. He was fast and very consistent. And he got three points as a result. After the race there was a kerfuffle with BAR claiming that Kimi had overtaken (or rather lapped) Luciano Burti under a yellow flag in the later stages of the race. There was a lengthy investigation into this business before the stewards concluded that there was nothing to argue about. BAR appealed. It was odd. Revenge probably for Melbourne where Panis was penalized for overtaking Heidfeld and given a 25-second penalty which dropped him from fourth to seventh. BAR argued that it did not matter whether a car was lapped or not . There should be a penalty. But if the stewards do not agree what point is there in an appeal?
The business soured Sauber's day although the Swiss had not had much fun with Heidfeld. At the start of the race he suffered a launch control failure and was left sitting on the grid. The car was then pushed into the pitlane and started from there but was two laps down all afternoon. Nick drove hard all afternoon and towards the end of the race was able to make up several places but ninth place was not a true representation of the car's competitiveness.
The reason that BAR was making such a fuss was that Olivier Panis was fifth at the finish, the last man not to be lapped. Once again Olivier had been the dominant BAR driver, lining up ninth on the grid while Villeneuve was 12th. At the start of the both men avoided trouble but did not gain much ground because of having to avoid the stranded cars on the grid and the two ran ninth and 10th. Then Panis pulled away and Jacques faded with understeer. He was then found to have been speeding during his mid-race pitstop and he was given a 10-sec stop-go penalty and so by the end of the race he was lap behind Panis.
There are some who feel that Jacques's lack of performance this year has been caused by a back problem which has been troubling him since his huge crash in Australia. Others say that he is having problems in his head coping with Panis's speed. The answer is not clear but what is very clear is that Villeneuve's position is going to be very confused when it comes to talking contracts later in the year. In terms of results Villeneuve is over paid and that is going to create political problems...
Sixth at the end of the race was Jos Verstappen in his Arrows. This was a good result for the team but one cannot help but wonder whether the team would be better off if the car had the fuel capacity to be able to compete with the other teams on an even basis. When circumstances fall in favor of the team the orange cars look to be doing well. But they always have to pit early and they always drop back. The team press release was a romantic tale of how the two-stop strategy paid off and how Verstappen was able to compete with the top teams. There may be marketing executives out there who are impressed by this but the rival teams are not.
But let us give Jos credit where credit is due. He got through the mess at the start and did it well. It obviously helped that he was carrying a great deal less fuel than everyone else and this enabled him to gobble up those with heavy loads. He overtook Eddie Irvine and Kimi Raikkonen and then passed Coulthard to be fifth. Then Ralf Schumacher retired, the two leaders nobbled one another and suddenly Jos was second and lots of Dutch people were getting excited. But then he had to stop as he always does and he dropped to seventh. Which is where he was at the end of the first lap. So what had been gained apart from some publicity?
That may sound harsh but it is the reality at the moment. Perhaps if the tire war escalates the car with the small fuel tank will become a good choice...
Enrique Bernoldi was also able to make an impression for a few laps with his light fuel load but then he suffered an hydraulic problem and disappeared.
Eddie Irvine ended his day in seventh place, which is Jaguar's best showing to date as well " as indication that the Austrian GP is not be considered a normal result. Irvine and Pedro de la Rosa qualified 13th and 14th on the grid. That was not bad at all. Irvine made a great start but poor de la Rosa had to weave between the parked cars and so was not able to make such a good impression. He disappeared from the action on lap 49 with a transmission failure. Irvine finished seventh.
Honesty is always the best policy and Jaguar boss Bobby Rahal put the result into perspective. "The car was simply not fast enough to put us in a position to really challenge for points. Eddie drove very well indeed and could not have done more in the circumstances."
Irvine agreed. "We have to stop relying on other people to suffer problems," he said. "And no disrespect to Arrows but they shouldn't really be beating us. We were too slow."
Reliability has a value but pace is good too which is what Prost is lacking at the moment. The team continued to struggle, adding to the speculation that the team was running the car underweight in pre-season testing when the cars broke a number of lap records. The team insists that this was not the case and that they are mystified as to why the cars are not quicker. Whatever the case the team is not delivering. And in Austria Alesi was outqualified for the first time by his team mate Luciano Burti. The two men were 15th and 16th on the grid and did not make up as many places at the start as might have been hoped as the two man had to swerve between the stalled cars on the grid. They finished 10th and 11th after a reliable run, Alesi having asserted his authority over his young team mate. But being two laps down on the leaders was little consolation.
Three teams failed to a get a car home. Jordan's challenge was about as disastrous as it gets. In qualifying Trulli was fifth but Frentzen was down in 11th place. The start of the race was an even bigger disaster as Frentzen retired with gearbox trouble and Trulli was left sitting on the grid with a problem with the launch control system. Jarno then started from the pitlane but was later shown a black flag for having driven out of the pitlane, ignoring the red light.
"I've had some bad races in my career," said Eddie Jordan, "and this is one of them." It was particularly bad given that Jordan really did not need this to happen when the top men from Honda Research & Development, president Takeo Fukui and managing-Director Katsumi Ichida, were there to see the race.
Based on qualifying performance one has to say that the next team to evaluate was Minardi because once again Fernando Alonso dispensed with the two Benettons. In the race it was a rather different story but Fisichella was quickly out of the way with an engine failure while Jenson Button struggled all afternoon at the back of the field before he too was put out of the way with an engine boom.
Minardi also failed to finish a car with Alonso and Tarso Marques both going out with gearbox troubles.
"The week started badly when the team's technical director breached his contract," said team boss Paul Stoddart. "Today's double retirement adds insult to injury."
AUSTRIAN GRAND PRIX RESULTS - MAY 13, 2001 - 71 LAPS

POS

DRIVER
NATIONALITY
ENTRANT
LAPS
TIME/RETIRE

1.

DAVID COULTHARD
Britain
McLaren-Mercedes
71

1h27m45.927

2.

MICHAEL SCHUMACHER
Germany
Ferrari
71

2.191

3.

RUBENS BARRICHELLO
Brazil
Ferrari
71

2.528

4.

KIMI RAIKKONEN
Finland
Sauber-Petronas
71

41.594

5.

OLIVIER PANIS
France
BAR-Honda
71

53.776

6.

JOS VERSTAPPEN
Netherlands
Arrows-Asiatech
70

1 Lap

7.

EDDIE IRVINE
Britain
Jaguar
70

1 Lap

8.

JACQUES VILLENEUVE
Canada
BAR-Honda
70

1 Lap

9.

NICK HEIDFELD
Germany
Sauber-Petronas
69

2 Laps

10.

JEAN ALESI
France
Prost-Acer
69

2 Laps

11.

LUCIANO BURTI
Brazil
Prost-Acer
69

2 Laps

R

JENSON BUTTON
Britain
Benetton-Renault
60

Engine

R

PEDRO DE LA ROSA
Spain
Jaguar
48

Transmission

R

JUAN PABLO MONTOYA
Colombia
Williams-BMW
41

Hydraulics

R

FERNANDO ALONSO
Spain
European Minardi
38

Gearbox

R

TARSO MARQUES
Brazil
European Minardi
25

Gearbox

R

ENRIQUE BERNOLDI
Brazil
Arrows-Asiatech
17

Clutch

R

JARNO TRULLI
Italy
Jordan-Honda
14

Black Flagged

R

RALF SCHUMACHER
Germany
Williams-BMW
10

Brakes

R

GIANCARLO FISICHELLA
Italy
Benetton-Renault
3

Engine

R

MIKA HAKKINEN
Finland
McLaren-Mercedes
1

Stalled at Start

R

HEINZ-HARALD FRENTZEN
Germany
Jordan-Honda
0

Gearbox

FASTEST LAP: DAVID COULTHARD

Britain
McLaren-Mercedes
70

1:10.843




DRIVERS CHAMPIONSHIP POSITIONS:

POS

DRIVER
NATIONALITY
ENTRANT

POINTS

1.

MICHAEL SCHUMACHER
Germany
Ferrari

42

2.

DAVID COULTHARD
Britain
McLaren-Mercedes

38

3.

RUBENS BARRICHELLO
Brazil
Ferrari

18

4.

RALF SCHUMACHER
Germany
Williams-BMW

12

5.

NICK HEIDFELD
Germany
Sauber-Petronas

8

6.

JARNO TRULLI
Italy
Jordan-Honda

7

7.

JUAN PABLO MONTOYA
Columbia
Williams-BMW

6

HEINZ-HARALD FRENTZEN
Germany
Jordan-Honda

6

9.

OLIVIER PANIS
France
BAR-Honda

5

10.

JACQUES VILLENEUVE
Canada
BAR-Honda

4

MIKA HAKKINEN
Finland
McLaren-Mercedes

4

KIMMI RAIKKONEN
Finland
Sauber-Petronas

4

13.

GIANCARLO FISICHELLA
Italy
Benetton-Renault

1

JOS VERSTAPPEN
Netherlands
Arrows-Asiatech

1




CONSTRUCTORS CHAMPIONSHIP POSITIONS:

POS

CONSTRUCTOR

POINTS

1.

FERRARI

60

2.

MCLAREN-MERCEDES

42

3.

WILLIAMS-BMW

18

4.

JORDAN-HONDA

13

5.

SAUBER-PETRONAS

12

6.

BAR-HONDA

9

7.

BENETTON-RENAULT

1

ARROWS-ASIATECH

1