Australian GP 2023
APRIL 2, 2023
Sunday Team Quotes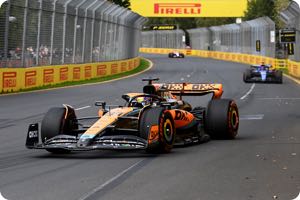 Oracle Red Bull Racing
Max Verstappen (1st): "It's my first win in Australia which feels really good, it's also been a while for the Team so it means a lot to us all. My start today wasn't amazing and then on lap 1 I was very careful as there was a lot on the line, I had a lot to lose and a lot to win. But after that restart, we had good pace and a decent gap for the majority of the race. Perhaps we didn't need all of those red flags today, it was frustrating, but everyone was safe and we won which is the most important thing. It's my first win in Australia which feels really good, it's also been a while for the Team so it means a lot to us all, especially as Checo also had a good recovery drive today. It's been a chaotic day but it's great to see that the fans had a great time despite the long wait!"
Sergio Perez (5th): "This race gives us confidence heading to Baku in a few weeks and we look forward to the challenge that it brings. Generally, it was a good result today. Yesterday, I obviously lost a bit of confidence with the car, but we made a lot of changes overnight so that helped heading into the race. I had a really good restart the first time, I jumped 3 or 4 places but then it was a bit of a mess with the DRS train. I was frustrated later in the race because I couldn't advance any further, but it was so difficult to get through the field with tyre deg low and everyone going on to the hard tyres quickly. Maybe if I'd been a bit more aggressive earlier on, I could've finished higher, but I'm happy we finished P5 and even managed to secure the fastest lap. Overall, this race gives us confidence heading to Baku in a few weeks and we look forward to the challenge that it brings."
Christian Horner, Sporting Director: "It certainly was good teamwork with Max today, it was important to get both cars as high up as possible. It was a complicated race made up of three parts. The first start didn't go our way but in the restart Max was able to hold position, battle Lewis for the lead and really control the race from there. While the marshals are always acting in the interest of safety, and driver safety is paramount, the restart at the end of the race was a little frustrating. Thankfully, it didn't cost us anything, we had great pace with the car and Max was on great form. For Max to claim the victory was testament to his driving, but equally, credit must go to the Team both here and at home, all of whom worked together to deliver a great race. Checo also drove phenomenally well, bringing home the fastest lap and securing P5 in the end. It was a great recovery, from the back of the grid, in the pits, on a track where it is very difficult to overtake. All in all we are very happy with our performance and thrilled to bring home a win on our 350th race at a track we haven't won at in 10 years."
Scuderia Ferrari
Carlos Sainz (12th): "I had a good start and felt confident on the medium tyre but we were unlucky, pitting just before they brought out the first red flag and I dropped down to P11. From there I managed to pull off a good comeback with nice overtakes and solid pace, so for that I'm happy. It was a good race overall but the penalty ruined all the effort and I don't agree with it. The frustration I feel right now will be difficult to digest, but I will try to think only of the positives from today and focus on the next race."
Charles Leclerc (DNF, Spin): "It was unfortunate to end the race this way today, but it was a racing incident and I don't think that we could have done anything differently. Disappointing, but on to the next one where I hope things will run more smoothly again."
Frédéric Vasseur, Team Principal: "Today's result, not scoring points, does not reflect the progress we have made as a team. We have taken a step forward in terms of pure performance and even more importantly, we had a decent and consistent race pace on the various tyre compounds, including the Hard. Only yesterday's qualifying did not match our potential. Our initial reaction is one of frustration, with Charles clearly unlucky to be involved in a racing incident at the start. It was a good call to bring Carlos in under the first Safety Car, but following the red flag, he had to start again from P11, from which he recovered very well. The penalty had a devastating effect on the final result for him but despite this, we go back to Maranello knowing that we are moving in the right direction and we now have three weeks to keep working on optimising and updating the SF-23 for the coming races."
Mercedes-AMG Petronas F1 Team
Lewis Hamilton (2nd): "To get a podium today is amazing; I definitely didn't expect to be second this weekend, so I am super grateful. Considering we're down on performance, to be fighting with the Aston Martins is amazing for us at this point in the season. We've just got to keep fighting. A big thank you to all the people back at the factory. We can close that gap; it's going to be tough but not impossible. It was very unlucky for George today. Our reliability has generally been pretty good so that was unfortunate. Finally, I want to say a huge thank you to everyone here in Melbourne and Australia. I've had the best week here and this town continues to put on a great show."
George Russell (DNF, Engine): "We did everything right this weekend. We had a great Qualifying yesterday and today, the start was perfect. We managed the first stint well and I could have extended it quite a lot more. I've felt comfortable and strong in the car on all three days. I see no reason why we couldn't have fought for victory today, so it's disappointing. As soon as I came through the high-speed turn 10, I felt something go. Three corners later, I was stopped. When it's not your day, it's not your day. We've still got a lot of work to do to catch Red Bull, but we can take the positives from this weekend. Every time we've taken to the track, we couldn't have done any more. We maximised everything and I'm proud of the job that we have done."
Toto Wolff, Team Principal: "We had strong pace today and it was really close with the Aston Martins and the Ferraris. That is good news for us, and I think we have made a step forward this weekend, both on one-lap and race pace. We maximised what we have, and we need to now comb through the data and continue to learn about the car. This will help bring the upgrade packages and that will be the key in challenging the leaders more often. It was unfortunate with George; he had a great stop from the lead and changed onto the hard tyre. It was absolutely the right call, and he would have been very much at the front. With the red flag his race was not so good anymore. He still could have made it to the front though, so he was unfortunate to have a Power Unit failure."
Andrew Shovlin: "It's great to get the first podium of the year with Lewis, but it was a day of mixed fortunes for the team. Lewis drove a difficult race well and had to find a fine balance between tyre management and defending. George had put together a strong weekend and was unfortunate that the Safety Car became a red flag. Things then got worse with the Power Unit issue. The pace of the car has been better than at the first two races; we've made some changes to the setup for the circuit but hopefully we can take some of that learning into the upcoming races."
BWT Alpine F1 Team
Pierre Gasly (DNF, Accident): "I'm very disappointed in the outcome of today's race. We were in fifth place for most of it, chasing Carlos [Sainz] for fourth place and we showed really good race pace. For us to be so close to scoring ten points and leaving without any is a bitter one for us to take. Right now, we must focus on the positives and that is how we managed our race and how we were able to take the fight to our rivals ahead. I'm glad both Esteban and I are OK after the incident. As a team, we'll move on and keep focused for the next race."
Esteban Ocon (DNF, Accident): "It's a real shame for both cars not to finish today's race, especially after showing great pace all weekend. We had the performance to be fighting the Ferraris and the Aston Martins, so to walk away with nothing is a tough one for all of us. The restart at the end was very chaotic and everything went so fast. The clash with Pierre was unfortunate and I'm glad we're both OK. We've spoken about it, and we're all good and there's no hard feelings. We're both already looking forward to the next one and I know the whole team will want to put this weekend behind us."
Otmar Szafnauer, Chief Operating Officer: "While it's disappointing to leave here with zero points, we can be satisfied and positive with the performance of our car today. We showed we can race with our close rivals ahead and, indeed, close cars down and be clinical when it counts. Pierre drove very well today, running much of the race in fifth place and in the fight for a podium alongside the Mercedes, Aston Martin and Ferrari. We must take the positives of this and use it as motivation going forwards. Esteban was certainly unfortunate with the sequence of events early in the race, but he did a good job to climb his way back into the points with some well-judged overtaking moves. It was unfortunate to have both our cars come together at the third standing start and I'm glad both drivers are OK given the nature of the incident. We'll keep moving forwards and these hard moments are what brings the team closer together. We're already looking forward to Baku where an upgrade is planned."
McLaren F1 Team
Lando Norris (6th): "A very good race. We had good pace throughout, stayed out of trouble with no mistakes. The team did a very good job. I think the pace today was stronger than our qualifying pace yesterday, so things came together nicely. Just a well-executed race. I'm happy with all of that, and it's the first points for us this season. It's nice to get on the board and it's a good end to the first few races before we have a bit of a break and then head into Baku and the next batch of races. I'm happy, so a big thanks to the whole team and everyone back at the factory for all the hard work as usual and we'll keep pushing."
Oscar Piastri (8th): "P8, I didn't expect that at the start of the day! I'll definitely take it. Obviously a crazy, crazy race but we stayed in there when it mattered. I'm so happy to get my first points in Melbourne and want to thank all of the home fans and papaya fans for all their support this week. Double points for the team is a great result and thank you to everyone who got us there."
Andrea Stella, Team Principal: "An eventful race today in Melbourne. We managed to stay out of trouble and were able to score our first points of the season. Even without the three red flags, it was good to see that we were in condition to race well and make good overtaking moves, so there's plenty of positives. At the same time, we know we have to stay realistic and have a lot of hard work ahead. Both trackside and back at the factory, we'll use the energy from this double points result to make us even more determined to deliver a quicker car. Thank you to everyone trackside, at the MTC and our colleagues at HPP for their hard work."
Alfa Romeo F1 Team Stake
Guanyu Zhou (9th): "P9 at the chequered flag is a good result, especially considering where we started and the challenging weekend we had. There are positives to take – we had a really good start, which is something we worked really hard on, and we didn't do any mistakes in a race where there were plenty of spills. We kept it clean, kept out of trouble, and I was able to keep the pressure on Magnussen in the later stages, which in the end allowed us to get points. The conditions out there were difficult, the track temperatures were very low but we didn't do mistakes and it is what matters. These are my first points of the year, always a nice reward in a tricky place like Melbourne. Now we will need to keep improving and hopefully add more points to our name in Baku and beyond."
Valtteri Bottas (11th): "I'm happy for Zhou and the team to come back with two points from what can only be described as a chaotic race. My afternoon had been quite lonely and without much action – until it all kicked off towards the end. We decided to take a risk at the start, and I pitted for hard tyres on lap one: the plan was to keep those tyres for the whole race, but then the red flag meant I couldn't get much advantage from that. Later, when the safety car came out, we went for softs, but yet again the red flag messed up with my strategy. It's been a hard weekend, we have been off the pace since the start, but we'll make sure to look into that in the gap before the next race. I am actually glad to have some time before Baku, to get back to the drawing board and get back in a more competitive shape."
Alessandro Alunni Bravi, Team Representative: "Today's race shows the importance of fighting until the very end of the race. We kept pushing, we executed the race well and we placed ourselves in the position to capitalise on the opportunities when they came our way: luck is only getting a chance, we had to seize it. We were actually quite unlucky with the timing of the first red flag: we had both cars on the right strategy to fight for the top ten, but the stoppage, and the free stop it gifted everyone else, effectively jeopardised our afternoon. Both Zhou and Valtteri had a solid race, without making mistakes, and on a track like this it meant they were there or thereabout at the chequered flag. Two points are a good return in what has been a challenging weekend: we need to make the most of this little break before Baku to understand how to recapture the pace we had in Bahrain, analyse the data from the car, especially with the new upgrades our team at home was able to produce for this race, and get back stronger for the next rounds."
Aston Martin Aramco Cognizant F1 Team
Fernando Alonso (3rd): "It was a rollercoaster of emotions today with the red flags and incidents. It was probably my craziest race here in Melbourne but it's great to come away with another podium. There were many things going on all afternoon and we had an interesting battle with Lewis [Hamilton] for second. The pace of the car was good and we kept up the pressure on Lewis, but he did a good job and didn't really make any mistakes. On the contact with Carlos [Sainz] after the restart I'm sure he didn't mean to do it so I think the penalty for him was quite harsh in the end. We have to be pleased with this start to the season and three podiums in as many races."
Lance Stroll (4th): "I think we should be pleased with the result we've come away with today: third and fourth is great for the team. It was a heavily disrupted race with red flags and a few big accidents, and neither Fernando nor I managed to stay clear of the drama. I had a little bit of contact on the first lap, but we were running well until the first red flag was thrown. As we've seen across the weekend, it takes a while for the tyres to get up to temperature here and so on the second restart I locked up at turn three and ended up in the gravel. Thankfully, the red flag had been waved before that point and I was able to retake my position for the final restart. This sport is a rollercoaster of emotions sometimes! Overall, we've come away from a chaotic race with a solid haul of points for the team and to be second in the Constructors' Championship after three races is very positive"
Mike Krack, Chief Operating Officer: "What a race! There was just about everything you could imagine this afternoon so to come away with third and fourth places – and 27 points – is a brilliant reward for the team. It was not an easy race to navigate with the early red flag putting extra emphasis on managing the Hard tyres. Almost everyone was trying to run until the end and it was very close throughout the top ten. Fernando stayed close to Lewis, but with similar race pace we could not get close enough to challenge for second. Lance raced hard all afternoon, survived various battles, and did an excellent job looking after the tyres. Then there was the chaotic restart and I have to say it was a relief to see the starting order reinstated. I know some drivers and teams really lost out in the mayhem, but we got a bit lucky with both cars being largely undamaged allowing us to finish the race under the Safety Car. Big congratulations and thanks to the whole team at Silverstone and here at the track for another strong and faultless performance with both cars and our third podium of the year. Today we celebrate and enjoy this result, but tomorrow our attention turns to the next race in Baku."
Haas F1 Team
Nico Hulkenberg (7th): "It was wild and a bit messy at times. We'll have to look through everything that happened as there were a lot of things happening. I had a super start the third time around on softs and came through to P4, so it's a shame there were a few incidents and then the race was red flagged. There are a lot of positive learnings again and I feel there are a lot of good things happening. I'm refreshed, in a very positive mindset and really enjoy working with the team and experimenting with the car. We have very good momentum and that's what we want to take into the next races."
Kevin Magnussen (DNF, Accident): "I brushed the wall at the exit of Turn 2 and the rim broke, the tire came off and I had to stop. I didn't even feel it so it definitely wasn't something that felt big in the car, but it was enough to crack the rim and take the tire off. It's unfortunate, we were in P12 I think at that time and it didn't look like I was going to be able to score points. We got unlucky with the first red flag as we had just pitted from P11 and we seemed to be quicker than the next couple of cars so I was quite confident at that stage of the race. Then we pitted under the safety car and just afterwards, it turned to a red flag. Everyone put their tires on to go to the end of the race and we were last. It wasn't my day but it seemed like the car had decent pace so I'm encouraged by that and we'll push next time."
Scuderia AlphaTauri
Yuki Tsunoda (10th): "I have mixed feelings about today. We scored our first point of the season which is good, but to be honest, given our pace I didn't expect to score any today. Considering how much we were struggling before the red flag, with warming up and getting the hard compound tyres in the optimum window, we should take this result and be happy with P10 as we maximised our performance. It's a shame we lost P5 because, going into Turn 1, I managed to overtake several cars. On the positive side we scored a point, so we will continue to work hard to score more in the coming races."
Nyck de Vries (DNF, Spin): "Sadly, the racing incident with Logan meant the end of the race for us. We were struggling very much out there today but we did well at the beginning on the hard compound. Unfortunately, when the red flag came out, everyone who started on the mediums got a free pitstop to switch to the hard. I also damaged the front wing during the race, so I ended up with understeer and graining on the tyres. The midfield is still very tight, so we will continue to work and push, to be able to move up the ladder."
Jody Egginton, Technical Director: "It was a very difficult race for us. Both drivers pushed hard to extract all they could from the package, but we couldn't manage to get the cars moving forward as required. The pace of the car was not there on all compounds, and we struggled for straight-line speed, as such, we weren't able to attack nor hold position in some phases of the race. We leave Melbourne with a lot of data to go through and a lot of work ahead of us in order to be best prepared for Baku."
Williams Racing
Logan Sargeant (DNF, Spin): "The race in general just didn't quite fall our way, with it being a really tricky day. We pitted to the medium tyre following the first safety car, and it just wasn't the tyre to be on today and I really struggled with it. Once we got to the hard tyre, the pace wasn't too bad, so to end it like that is unfortunate. We tried to take some chances today and it just didn't pay off. I've learnt a lot from today, so hopefully can use these learnings going forward."
Alexander Albon (DNF, Accident): "We're still looking at the data but there was nothing unusual in the corner itself. When I lost the car, I was going through slower than the previous lap; I went wide on the corner before and spiked the tyre temperatures, losing grip and going into the next corner a bit hot, so I think that's what happened but we need to look at it. With all the accidents, it was a good chance to score points this weekend, so I'm very sorry to the team. I'm disappointed, as we had a great car today and were really strong."
Dave Robson, Head of Vehicle Performance: "It was a remarkable race but ultimately it was a missed opportunity for us. Alex built on his excellent qualifying display to make more positions at the start and was looking good for a comfortable top ten finish. Unfortunately, touching the kerb at high speed in Turn 5 led to a small snap and a spike in tyre temperature, which led him to lose the car at the next corner. We tried a different initial strategy with Logan, but the early red flag rendered that ineffective. Although he had some decent pace, he was unable to benefit from the unusual way that race developed ahead. We leave Melbourne frustrated that we couldn't take advantage of our good pace and turn it into points. However, the whole team can be heartened that the car worked very well this weekend and we will be able to put ourselves into similar positions in future races, starting in Baku in a few weeks' time."