Australian GP 2023
APRIL 1, 2023
Saturday Team Quotes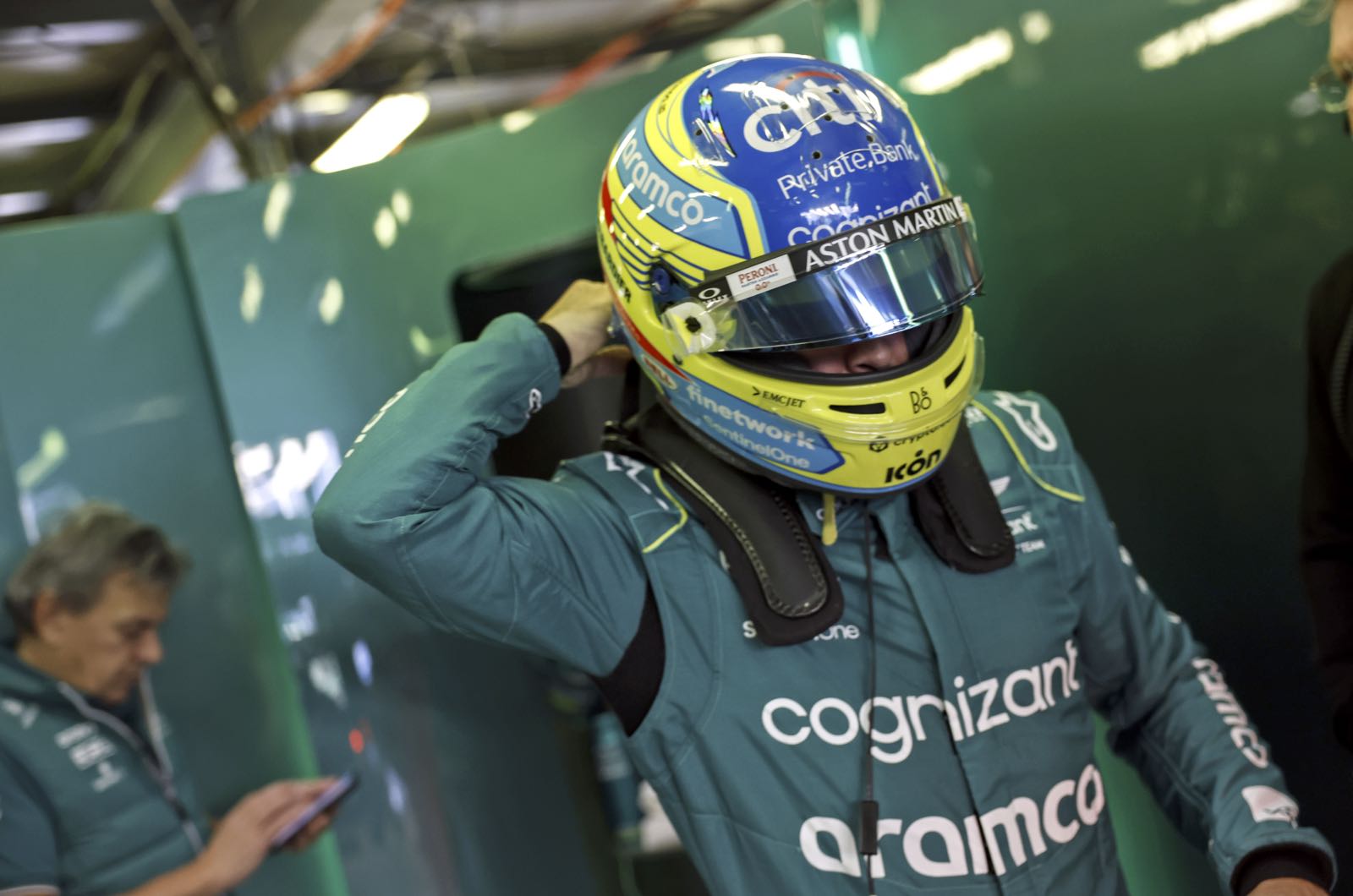 © Aston Martin Racing
Oracle Red Bull Racing
Max Verstappen (1st, 1:16.732): "I'm very happy with the lap and to be on pole position here in Australia. I'm looking forward to tomorrow, it's going to be an interesting race that's for sure. Overall, it was a pretty good qualifying. It's been tough this weekend to get the tyres in a good window to push straight away, but it all worked out in Q3 and the last run was good. I'm very happy with the lap and to be on pole position here in Australia. I'm looking forward to tomorrow, it's going to be an interesting race that's for sure. We need a clean start, and after that, hopefully we can do a good job. I've been on the podium here before but this time I want to be on a different step."
Sergio Perez (20th, No Time): "It's very unfortunate what happened today but together as a team, we'll do our best to fix it ahead of tomorrow's race. Today was a day to forget. We have a technical issue that we're trying to get to the bottom of, we had the same issue this morning and we thought we fixed it, but as soon as I hit the braking zone it was clear we hadn't. It's very unfortunate what happened today but together as a team, we'll do our best to fix it ahead of tomorrow's race. On a track that is hard to overtake, it will be tough, but I will do what I can to get some good points for the team and work hard to get us into a good position."
Christian Horner, Sporting Director: "Our strategy was slightly different today, it was all about getting the optimum out lap, getting the temperature into the tyres then nailing the lap. Max did an outstanding job in qualifying, particularly in these conditions and on this track. Our strategy was slightly different today, we weren't doing the build and push laps, so it was all about getting the optimum out lap, getting the temperature he needed into the tyres then nailing the lap which he managed perfectly. It's hugely disappointing for Checo that he's not up there with Max. We suspect an engine setting issue contributed to a lockup that he had on his first lap in qualifying but obviously we need all the data back to analyse and ensure that if there is an issue, it's resolved for tomorrow. It's incredibly frustrating for him and the team, but he's proven himself to be a great racer and we'll be looking to make as much progress in the race as we can."
Scuderia Ferrari
Carlos Sainz (5th, 1:17.270): "We had decent pace in qualifying today. Unfortunately there was a bit of confusion during the last preparation lap with other cars and that cost us a couple of tenths in Turn 1, as I arrived at it with the tyres a bit too cold. We have worked on different set up configurations during the weekend and tomorrow we'll see what we can do during the race. It won't be an easy one, but we will try to move up from our grid positions and bring home a good result!"
Charles Leclerc (7th, 1:17.369): "It hasn't been the best of qualifyings. I was confident that I could put it all together on our last lap in Q3, but things did not go as planned as I didn't do the prep lap and we lost time. We will make sure we improve this as a team for the future. We have tried different configurations of set-up and worked on our race pace, so I look forward to fighting for some positions tomorrow."
Frédéric Vasseur, Team Principal: "Today's qualifying was very close and unfortunately, things did not go to plan for us. In Q3, we were on the limit in terms of time at the end of the session so we didn't do a preparation lap with Charles. Carlos didn't manage to put a lap together, losing a few tenths in the first corner on what would have been his best lap, otherwise he could have been second or third. However, the points are given out tomorrow and, since Jeddah, we have worked on getting consistent and strong performance from the SF-23 in race trim. Now we will prepare for the race as well as possible with the intention of moving up the order. Overtaking is not easy here, but it can be an unpredictable race."
Mercedes-AMG Petronas F1 Team
George Russell (2nd, 1:16.968): "What a session that was for us! The car felt alive today and we weren't expecting that result at all. The lap at the end was right on the limit; I'm a little bit disappointed that we didn't get pole position. But that's one of those things in this sport. Your expectations change so quickly; we probably would have been happy with a top five result yesterday but today the car felt awesome. It goes to show we've got potential still to come. There is a lot of hard work going on back at the factory and here in Melbourne. I'm excited for tomorrow - it's going to be tough against Max, but we're definitely very happy to be lining up P2."
Lewis Hamilton (3rd, 1:17.104): "This was a totally unexpected result and I'm so happy and grateful for P3. My second lap wasn't as good as the first one. I did gain a little bit of time in the last sector, but ultimately lost out a little bit at the beginning of the lap. I'm not disappointed though and I'm going to work as hard as I can to try and move forwards tomorrow. I'm proud of the team. We're all working as hard as we can to get right back up the front, so to be this close to the Red Bull is incredible. Hopefully tomorrow we can give them a bit of a run for their money. And we hope the weather will be good."
Toto Wolff, Team Principal: "We're happy with how today went. We needed a little bit of happiness and at least for Saturday, we've got some of that. We have been grinding away with extracting performance from the car by getting the right mechanical setup. We brought it all together in Qualifying; we learned through the session, and we were open-minded. We changed the plan from doing a third or fourth push lap, to only doing two and then down to one in Q3. Starting second and third is a good place to be. It's been a while since we've had no-one really in front of us by starting P2. We'll try to make the best out of it tomorrow. Verstappen is clearly in a league of his own but hopefully we can slot in behind."
Andrew Shovlin: "It's been a tricky weekend due to the cool conditions but a solid job by the team and drivers to land the tyres in the right window when it counted. We'd seen some good laps by the Ferraris and Astons across the weekend, so we're ahead of our own expectations to be starting second and third. The sessions have been a bit messy with red flags and rain so there's a real lack of long run data for everyone. That will make it difficult to know what the tyres will do. The softer compounds do seem very fragile in the cool conditions; we've tried to create a setup that is going to look after the tyres in the race, but we'll find out tomorrow if we've achieved that. Max has shown incredible pace in both races so far. Assuming that carries into tomorrow he'll be able to manage the tyres and build a gap all at the same time. However, our fight at the moment is with Ferrari and Aston and if we can stay ahead of them, we'll be very happy."
BWT Alpine F1 Team
Pierre Gasly (9th, 1:17.675): "I would say it wasn't a bad outcome to take ninth place in Qualifying today even if I felt there was a tenth or two left on the table. We did a good job to improve lap after lap and to reach Q3 – the first time for me in Melbourne – which is pleasing. It was very difficult to get the tyres into a good enough window and we had to keep improving on each lap. Tomorrow's race will be interesting as most teams won't have much knowledge on long run pace. We'll see what we can do starting from ninth and we'll give it our best to score as many points as we can."
Esteban Ocon (11th, 1:17.768): "Unfortunately, what was shaping up to be a good day ended in some frustration. We had the pace for a strong Q3 showing but unfortunately met some traffic in the final two corners on my last Q2 push lap and that meant I lost some time. It's on me for losing a couple of tenths in that case, after what was an otherwise good session for us. There are plenty of positives to take, though, as the performance is there, and we are starting just outside the top ten. It's all very close between cars at the moment so it should be an exciting race. It's definitely still all to play for and I'm now focused on maximising tomorrow's race."
Alan Permane, Sporting Director: "We definitely had the pace today to have both cars in Q3, so it's disappointing not to have achieved that with Esteban out in Q2. We had a strong Free Practice 3 with the cars steadily improving. The main challenge was getting the tyres into an optimal operating window with the cool conditions making that particularly tricky. It seemed we could improve lap after lap as the tyres increased in temperature and that played a part in our strategy today to fuel the cars for three push laps with the aim of decreasing lap-time on each attempt. Of course, we're striving to secure higher positions than ninth and eleventh and we'll keep working hard to understand how we can maximise the package. Our immediate focus, though, is tomorrow's race where there's no doubt we have the potential to have both cars well into the points."
McLaren F1 Team
Lando Norris (13th, 1:18.119): "Today wasn't quite as good as I was hoping. The cooler conditions just made us struggle a little bit more to be consistent and get the maximum out of the car. I'm not quite driving the way I want and to the level I want so I struggled to put everything together. But it's still not a bad position to start and we can hopefully try to get into the points."
Oscar Piastri (16th, 1:18.517): "Obviously not quite what I wanted in Melbourne. The field is extremely tight and there's not a lot in it. I was reasonably happy with my lap, unfortunately, it just wasn't quite quick enough by the smallest of margins. It is what it is and we've got tonight to look at everything to put us in the best position to make up some places tomorrow. Hopefully we will have a clean grand prix."
Andrea Stella, Team Principal: "We're aware that making it through to Q3, with our current car performance, requires us to absolutely maximise every single corner. Today the car was tricky to drive and there was a little bit of lap time left here and there for both Lando and Oscar. However, the reality is that we don't have enough underlying performance on the car and that we have a lot of work ahead to improve that. That's no different from what we have been saying since the start of the season and we stay determined to deliver the upgrades required to improve. For this weekend, we're fully focussed on tomorrow's race. Albert Park can be eventful, and we enter the race with the mindset that we want to score points."
Alfa Romeo F1 Team Stake
Guanyu Zhou (17th, 1:18.540): "It was a strange session for me, since I found some good pace in FP3 and then the car felt completely different in qualifying, quite the opposite to what we were aiming for. It's frustrating, of course, not being up there, but I think I tried the best I could: it just was not enough to find these few tenths more in order to get into Q2. We did not really change the car from FP3 to Qualifying, and yet the difference I felt was significant, enough for me to have to change my driving. With regard to the race, you never know what might happen here: I obviously would prefer to start from further up the grid, but all we can do is giving our best and pull off a good strategy in order to make some places up."
Valtteri Bottas (19th, 1:18.714): "The upgrades we brought to Melbourne seem to be working as we expected, so there's no denying we expected more from qualifying. This is, of course, not where we wanted to be, and there are definitely a lot of questions about this qualifying session. We seemed to lack pace, and on top of that, I also encountered a bit of traffic on the final lap, when I felt the best grip from the tyres, so there wasn't much more we could do. At least, starting from the back opens some more opportunities with the strategy, so let's see what we can achieve during the race. These are far from being ideal starting positions, but we'll investigate what went wrong and regroup to go for it again tomorrow."
Alessandro Alunni Bravi, Team Principal: "Our indications from practice and the evaluation of the upgrades were rather positive, so it's certainly disappointing to have both cars out in Q1. We have to look at the data and understand why the drivers' feel for the car changed so dramatically between FP3 and qualifying, and figure out the best possible plan for tomorrow's race. This track is not the most conductive to overtaking, but we're going to put up a fight and try and recover as much ground as possible. The gaps are still small so hopefully we can be in a few battles: with a good start and the right calls from the pitwall, we can hopefully get away with something from this race."
Aston Martin Aramco Cognizant F1 Team
Fernando Alonso (4th, 1:17.129): "I am happy with fourth position today after a busy qualifying session. The circuit was difficult to judge at times, with changeable temperatures and weather. We seemed to improve in every session though and the car felt good to drive. Overall, I think it was probably our best qualifying session so far this season and our closest gap to pole position. We will see what we can do tomorrow because our race pace seems to be one of our strengths. We are expecting it to be difficult to overtake, but in these cooler conditions it will be an interesting race with lots of unknowns. The target is to score as many points as possible."
Lance Stroll (6th, 1:17.308): "It was fun out there today; it is a great track to push hard at and the car was handling well. I think the team put in a good performance to qualify fourth and sixth despite fairly challenging circumstances. It was tough to understand at which point the tyres would be in their peak operating window given the changing temperatures and we only had one set of tyres left for Q3, so there may have been a little more lap time in there. That being said, the field is incredibly tight and so we are lining up in a strong place to fight hard for the top positions tomorrow."
Mike Krack, Chief Operating Officer: "It was a tricky session with the threat of rain present throughout the whole of qualifying and especially during the final moments of Q3. We also saw an incredibly close field with every tenth of a second making a difference in Q1, Q2 and Q3. That was why we had to try and find the balance between saving tyres and making sure we did not miss the cut with quite significant track evolution. We were sensible and played it safe to ensure we progressed with both cars, but it meant Lance had just one set of new Softs for Q3. He made the best of them with two timed laps and starting from sixth gives him a great opportunity to score well tomorrow. Fernando's session was strong, too, with clean and tidy laps putting him on the second row. We head into tomorrow's race feeling confident with our race pace and ready to fight once again."
Haas F1 Team
Nico Hulkenberg (10th, 1:17.735): "It was definitely a positive qualifying and Q2 was especially very good. In Q3, I only had one new set of tires when some others maybe had two, but either way it wasn't quite there. I wasn't able to produce a lap like in Q2 but nevertheless, another top 10 finish which is positive and we'll take that into tomorrow. I'm feeling pretty confident and feeling good about the race."
Kevin Magnussen (14th, 1:18.129): "The car was good but I messed up the lap when it counted unfortunately, so P14. It's not too far away from the top 10 so there's still hope for tomorrow and Nico has shown what the car can do. It's a shame on my side but I'm still looking forward to the race – we can fight."
Guenther Steiner, Team Principal: "I'm unhappy and happy today. There could've been more for us today because on the last run with Nico it wasn't an ideal lap, down to a few circumstances. There was no need for Hamilton to be so close to Nico at the start of his last fast lap – and trying to get past him – as Lewis wasn't on a fast lap. Then again, I'm happy because tomorrow we start P10 and P14 and everything seems to be going to plan and I think our race pace is good. Tomorrow, the mission is to get points."
Scuderia AlphaTauri
Yuki Tsunoda (12th, 1:18.099): "Qualifying was good, we built the pace well throughout and maximised the performance. Q1 was ok and we ended up in P15, but we were able to take another step each lap. For Q2, we had planned to do two push laps, but unfortunately, the weighbridge stopped me from completing my second lap. Considering I only had one flying lap, I'm pleased with it and the increase in performance by my team. I'm looking forward to the race tomorrow, we haven't done any long-run testing, but we will aim to extract the maximum out of the car to be able to score points."
Nyck de Vries (15th, 1:18.335): "It's been a positive session and it's nice to get into Q2, especially with the new upgrades we brought this weekend. The changing conditions were quite tricky, in particular for the tyre warm-up, and in the last run in Q2, we didn't adapt enough to what needed to be done. In practice, the tyres continued to improve, but as the track evolved, there was a little drop-off where you needed to make sure the tyres were ready for the last lap. I am a little gutted because we didn't optimise the last run, but overall, it was a happy session. For tomorrow, we didn't get much of an opportunity to test our long runs, but I am looking forward to racing and hopefully scoring points."
Jody Egginton, Technical Director: "There is still a lot of work to improve the car, but we can see that the floor update we brought to this event has delivered a step in aero performance broadly in line with our expectations. This is definitely positive, as it represents the first step of the rolling aero development programme and forms a good basis to progress. Although we didn't have the pace for Q3 today, Yuki put together a good qualifying, finishing in P12 and not leaving much on the table. Nyck also had a solid qualifying session but did not quite manage to put together his best sector one, meaning he ended Q2 in P15. In summary, there were positive signs, but there's a long way to go to get the car established in the midfield. Our focus now switches to the race, but it's clear that we'll need to be ready to take advantage of any potential opportunities that may occur to get our cars moving forward as quickly as possible."
Williams Racing
Alexander Albon (8th, 1:17.609): "Today is pretty special; we optimised everything we had with a very good car, so I'm feeling really happy. We were struggling in the practice sessions to get the tyres to work but we went into qualifying and executed our plan which paid off, the tyres worked, and everything else fell into place. Looking at the progress the team has made in 12 months, knowing we're able to fight for points each weekend, myself and the team live for that and motivation is high. We have a job to do tomorrow but we're in the fight."
Logan Sargeant (18th, 1:18.557): "It wasn't the smoothest of qualifying sessions and I did struggle to find those last couple of tenths. I felt like I was building up nicely and the session was coming to me - I was getting quicker and quicker – and was on a definite good enough lap for Q2 there at the end and just made a mistake in sector 3. We'll start to see results improve when I put everything together. We haven't had many laps this weekend with the electrical issues in FP1 and missing out on FP2 because of that, but we were capable of Q2 today. It's hard to tell what car we have for tomorrow as we haven't done any consecutive laps but generally, we have a pretty quick car in race trim, especially on the straights, so we know we can fight the people around us. Tomorrow is about being procedurally perfect, having a good start, good race pace and we'll look to make some moves."
Dave Robson, Senior Race Engineer: "Alex had an excellent qualifying session today. He was able to keep out of traffic and prepare his tyres well and consistently. As a result, each lap he did was strong, and he was able to build his confidence and finish the session in a good position. Once again, the sessions were tight with several teams completing similar lap times. This was good for Alex as he was able to just beat Gasly and Hulkenburg to take a very promising P8 on the grid. Conversely for Logan, a small mistake at the end of his final lap in Q1 cost him a place in Q2. Given that he lost valuable time in the car yesterday, his pace today was very good, and he can look forward to a positive race tomorrow."