Australian GP 2022
APRIL 9, 2022
Saturday Team Quotes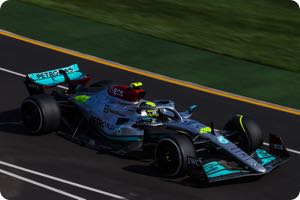 Mercedes-AMG Petronas F1 Team
Lewis Hamilton (5th, 1:18.825): "Compared to yesterday and to the last race, today was a good day for me. I'm really grateful for the work at the factory in turning the car around from yesterday and I almost got P4 which would have been cool but we'll be fighting for that position tomorrow. I'd say this era of car is the worst for porpoising that I've ever experienced. For people watching at home, if the ride height is going high/low, high/low, when you turn in you never know which position you'll catch it in and the car could oversteer or understeer depending where you catch it, so driving it is a real challenge - it's like a rattlesnake! We need to find the right balance in ride height to give us performance while controlling the bouncing tomorrow. George and I tried slightly different things on our cars today so hopefully that's good learning for the team to take into the race."
George Russell (6th, 1:18.933): "We're still learning, still trying to understand the car, it was bouncing around a lot today which was really limiting into the fast corners which was where I was losing all my time. I've not been overly comfortable in the car this weekend so I was pretty happy qualifying where we did - I think we'd have taken P5 and P6 before the session. There's no reason why we can't finish ahead of the McLaren tomorrow, we have to try and also keep Sainz and Alonso behind, although they both looked very quick today. Tomorrow will be tricky but I think we've found the best compromise window for the limitations we have and it will be a long race so let's see what we can do."
Toto Wolff, Team Principal: "That was a good result for us today - in fact, we probably slightly over-performed with P5 and P6, because I think Alonso would have been ahead of us without his crash. But when you consider the challenges we are facing at the moment, the team worked very well to extract everything from the car after two difficult practice sessions yesterday. The drivers maximised their opportunities with the car that's under them right now, and it's great to see the positive approach they are bringing to each session as we continue learning. Tomorrow's race will be a different challenge again: protecting the tyres will be important, and nobody has had the opportunity to gather much data after the red flag yesterday in FP2. So it will be another trip into the unknown - and hopefully we have made the right choices to deliver our performance across the full race distance."
Andrew Shovlin: "We found a bit of pace overnight with the changes and were able to get the tyres in a better temperature region today but there wasn't much left in the car. The gaps to Ferrari and Red Bull are still worryingly large but not a surprise to us - we've known since Bahrain that we have a mountain to climb this year and the team is getting stuck into that challenge. We've focused on our race pace this weekend so hopefully we have good degradation but our hopes are quite realistic, we're wanting to be there to capitalise on any mistakes or issues for Red Bull and Ferrari but we know we won't be able to stay on the back of them."
Oracle Red Bull Racing
Max Verstappen (2nd, 1:18.154): "The weekend so far has been a bit of a struggle, there is a gap between Charles and I, but second of course is not bad and I think there is a lot more potential in the car than we are showing at the moment. I didn't really feel 100% in the car today, so we tried to change a few things in the set up, but it didn't quite make the improvements we hoped for and we'll do the best we can tomorrow. I think we have a good race car and in race conditions everything stabilises a bit, so it is more consistent. Let's hope we can have a good race tomorrow."
Sergio Perez (3rd, 1:18.240): "I think qualifying was going well, Q2 especially and then there were red flags on a couple of occasions which meant we didn't get to experiment with the tyres, it is always hard with strategy when you get red flags. We went for three laps and carried that fuel just to find out at the end that the double push didn't work any better than just setting one lap. It wasn't the right thing to do and that costs us a couple of tenths, but Charles put in a tremendous lap, he put everything together and I didn't. Hopefully tomorrow in the race we can be a lot closer, make it hard for them, have a strong race and enjoy it. I like this car, we are all learning every time we drive these new cars and tomorrow in the race I want to make a big step."
Christian Horner, Sporting Director: "That was a great performance by both our drivers. At certain points they both looked like they may be able to steal pole, but Charles put in a great lap and it was just out of reach for us, but we'll come back and try to beat them tomorrow. Max's lock up cost him about three-tenths and Checo had a small d-rate on his first lap and carried an extra tenth of fuel as well, because he wanted to do three laps, but we are still on the front row and P3, so we'll take that. I still think under higher fuel we will be in better shape, and with these DRS zones it could be a really interesting race."
Scuderia Ferrari
Charles Leclerc (1st, 1:17.868): "I'm happy with my result today. This circuit is really tricky and I've always struggled here in the past. It may not have seemed like it this weekend because we've been quite fast, but I've done a lot of work to optimise my performance. The team did a great job. We stayed calm at all times, despite red flags, yellow flags and traffic. The biggest limitation for me was the sun. It was low and at an inconvenient angle and it was almost impossible to see where I was in Q2 and most of Q3. I took a lot of risks and I'm glad that I managed to put together such a good lap in the end. It doesn't look too bad in terms of race pace. It's very close with our competitors so it will be a difficult but exciting race tomorrow."
Carlos Sainz (9th, No Time): "We had good pace today but my Q3 went completely wrong. We got the red flag right before the finish line of the first flying lap and on my second one, I was about to go out but there was a delay in firing up my car. We finally got going but I didn't have time to do the preparation lap, which meant the tyres were far from ready for the push lap, sliding everywhere. Tomorrow I'll obviously try to recover as much as possible, but without the fourth DRS zone the circuit hasn't changed that much from the old one and it will be tricky to overtake. Anyway, tomorrow is another day and we'll try to come back."
Laurent Mekies, Sporting Director: "It's been a busy weekend so far and we have been ahead of our rivals in some sessions and behind them in others. We knew there would be a lot of work to do in qualifying and that tyre management would be tough on this track which, thanks to the modifications to the layout, is effectively a new track, throwing up very different challenges to those in Bahrain and Saudi Arabia. The F1-75 has shown itself to be competitive here too and that's down to all the hard work back in Maranello. Today in qualifying, we had to look at the smallest detail to find ways to continuously improve. In the end, Charles put together an amazing lap to take a great pole – not the first time we've seen him do that. It was a shame for Carlos, who is also very quick this weekend. First of all, he missed out on setting a time by just a few seconds because of the red flags and then on his final run, his performance was compromised when it unexpectedly took longer than usual to fire up the engine, which meant he left the garage a little bit late. There was no time for a preparation lap and inevitably, this had a not inconsiderable impact on his lap time. Tomorrow, every single lap of the Grand Prix will be very closely contested, so we still have a lot of work to do tonight to ensure we get the very best result we can."
McLaren F1 Team
Lando Norris (4th, 1:18.703): "Very happy, it's nice to be P4. It's a good reward for the team and the best we could have done today by quite a long way. Big thanks to everyone here at track, and back at the factory, for their hard work, which made this possible. It's good to be back in Q3 given where we've been over the last few weeks. Hopefully today sets us up for a good race tomorrow and some decent points."
Daniel Ricciardo (7th, 1:19.032): "I think it's been a positive weekend so far. I've been really happy with the progress and the car has felt good, which I think shows. We had a strong qualifying, so that's been good, and overall, I'm very pleased. I think the only thing I'm a little bit sour about is the last run. I struggled on that last set of tyres but I'm not really sure why, so we'll look into that. Other than that, it was a really good session. So, we're in a good spot for tomorrow."
Andreas Seidl, Team Principal: "P4 and P7 in today's qualifying. Congratulations and well done to the entire team, Lando and Daniel. It was good to see that we could confirm the performance we could see throughout practice sessions. After the difficult start to the season, today's result is a great boost for everyone in the team, both here at the track and back home. As always, points get distributed on Sunday, heads down and full focus on preparing tomorrow's race in Melbourne in front of all the Australian McLaren fans. Let's get some good points!"
BWT Alpine F1 Team
Esteban Ocon (8th, 1:19.061): "It's a bittersweet result for us today. Having both cars into Q3 is a decent result but it's a shame that Fernando could not complete his lap as he was on for a mega one. I know the team is looking into exactly what happened but he has shown great pace all weekend. On my side it hasn't been the smoothest of days, but I need to be happy in the end with eighth. We're in the fight for tomorrow, and that's what matters. There's definitely plenty of work to do and I know there is pace to find so we'll be leaving no stone unturned to try and put everything together to maximise our race tomorrow."
Fernando Alonso (10th, No Time): "It seems we are very unlucky in these three races so far and to have this issue today in qualifying is a real shame. We had the pace for the top three or maybe even the front row today and on my Q3 lap I felt very fast. I'm not surprised to be this close to the leaders because we've been working hard as a team. Each weekend we have got better and better, so that is a positive. It's been the best weekend for years for me personally, and it's frustrating we weren't able to deliver it today. Let's see how the car is overnight and do our investigations. Hopefully we can aim to score some points tomorrow."
Otmar Szafnauer, Chief Operating Officer: "Today's qualifying outcome is a missed opportunity for us as the potential was there for a very strong team result. It's positive that we have both cars into Q3 for the second race in a row. That said, the potential was truly there to have both our cars in the top five today such was the strength of our package around this track. As it turns out, we're starting in eighth and tenth, and we know we can still have a strong race from there. Our race pace looked positive on Friday, so we'll certainly aim to convert this starting position into strong points. Fernando was certainly fast today. We will investigate the issue that caused his incident. It's just unfortunate today as we were good enough to start much higher on the grid."
Scuderia AlphaTauri
Pierre Gasly (11th, 1:19.226): "It's always disappointing to miss out on Q3, but I think this weekend has been tough for us. We saw that McLaren and Alpine have made a step forward, we just didn't have the pace to do much better. We know what we need to work on and we've planned some upgrades in the coming races, but to miss Q3 by a tenth of a second is always painful. We've managed to improve on some areas, but some issues just remained throughout the weekend, so it's a bigger picture we need to look at. I think we did what we could, I don't think Q3 was on the cards today. It's going to be a long race, there could be some mistakes made by others, so I need to keep focussed and make sure to see the chequered flag."
Yuki Tsunoda (13th, 1:19.424): "It was hard but there was potential to be in the top 10. Between Q1 and Q2 I lost performance from the car and it just felt different, the rear was gone and I struggled to adapt to it. I went off track in one of my runs and impeded Pierre, which I apologise for. We have to see what happened, hopefully we can put everything together and score points in the race."
Jody Egginton, Technical Director: "After a reasonable Friday, where both cars were not too far away from the pace, we made some changes overnight and had a decent FP3 with both drivers being pretty competitive. There was some fine-tuning made ahead of Qualifying, and although the Qualifying sessions went OK, we came up slightly short and couldn't make it to Q3. The margins are small, but we just were not able to sneak in, which was disappointing. We will go away and focus on the developments coming through and re-target getting the car back into Q3 from race four onwards. Now our attention turns to the race and looking at what strategy options we have available tomorrow. Overtaking isn't easy here, but we'll see what we can do to score points like in previous races. I think we can finish in the top 10, it's just a case of moving the cars forward as early as possible in the race and see if we can consolidate from there."
Aston Martin Aramco Cognizant F1 Team
Sebastian Vettel (18th, 1:21.149): "Today is about the team: the boys and girls did an amazing job to get both cars out on track for qualifying. They did so well to get Lance's car ready and it was great to see the team spirit when both sides of the garage came together to help finish getting my car ready. Just getting out to set a lap was a huge achievement. P18 may not look great on paper, but today it was the result of a little bit of magic. Things are not easy at the moment, but we know that the car has more potential and we are working very hard as a team to make progress. I have not had much running this weekend so hopefully we can have a clean race tomorrow and learn more about the car."
Lance Stroll (20th, No Time): "It was a messy day, unfortunately. More than anything, I want to say thank you to the team for their incredible hard work today. It was not easy to get the car ready for qualifying, but they managed it. It was a shame to have such an awkward incident with Nicholas [Latifi] in Q1, though. It happened at a narrow point of the track and I was following the curve of it to the right. As I went to the inside, he accelerated at the last second and made contact. It has been a day to forget, so we will regroup and come back tomorrow and try to take any opportunities that come our way in the race."
Mike Krack, Chief Operating Officer: "This weekend is not going well for us so far – that much is obvious – but sometimes racing is like that. So what I want to do today is pay tribute to both garage crews, who were faced with the monumental task of getting two damaged cars ready for qualifying in record time. And they did just that. Mechanics are Formula One's unsung heroes. Well done, guys."
Williams Racing
Alexander Albon (16th, 1:20.135): "It's frustrating not to make it through to Q2 today. The team have done an amazing job overnight to maximise the performance of the car, so we were in a position to fight for more. We're finding that we need to do a couple of push laps to get the tyres in the optimum window, and unfortunately, my second lap on the second set of tyres was interrupted by the red flag. I felt like we deserved a bit more today, but it's all to play for tomorrow."
Nicholas Latifi (19th, 1:21.372): "I've seen the video so it's very clear from my side who is at fault. I let Lance pass as I was told he was on a push lap, which he then must have aborted a corner or so before, which is why he was then going slow. I needed to carry on with my cool down lap and pick up the pace again and get my tyre preparation correct. There was a very big gap to overtake him and, when I got alongside, he turned in for whatever reason. The impact itself was a very small but, because of the way of the impact it has big consequences. There's a lot of damage to the car so we'll have to see what the guys can do and I know we have one of the best teams for that. This is the last thing I would have wanted; the goal here was to have a clean weekend and so this is extremely frustrating."
Dave Robson, Senior Race Engineer: "It was a frustrating afternoon for us having made some good progress with the car overnight and again during FP3. We know that getting into Q2 is a challenge for us currently and we need to get everything right to have a chance. The session was going well, and the tyres were working well. Alex was making steady progress with each pushing lap and had one attempt remaining when the session was red flagged. He was in a good position and had prepared his tyres well and so it is a shame that we didn't get to see the final result. When the session restarted, we knew that there wasn't time for everyone to get a final lap in and so we chose to queue in the pit lane to guarantee a good track position. The price we pay for this is loss of tyre temperature, but we had little to lose at this point. Sadly, the congested track and the cooler tyres meant that Alex could not improve, but it was a valiant effort in the circumstances. We had to stop Alex on his in-lap as he approached the pit entry as we could see a possible problem with the car. Nicholas was very unlucky to collide with Stroll when preparing his tyres for another fast lap. It appears that Stroll didn't see that Nicholas had moved alongside to pass him and continue his tyre preparation. We will need to assess the damage tonight, but there will be no problem getting the car ready for the race tomorrow."
Alfa Romeo F1 Team ORLEN
Valtteri Bottas (12th, 1:19.410): "Our qualifying went pretty smoothly, and I feel we delivered some good laps: it felt I got everything out of the car and didn't leave anything on the table, so it's a disappointment not to be in Q3. We wanted to be in the top ten but we lacked a bit of one-lap pace: we took the decision to prioritise our setup for the race, with a smaller rear wing, so hopefully we can benefit from this decision tomorrow. The car felt good, we can see how fine the margins are in the midfield but I am confident we have a fast car, we have a car geared for overtaking and we have a good opportunity to score points. Of course, it's sad to bring my streak of 103 consecutive Q3s to an end, but it's good to know I had such a long run. It felt a bit weird watching the session on TV!"
Guanyu Zhou (14th, 1:20.155): "I'm happy about my performance, all things considered. We struggled a bit with the balance in qualifying, but we cleared a very tight battle with our rivals in Q1 and we still got into a position that will allow us to fight for the points tomorrow. This track is not an easy one to learn so I am pleased my performance was good, now our focus has to be on making up ground and finishing in the top ten tomorrow. I think our setup will help us, and our car has been good in race trim this weekend. Turn one and the opening lap will be key to do a good job tomorrow, and I am looking forward to it."
Frédéric Vasseur, Team Principal: "After two consecutive races in Q3, missing out on the top ten is a bit disappointing, but we are still confident in our chances for tomorrow. We took some decisions, in relation to the direction of our setup, that we knew would penalise us a bit today – but with a potential benefit for the race. Both drivers had a good performance today and I think we got most of the potential out of our car: if we can produce a clean race tomorrow, we stand in with a very realistic chance to fight for the points with both cars."
Haas F1 Team
Mick Schumacher (15th, 1:20.465): "Unfortunately, I ran into some traffic in the last sector with four or five cars in front of me which wasn't too nice, but these things happen. We did the best we could and we had the right approach to this session. After a poor Friday we definitely managed to bring some pace back into the car. Hopefully we'll be in a position to fight tomorrow as the car in the long run felt good and we were able to follow, so hopefully we can follow and pass."
Kevin Magnussen (17th, 1:20.254): "It hasn't really been our weekend so far – we haven't found the sweet spot on this track. We've made some improvements but in qualifying it was a little bit messy with the red flag. I don't think the result is representative of what the car can do in the race – there is more to come. We're not starting in a great position so we'll see what we can do but I'm optimistic that we've got a good car for the race."
Guenther Steiner, Team Principal: "We've struggled the whole weekend a little bit and it went into qualifying. We couldn't get the tires to work properly and had little problems left, right and center but we tried to get the best out of it. Now, we need to get ready for tomorrow – our long run times were not bad yesterday – and that is what we're trying to do at this point, to get points."