Australian GP 2016
MARCH 21, 2016
Race Report - Lucky to be alive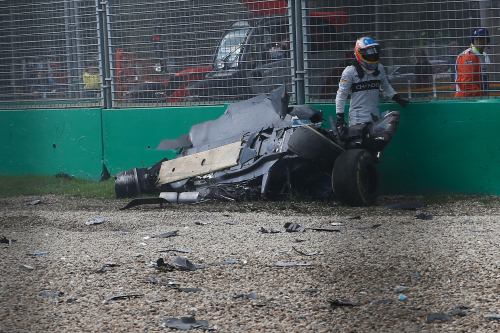 © Active Pictures
BY DAN KNUTSON IN MELBOURNE
Nico Rosberg won the season opening Australian Grand Prix - an action-packed race that will be remembered for Fernando Alonso's violent, somersaulting accident from which he emerged virtually unscathed.
"I feel okay," Alonso said. "A bit disappointed because we missed an opportunity to score points. It is the first thing you think about now. Obviously you are thankful that you are alive and nothing happened, no injuries, nothing serious.
"The second thought you think about the frustration of not finishing the race and we have probably lost a power unit because the car is completely destroyed. That is sad but it is the way it is. We are risking our life when we get in the car and when these things happen you need to be happy that I am here talking to you."
Rosberg finished the race and scored the 25 points that come with a win. The race was red flagged on lap 18 because of the accident between Alonso and Esteban Gutierrez. At that time the Mercedes team decided to put both Rosberg and Lewis Hamilton on Pirelli's medium compound tires. Both drivers took care of those tires all the way to the checkered flag at the end of lap 57, and the strategy worked as they finished first and second.
Ferrari, meanwhile, put the super soft tires on Sebastian Vettel's car. He had been leading the race and continued to lead after it was re-started, but he also had to make another pit stop for a set of the soft compound tires and that dropped him to third place.
"The strategy was crucial today," Rosberg said.
Hamilton had qualified on pole with Rosberg alongside him. On row two of the grid were Vettel and teammate Kimi Raikkonen. Hamilton made a poor start and fell back to sixth place.
"I'd had a perfect weekend in every way up until the lights went out and felt confident heading into the race," Hamilton said. "I got a bit of wheel spin off the line then got pushed wide at the first corner, so from there it was just about recovering."
Vettel snatched the lead and Raikkonen slotted into second ahead of Rosberg.
"I obviously had a great start," Vettel said. "I was very happy to see that I had a better start than the two cars in front of me, reminding me of Hungary last year and it worked out. It was great to see that Kimi made it as well, so we got first and second and from there we dictated the pace."
Rosberg's view: "The start was tricky, as I was on the dirty side of the grid and Vettel managed to be ahead. He did a really good job at the start."
The top eight qualifiers had all started on the Pirelli super soft tires. Vettel led until lap 12 when he pitted to change to another set of super softs. Raikkonen led laps 13 to 15 and then pitted to do the same. That put Vettel back in the lead.
On lap 17 Alonso tried to pass Gutierrez. The McLaren's right front wheel clipped the left rear wheel of the Haas. The McLaren went flipping through the air and finally came to rest upside down against the barrier. Alonso slid out of the wreckage.
"I'm thankful I'm alive and that nothing serious happened," Alonso said. "It was a big shunt. A combination of factors caused Esteban and me to end up crashing. I was in the car flying and bouncing around - I could see the sky, then the ground, then the sky again.
"Then, when the car landed, I saw a little gap and I got out quickly to make sure that my mum, who was watching the race on TV at home, could see that I was okay! It was a racing incident - I'm very happy we're both fine, which is the most important thing."
Officials red flagged the race on lap 18 so that all the debris could be cleared away.
The order was: Vettel, Rosberg, Raikkonen, Daniel Ricciardo (Red Bull), Toro Rosso teammates Max Verstappen and Carlo Sainz, Hamilton, Felipe Massa (Williams), Romain Grosjean (Haas), Valtteri Bottas (Williams), Nico Hulkenberg (Force India), Jolyon Palmer (Renault), Sergio Perez (Force India), Marcus Ericsson (Sauber), Jenson Button (McLaren), Felipe Nasr (Sauber), Pascal Wehrlein (Manor) and Kevin Magnussen (Renault).
The race was restarted after a 20 minute delay. After one lap behind the safety car the drivers were cut loose on lap 20. Now it was just a matter to see how the tire strategies would play out. The two Mercedes drivers were on the mediums as was Massa, Grosjean, Hulkenberg and Bottas; the two Ferrari drivers were on the super softs; Ricciardo had the softs as did Verstappen and Sainz.
It didn't matter what tires Raikkonen was on as his car caught fire after he lost engine power and was out of the race after 21 laps.
"Today we had a good first part of the race but at a certain point I lost power and had to retire," he said. "I don't know exactly what happened; I don't think that the problem was related to the engine because it was still running. It must have been something else."
Vettel led until he made a stop to switch to the soft tires at the end of lap 35. Rosberg took over first place and went on to win.
"We went for the aggressive route - maybe with hindsight we could have done something else but I'm not willing to blame anything or anyone," Vettel said. "We are a team, we win as a team and I think today we won 15 points. It's a shame to see that the second car didn't make it but I think there's plenty of positives. The team seems in good shape. We know that we can up our game and we want to put pressure on these guys."
Ricciardo moved into second after Vettel's pit stop, but Ricciardo would also have to pit again and eventually finished fourth.
"At the start we were able to pick cars off," said Ricciardo who qualified eighth. "We had good pace with high fuel on the Option and it was fun to be able to pass cars, I was enjoying that as always. I was sitting in a podium spot towards the end and I was hoping the tires would last but I knew they weren't going to hold and I would have to pit again. But fourth is still a good result and I'm happy we're not that far off Mercedes and Ferrari."
Hamilton took over second when Ricciardo pitted, and went on to finish second despite pressure from Vettel in the closing stages until Vettel slid wide.
"I'm grateful for the way I was able to fight back through," Hamilton said. "P2 isn't bad in terms of damage limitation after a start like that. I spent a long time stuck behind one of the Toro Rossos and there wasn't a lot I could do about it as he was on a quicker tire.
"I could just see the others pulling away, so the safety car definitely helped by bunching us all up again. I was already on a one-stop strategy and, to be honest, I don't know why everyone else didn't do the same on the medium. I'm happy they didn't, as I probably would have finished a lot further back."
Massa ended up in fifth place.
"The red flag in the middle helped us to keep our strategy to one-stop," he said, "and, thanks to that, we managed to overtake both Toro Rossos who had decided to go for different tires."
Bottas went from 16th to eighth in the other Williams.
"The struggles we had with qualifying and then the grid penalty compromised the race," he said. "It wasn't the nice clean race we were hoping for, but we still have points from both of our cars. We are definitely aiming for better positions, and me personally, so I am looking forward to Bahrain because I am sure we can do better than this weekend."
Grosjean gave the new Haas team a fairytale sixth place finish in its debut race.
"A very good day at the office!" he said. "This feels like a win. For all the guys who worked so hard over the last few weeks, this is unbelievable. We were unlucky yesterday, but got a bit lucky today with the red flag. Still, we were able to hold off the Williams (Valtteri Bottas) and the Force India (Hulkenberg).
"We didn't have much set-up (time) on the car. It was a case of, off you go and see what happens. This is an unbelievable feeling. The guys did an amazing job and I told them, this is like a win for all of us. First race and here we are, P6. A happy day."
Not so happy were the Toro Rosso teammates who had their own private feud. They were chasing after the Renault of Jolyon Palmer with Sainz leading Verstappen. Verstappen thought he was quicker than Sainz and wanted the team to order Sainz to let him pass. The team declined. So there was plenty of angry chatter over the Toro Rosso's radios.
It all ended with Sainz ninth, Verstappen tenth and Palmer 11th.
It also ended with everybody very happy that Alonso walked away from a very frightening accident.