Australian GP 2016
MARCH 20, 2016
Race Notes - Rosberg wins Australian GP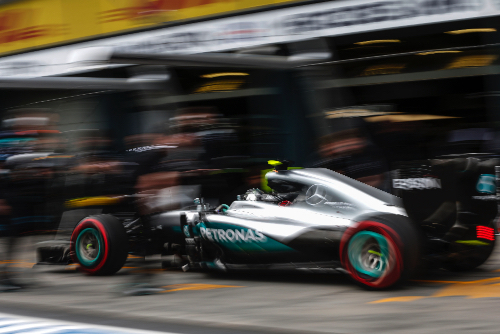 © Active Pictures
Nico Rosberg won the Australian GP at Melbourne ahead of his Mercedes GP team mate Lewis Hamilton, after Ferrari took the lead early in the race with Sebastian Vettel - who finished in third.
Daniel Ricciardo in the Red Bull-Tag Heuer finished fourth, followed by
Felipe Massa in the Williams-Mercedes in fifth, Romain Grosjean in the debut race in the Haas-Ferrari, finishing the race in sixth place. Nico Hulkenberg was seventh in his Force India-Mercedes, Valtteri Bottas was eighth in the second Williams, with Toro Rosso-Ferrari team mates Calos Sainz and Max Verstappen finishing ninth and tenth in the final points paying positions.
Before the start of the first race of the 2016 season the drivers got strapped into there cars, anticipation high. The weather is sunny and warm, with blue skies overhead with an amazing aerial display.
The drivers have seleted their tyre choices, and Hamilton and Rosberg sit on the front row once again.
At the appointed time the lights go out and the cars come around on the formation lap.
The first eight drivers starting on super-soft tyres.
The cars come onto the grid - Daniil Kvyat comes to a halt just coming onto the the grid and the start is aborted and the field goes around for another lap and the race will be started with one fewer lap.
The field comes around once again tp the grid - and the lights turn and the race begins. Polesitter Hamilton gets a slow start, and Vettel come up the middle and takes the lead, Rosberg takes second, then Raikkonen slipps up the inside and takes second, from Rosberg in third and Hamilton in fourth.
At the end of the first lap Vettel leads Raikkonen, Rosberg, Verstappen, Massa, Hamilton and Sainz, Ricciardo, Hulkenberg and Alonso in tenth.
Magnussen pits his Renault with a punctured tyre, switching to soft tyres.
On lap 4 Hamilton passes Massa for fifth place.
On lap 5 Rosberg sets fast lap at 1m31.575s. Ricciardo dives down the inside of Hulkenberg and takes eighth place. Rosberg is closing on Raikkonen in third.
At lap 9 Sainz is the first frontrunner to pit for tyres - switching to soft tyres.
At lap ten Vettel leads his team mate Raikkonen by 2.619 seconds. ahead of Rosberg (3.7s), Verstappen (9.3s), Hamilton (9.8s), Massa (16.3s), Ricciardo (17.1s), Hulkenberg (22.4s), Alonso (25.2s) and Perez (26.6s).
On lap 10 Ricciardo passes Massa.
On lap 11 Vettel, and Verstappen both pit. Vettel rejoins in fourth place. Nasr pits as well.Hamilton says ºI cant get past this guy¹.
On lap 12 Massa pits. Bottas and Palmer battle, Bottas getting ahead.
On lap 13 Rosberg pits from third.
On lap 14 Rosberg sets another fast lap at 1m30.757s. Race leader Vettel pits and comes out just ahead of Rosberg.
On lap 16 Hamilton, Hulkenberg and Perez all pit. Hamilton rejoins ahead of Massa. Raikkonen pits as well.
Guiterrez and Alonso end up in the gravel trap - the Safety Car is out.
Alonso hit the rear of Gutierrez and the cars went off with Alonsos McLaren rolling as it came to a halt in the barriers.
Both drivers getting out of the cars on their own power.
At lap 18 all the cars roll down the pit lane and the race is red-flagged.
Vettel leads Rosberg, Raikkonen, Ricciardo, Verstappen, Sainz, Hamilton, Massa, Grosjean, Bottas in tenth, Hulkenberg, Palmer, Perez, Ericsson, Button, Nasr, Wehrlein and Haryanto in 18th place.
The race is scheduled to be restarted at 16.55 local time.
Before the restart Magnussen is allowed to unlap himself and is at the back of the field.
On lap 20, the safety car pulls in and the race restarts with Vettel in the lead. Vettel sets fastest lap at 1m30.524 seconds.
On lap 21 Button passes Perez for 13th place.
On lap 34 Raikkonen pulls into the pitlane from third place with smoke coming out of his Ferrari and he retires. Vettel sets fast lap at 1m29.951 seconds.
At lap 25 Vettel leads Rosberg by 3.8 seconds followed by Ricciardo (9.6s), Verstappen (11.9s), Sainze (12.9s), Hamilton (12.8s), Massa (18.0s), Grosjean (20.7s), Hulkenberg (22.3s) and Bottas (23.2s) in 10th place.
On lap 26 Ericsson is given a drive-through-penalty because his crew was working on his Sauber after the 15s board was shown on the restart.
Alonso has been okayed by the medical staff after his accident.
Rosberg is closing the gap to 3 seconds behind Vettels lead.
On lap 30 Perez passes Button for 12th place.
On lap 31 Button pits for new tyres. Sainz pits as well for medium tyres.
Verstappen pits the next lap, and the team has a slow stop. Sainz gets ahead of his team mate. Hamilton is now up to fourth place. Verstappen says to the team, ºHow many times I told you I had problems with the tyres? I wanted to pit first."
With the tempetures rising, there are questions about if drivers on medium compound tyres can get to the finish without pitting again.
On lap 36 Vettel pits from the lead and switches to the soft tyres. The Ferrari team loses a couple seconds on the stop and Rosbeg takes over the lead.
Palmer in ninth place is being chased by the two Toro Rossos of Sainz and Verstappen.
At lap 40 Rosberg leads Ricciardo by 9.3 seconds ahead of Hamilton (10.2s), Vettel (17.3s), Massa (28.8s), Grosjean (41.9s), Hulkenberg (43.2s), Bottas (43.7s), Palmer (49.8s), and Sainz (50.5s) in tenth place.
Ericsson pulls off the track with a broken drive train.
On lap 42 Hamilton passes Ricciardo into the first corner to take second place. Sainz passes Palmer for ninth - Verstappen passes Palmer as well.
On lap 43 Ricciardo pits from third place, switching to super-soft tyres, coming out in fifth behind Massa.
On lap 46 Ricciardo passes Massa to take fourth place.
At lap 47 Ricciardo sets fast lap at 1m29.466 seconds.
At lap 50 Rosberg leads Hamilton , Vettel, Ricciardo, Massa, Grosjean, Hulkenberg, Bottas, Sainz and Verstappen in tenth place.
Vettel is closing on Hamilton in second place. Force India is telling Perez that he is at risk of running out of fuel.
On lap 52 Vettel has closed to under a second of Hamilton.
On lap 53 Verstappen spins after hitting the read of his team mate - but continues.
On lap 55 Vettel locks up at turn 15 and runs off into grass, but continues lossing around three seconds to Hamilton.
The race finishes with Rosberg crossing the line ahead of Hamilton and Vettel.