Australian GP 2016
MARCH 17, 2016
Practice 1 Report - Rainy Round One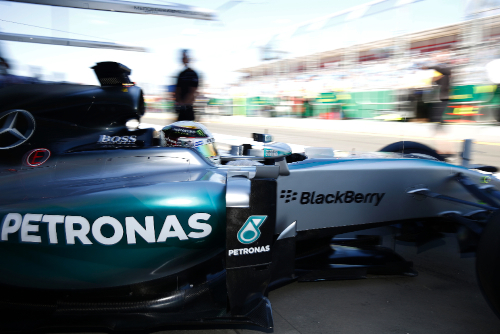 © Active Pictures
Roving rain showers featured in the first round of practice of the season and limited the number of laps the drivers did during most of the 90 minutes. The track really only dried out in the final 15 minutes when Lewis Hamilton clocked the fastest time in his Mercedes before it began to rain again.
The line-up for the session was: Mercedes Lewis Hamilton and Nico Rosberg. Ferrari Sebastian Vettel and Kimi Raikkonen. Williams Mercedes Felipe Massa and Valtteri Bottas. Red Bull TAG Heuer Daniel Ricciardo and Daniil Kvyat. Force India Mercedes Nico Hulkenberg and Sergio Perez. Renault Kevin Magnussen and Jolyon Palmer. Toro Rosso Ferrari Max Verstappen and Carlos Sainz. Sauber Ferrari Marcus Ericsson and Felipe Nasr. McLaren Honda Fernando Alonso and Jenson Button. Manor Mercedes Pascal Wehrlein and Rio Haryanto and Roberto Merhi. Haas Ferrari Romain Grosjean and Esteban Gutierrez.
Mercedes, of course, was the benchmark and the target for the other teams and drivers.
"Testing was just incredible the best I can remember in my career," reigning world champion Hamilton said before things got underway. "The car feels even better than last year's from both a performance and reliability perspective, which is saying something. It's all so refined in every area and we can be really proud of what we've achieved over the winter.
"The target is always shifting and you're constantly faced with new challenges to reach it. Just as you think you're close, suddenly you fall further back, like someone dangling a carrot on a piece of string and whipping it away just as you reach for it. It's tough mentally - but that's a good thing, as it forces you to be resilient and seek improvement in every area. I know there's still more to come from me. I think I've shown that in the past two years. There certainly needs to be some extra in my tank, as the competition will be stronger than ever this year."
It had rained overnight, but the track then dried off only to get damp again after a brief rain shower about 30 minutes before the session began.
The first driver out on the 3.295mile (5.303 km) 16turn Albert Park track for the first practice session of the 2016 season was Vettel followed by Raikkonen. All the drivers were on Pirelli's intermediate or extreme wet rain tires.
Mercedes got down to business immediately with both drivers doing flying laps while the other drivers were just doing installation laps. Hamilton clocked a 1:40.812 and Rosberg a 1:44.037.
It was not until some 20 minutes into the session that a third driver Raikkonen set a time a 1:40.754 on a track that was still damp in places.
Fan favorite Ricciardo went t the top of the charts with a time of 1:32.394 using slick tires. Other drivers tried the slicks as well, but the rain now returned at various points around the track.
After 40 minutes, eight drivers had set times: Ricciardo, Kvyat, Alonso, Raikkonen, Hamilton, Rosberg, Palmer and Magnussen.
With 30 minutes remaining, only 12 of the 22 drivers had done a flying lap. But now the track was drying off and the drivers including Verstappen who had the first spin of the season were back out trying out the slicks again. There were 17 minutes left when Hulkenberg jumped into the lead with a lap of 1:31.681 and then he lowered that to a 1:31.325.
As the track dried and became faster Hamilton clocked a 1:30.364 while Ricciardo did a 1:30.875.
With five minutes to go, Kvyat went ahead with a 1:30.146 only to have Hamilton beat that with a 1:29.725.
It began to rain again, and Ricciardo slid off into the gravel trap at Turn 12.
The top 10 at the end of FP1 were: Hamilton, Kvyat, Ricciardo, Hulkenberg, Verstappen, Rosberg, Alonso, Button, Perez and Magnussen.