Australian GP 2015
MARCH 16, 2015
Race Report - The Cruisers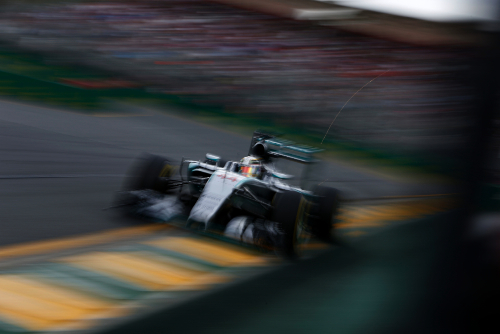 © Active Pictures
It was a late Sunday afternoon high-speed cruise for Lewis Hamilton and Nico Rosberg. The Mercedes teammates had no opposition whatsoever as they dominated the Australian Grand Prix. Ferrari's new recruit Sebastian Vettel finished third, and 34.523 seconds behind winner Hamilton.
Hamilton started from the pole and took the lead immediately. During the next 58 laps his only worry was Rosberg who was usually about two seconds adrift.
"Nico was very quick throughout the race," Hamilton said, "and it was really trying to manage the fuel and all that, and also the tires, not really knowing where the limit of the tires is in terms of how far they can go. But once you've got a two-second gap you try to manage that, there's no need to eke out more. But when Nico turned up the heat I was able to react, which was good. Otherwise, it was a phenomenal race for both of us, Nico drove really well."
Rosberg drove well, but not well enough because he failed to assert himself over Hamilton despite pushing as hard as he could.
"The attack was most definitely there!" Rosberg said. "Maybe you didn't see it but it was there, for sure, inside the cockpit. But Lewis made no mistakes so it was just not possible to get closer than that, let alone try some of attempt to overtake. It was just a matter of saving a little bit of fuel in the middle of the race to then be able to go full on at the end of the race but I think Lewis did a similar thing. As soon as I started to save a little bit he saved as well, so he could push, so it didn't really help me unfortunately."
After a disappointing final season with Red Bull in 2014, Vettel was ecstatic to finish on the podium in his first race with Ferrari.
"I'm over the moon in many ways," he said. "It's great already on the parade lap to see...I think the Ferrari flags have been there before but I didn't pay much attention obviously. But it's great the support through the whole weekend. It's an honor to sit in the red car. Obviously when your head's down and you race and you try to push every single lap you don't realize the color so much, but certainly when the checkered flag came out it was great to see and a great feeling, a great reward for the team.
"I think the car is a lot better than the team had last year. I think we can be very happy as a starting point. Still we lose a lot of time to those guys, but I think in the race, potentially, we are a little bit closer than in qualifying trim. Very, very happy, very pleased and very proud of the way the team is tackling the grand prix. The atmosphere is great, the motivation is very high and everyone knows where we want to go. We want to make sure that life is not that easy for those two in the future."
It was a race of few starters - 15 - and even fewer finishers - 11.
The Marussias of Roberto Merhi and Will Stevens never even got out of the garages all weekend. Williams driver Valtteri Bottas hurt his back during qualifying and the doctors told him he could not race. On the race reconnaissance lap two more drivers dropped out as Daniil Kvyat had a gearbox failure on his Red Bull, and the in engine expired in Kevin Magnussen's McLaren.
Just after the start, Felipe Nasr (Sauber), Kimi Raikkonen (Ferrari) and Pastor Maldonado (Lotus) ended up too close together.
"We had three cars next to each other," Nasr related after the race, "and I didn't see where we could have done anything different. There was not enough space for everyone. We had some contact with a Lotus. Luckily we didn't have any damage and we were able to continue the race."
Maldonado was not so lucky and ended up in the barriers at Turn 1. For once the crash was not his fault.
"It was quite busy start, going into a narrow corner," he said. "I just felt a big hit on the back and didn't see what happened. It's disappointing because it was a great chance for us to have a great race. The pace of the car was looking much better than in qualifying, so looking forward we can learn from this race."
Raikkonen's race would start and end with problems.
"Shortly after the start, someone hit me from behind," he said.
That was Vettel.
"Then I felt another contact on my right side, but I don't think it was Sebastian's car," Raikkonen added. "The impact activated the anti-stall system and did some damage to the floor of the car."
Raikkonen was on a two-stop strategy while many of the other drivers would only stop once. A problem fitting the left rear wheel on the second stop ended his race as he had to park the car with the wheel coming loose.
"We were very quick in the race, able to catch the Williams and to fight for the podium: but then there were problems at both pit stops," he said. "I don't know exactly what happened, but I know I lost something in terms of downforce."
At the end of the first lap Romain Grosjean pulled his Lotus into the pits and retired as the engine lost power. So with 57 laps to go there were now 13 cars in the race.
Felipe Massa ran third in his Williams ahead of Vettel, Carlos Sainz (Toro Rosso), Nasr, Daniel Ricciardo (Red Bull), Raikkonen, and Max Verstappen (Toro Rosso).
Vettel would take third from Massa during the pit stops as the latter got caught in traffic.
"The aim of today was start the season with a solid points haul and demonstrate that we have a competitive car," Massa said after finishing fourth. "We have managed to achieve much of what we wanted so this has been a positive start. The only disappointing part of the race was that I was jumped at the first pit stop by Vettel after losing a second and a half behind Ricciardo on my out-lap which was enough to lose the position."
The star of the race was rookie Nasr who did not wilt under pressure from Ricciardo and Raikkonen and went on to finish fifth in his grand prix debut.
"It was a tough race," Nasr said. "Right after the start it was quite messy in Turn 1, as another driver hit my wheel. I thought the car was damaged a bit, but after a few laps I noticed everything was fine. After that, the race went according to plan. There was pressure from behind during the whole race, which was not easy. That was an emotional race for me and everyone in the team."
Ricciardo's Renault did not have the horsepower to challenge Nasr's Ferrari-powered Sauber.
"It wasn't the most exciting race," Ricciardo said. "After the start I was able to stay with Nasr, but I wasn't able to get close enough to make the move. We finished the race and got some points which was positive, and there are things we can learn; I think on paper sixth was the best for us today."
Force India got both its drivers into the points with Nico Hulkenberg seventh and Sergio Perez 10th.
"I didn't make any mistakes and, while the reliability of our car helped us take advantage of the problems of others," Hulkenberg said. "At this stage in the season it is important to capitalize on any opportunity. We were ready when it counted."
Sauber did not score a single point last year, but thanks to Nasr's fifth and Marcus Ericsson's ninth, the team already has 14 points after just one race in 2015.
Jenson Button was the final classified finisher in 11th place and two laps down. This was the first time the troublesome McLaren Honda had completed a race distance.
"It was also a good opportunity for me to get used to the car and to play around with it, making adjustments in the cockpit," Button said. "There's a lot of work still needed - on power, drivability, downforce and set-up - but we can make big strides. And, by improving one area, it tends to snowball; more and more areas start to improve, too. There were more positives: we're as quick as the Force Indias in the corners, and we look similar in speed through the corners to the Red Bulls and Saubers, too.
"It's been a tough winter - our longest run in testing was just 12 laps, so today's 58-lap run was a good step forward - but we know we've got a lot of work to do. But, with all of today's learning, there are many areas we can improve for the next race."
Mercedes scored 43 points in Australia, and the dominant team looks like it will score the maximum points again when Hamilton and Rosberg go for a cruise in the Malaysian Grand Prix.