Australian GP 2013
MARCH 17, 2013
Qualifying Report - Red Bull dominates as Vettel takes pole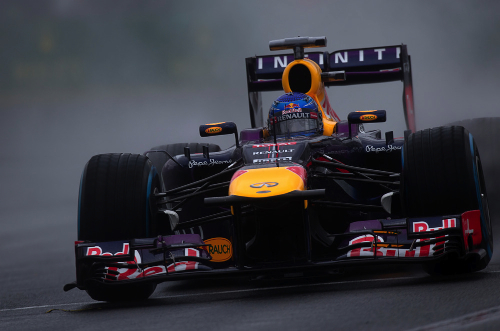 © The Cahier Archive
Qualifying 2
After being rained out on Saturday, the Qualifying 2 and Qualifying 3 sessions were postponed until 11 a.m. on Sunday.
On and off rain showers over night and in the morning left the track wet as Q2 finally got underway. Toro Rosso drivers Jean-Eric Vergne and Daniel Ricciardo were the first out on the track, followed by the Mercedes duo of Nico Rosberg and Lewis Hamilton and then Red Bull's Mark Webber. Everybody was on the Pirelli intermediate rain tire.
All 16 drivers were soon out on the track and anxious to get a quick lap in case the rain returned. Rosberg posted a time of 1:40.423 to put his name on top of the time sheets. Meanwhile, Valterri Bottas (Williams), Kimi Raikkonen (Lotus) and Sebastian Vettel (Red Bull) had wild moments on the slippery track but continued without hitting anything.
The track was drying, and the drivers started lapping in the 1:38 range with Vettel fastest at 1:38.647. He then improved that to a 1:37.640. Rosberg clocked a 1:37.325. Vettel responded with a 1:36.873. Rosberg 1:36.194.
Several drivers switched to the super soft Pirelli slick tires including McLaren's Jenson Button and Sergio Perez. But the inter was still the better tire for the conditions until the very last lap when Button jumped up to fourth.
So the fast top 10 that went on to Q1 were: Nico Rosberg (Mercedes), Mark Webber (Red Bull), Lewis Hamilton (Mercedes), Jenson Button (McLaren), Felipe Massa (Ferrari), Sebastian Vettel (Red Bull), Paul di Resta (Force India), Kimi Raikkonen (Lotus) and Romain Grosjean (Lotus.)
And the slower six who had been eliminated were: Nico Hulkenberg (Sauber), Adrian Sutil (Force India), Jean-Eric Vergne (Toro Rosso), Daniel Ricciardo (Toro Rosso), Sergio Perez (McLaren) and Valterri Bottas (Williams.)
Qualifying 3
Nico Rosberg was the first out for the final 10-minute 10-car Q3 shootout.
The intermediate was still the tire of choice.
Hamilton jumped to the top of the times with a 1:33.623. Then Vettel slammed in a 1:32.604 despite putting two wheels off the track in the final corner.
Button headed out on slick super soft tires, and the drivers who had been out on inters pitted for super softs for the final three minutes of the session.
"It was very chaotic," Webber said.
Button went quickest with a 1:32.485, and then Hamilton did a 1:29.184.
But then the Red Bulls came roaring by, with Vettel taking the pole with a 1:27.407, and Webber slotting into second with a 1: 27.827. Hamilton was third, but over half a second slower than Vettel with a 1:28.087.
"These guys were incredibly quick," Hamilton said of the Red Bull drivers.
Rounding out the top 10 were: Massa 1:28.490, Alonso 1:28.493, Rosberg 1:28.523, Raikkonen 1:28.738, Grosjean 1:29.013, di Resta1:29.305 and Button 1:30.357.
"It was definitely not easy in these conditions," Vettel said. "On the drys (tires) I got into the groove and I was ready to push on the lap. There was one dry line."