Australian GP 2010
MARCH 28, 2010
Australian GP, 2010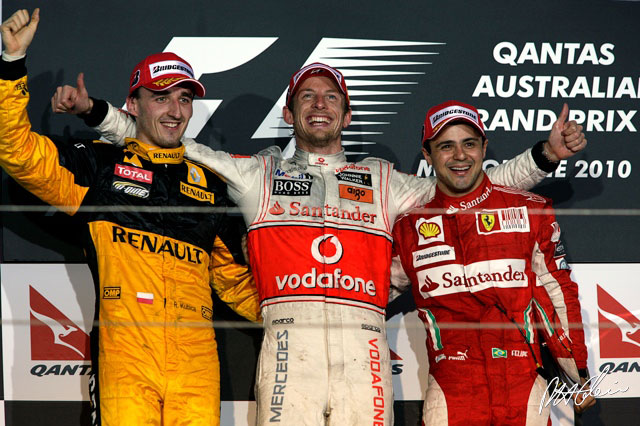 © The Cahier Archive
Jenson Button put in the drive of a champion as he took his first victory for McLaren at a stunning Australian Grand Prix ahead of Robert Kubica's Renault and the Ferrari of Felipe Massa.
All thoughts of a repeat of the boring Bahrain Grand Prix disappeared 15 minutes before the race when the heavens opened, creating ideal conditions for a mix-up. The race didn't disappoint - relegating the memories of boring F1 back to oblivion again.
In a race full of overtaking moves, action and incident, it was a piece of inspirational thinking from Button that proved crucial. The whole field started on intermediate tyres but the rain stopped soon after the start. Less than a lap after he was passed by Lewis Hamilton and dropped to 7th - apparently losing yet another internal McLaren battle - Button dived into the pits for slick tyres on lap 7.
It looked like a desperate move as he went off the track early on the following lap - indeed even Button admitted that he thought it had been 'catastrophic' as he saw how much water there was in the pit lane. But his next two sectors were the quickest of the race by far.
Most of the field duly followed Button's move a lap later but the Englishman had made the jump. He passed Robert Kubica's Renault and only pole man Sebastian Vettel was ahead of him by the time the pit stops had shaken out a couple of laps later. When Vettel's Red Bull suffered a brake failure midway through the race Button inherited the lead and he was never headed.
McLaren team boss Martin Whitmarsh confirmed Button had made the crucial call, adding: 'Great call, great drive - he preserved his tyres - but it was his bravery that gave him the win. I thought it was a bit risky and early but he made the call, he got it spot on and that won him the race.'
Button admitted that his move was inspired by his struggles on the intermediate tyres, adding: 'It's a lot easier for the drivers to feel the conditions. The team can see on the TV, the cars on the circuit but we can feel what's happening. I didn't have the balance at all on the intermediates, I was really struggling and I lost a couple of places. There was a dry line but in a few places it was a bit wet. When I came into the pit lane I thought I'd made a catastrophic decision because it was soaking wet. But once I'd got it going up to speed - after the little off at turn 3 - the pace was pretty good. I was able to put in some good laps and overtake cars whose tyres were still cold. So it was the right call and I'm very happy that I made it.'
It all so nearly went wrong at the first corner for Button, who had a coming together with Fernando Alonso after the Spaniard left him no room on the inside. Alonso spun, damaging Michael Schumacher's front wing in the process and sending both to the back. It was that kind of race, with battles and moves right the way down the field.
The safety car was brought out later in the first lap after a pile-up caused when Kamui Kobayashi's Sauber lost its front wing for the second time in the weekend - apparently due to contact with another car at turn 3. Kobayashi was left as a passenger as his car piled into Nico Hulkenberg's Williams and the Toro Rosso of Sebastien Buemi. Mercifully they all escaped unharmed.
Pole man Sebastian Vettel avoided all the carnage and led the field behind the safety car ahead of Felipe Massa, Mark Webber, Robert Kubica, Nico Rosberg, Jenson Button and Lewis Hamilton. Webber soon made it past Massa into second place and at that stage it was looking good for Red Bull.
In fact, the Red Bulls were the slowest to move for the pits after Button as neither Vettel or Webber felt there was a problem with the intermediate tyres. Most of the field came in a lap after Button but Vettel waited one more lap, forcing Webber to wait even later. Vettel survived in front but Webber dropped to 5th, losing a further place when he went off on his way out of the pits.
It was the start of a desperately frustrating race for the team. Vettel pulled away and looked comfortable in front until he went off into the gravel on lap 25. For the second race in succession, the German succumbed to a reliability problem in the Red Bull, this time an apparent brake failure at the front left wheel.
'A couple of corners earlier I could feel something was wrong,' said Vettel. 'There were sparks from the front left wheel and there was a big vibration. I wanted to pit but then coming into turn 13 it felt like the brake disc exploded.'
Starting on the front row in front of his home crowd, Webber ultimately had an afternoon to forget too. 'I had wheelspin at the start and I was glad to drop only one place to Felipe,' said Webber. 'After the restart I passed Felipe again then I had to wait for Sebastian to pit so that hurt me. From then on I wanted to go down fighting.'
Fight he did, but Webber's afternoon all but ended with him running into the back of Lewis Hamilton with a couple of laps remaining as they battled to pass Fernando Alonso. He apologised, but it summed up the Englishman's weekend.
Hamilton's visit to Australia had already been more than eventful and his race lived up to the hype. He made a good start from 11th on the grid and he was up to 8th by the first corner. A few laps later he seemed to have made a point by passing McLaren team-mate Button - only for Button to pull off the inspirational change to dry tyres a lap later.
By the time Hamilton came out he was down in 8th place, six places behind his team-mate. From then he nonetheless proceeded to battle through the field, making a number of stunning passing moves. He took Rubens Barrichello and Felipe Massa before an amazing pass round the outside of Nico Rosberg at turns 11 and 12. He was up to 3rd by half-distance and reeling in 2nd-placed Kubica when he was called into the pits for a new set of tyres. The two Mercedes had just done the same and the improvement in their pace convinced McLaren to make an ultimately poor call.
Hamilton exited 5th and immediately found himself in a battle with Mark Webber. Unfortunately for them the Ferraris in front didn't pit again and the pair spent the rest of the race catching up, leading to the eventual clash between them as Hamilton tried to force his way past Alonso late on. Both drivers rejoined the race but Hamilton's sixth place was scant reward for an impressive drive.
Afterwards a disconsolate Hamilton said: 'I had one of the drives of my life. Unfortunately due to the strategy I was stuck further back - everyone else did one stop, I did two - then I was taken out. I drove my heart out and deserved better.' Any doubts about Hamilton's mood had been dispelled when he came on the radio during his futile chase with the words: 'Whose call was it to bring me in? It was a terrible idea.'
If McLaren celebrated the call with Button, this one indeed proved a mistake. Hamilton had been well placed to pass Kubica before his second stop and the team admitted they should have had a one-two.
As it was, Kubica held on for an impressive second place in the Renault - a result set up by a stunning start that saw him move up from 9th on the grid to 4th at the first corner after he survived the coming together between Button, Alonso and Schumacher: 'I just broke very early, went over the kerb and managed to pass them,' he said.
It could have been even better for Kubica, who was the only car other than Vettel to be ahead of Button during the pit stop phase. But the Pole was still warming up his tyres as the Englishman forced his way past. From then on there was no matching the McLaren but he looked after his tyres well and kept the field at bay, resisting the attentions of Lewis Hamilton's McLaren before holding off the two Ferraris, who spent the second half of the race directly behind him.
Third and fourth for Massa and Alonso was ultimately better than Ferrari could have expected due to Hamilton and Rosberg's extra pit stops. Massa admitted he'd been having trouble with the tyres and he held up his team-mate for much of the race as a result. Still he held on for his second podium of 2010.
Alonso's first corner accident sent him to the back of the field but he made up a lot of places in the course of an exciting afternoon. If he was aggrieved that Ferrari didn't ask Massa to move over for him late on he didn't show it.
The other multiple world champion in the field, Michael Schumacher, had a much more trying day. He'd also gone to the back after his tangle with Alonso and Button at the first corner. But while the other front-runners found ways to force themselves past the backmarkers, Schumacher was re-passed by Timo Glock's Virgin early on before spending most of his afternoon looking forlornly at the Toro Rosso gearbox of Jaime Alguersuari, a man half his age.
He finally forced his way through with a few laps left to take a solitary point for 10th place - but he will be wondering what he did to deserve this. Not only was he again beaten by Mercedes team-mate Nico Rosberg (5th), but he finished behind Vitantonio Liuzzi's Force India, a fine 7th and Barrichello's Williams in 8th. It's still early in the German's comeback but this certainly isn't what he came back for.
Even further back, it was another difficult afternoon for the new teams. For Lotus, Jarno Trulli failed to even leave his pit due to a hydraulic failure. Heikki Kovalainen did make it to the finish, though - again the leader of the new teams. Both Virgins retired, as did Bruno Senna in the Hispania. Karun Chandhok put together easily his longest string of laps of the year to make the flag, albeit 5 laps down.
Formula 1 boring? Jenson Button an unworthy champion? We could hardly have been more wrong. As Button said: 'It's taken a while to get to grips inside the car but the team have really welcomed me and today is very special. We'll take a lot from this and I'm building in confidence. Hopefully at the next race we can do something similar.'
Australian Grand Prix Results - 28 March 2010 - 58 Laps
POS
DRIVER
NATIONALITY
ENTRANT
LAPS
TIME/RETIRE
1.
Jenson Button
Britain
McLaren-Mercedes
58
1h33m36.531
2.
Robert Kubica
Poland
Renault
58
12.034
3.
Felipe Massa
Brazil
Ferrari
58
14.488
4.
Fernando Alonso
Spain
Ferrari
58
16.304
5.
Nico Rosberg
Germany
Mercedes GP
58
16.683
6.
Lewis Hamilton
Britain
McLaren-Mercedes
58
29.898
7.
Vitantonio Liuzzi
Italy
Force India-Mercedes
58
59.847
8.
Rubens Barrichello
Brazil
Williams-Cosworth
58
1m00.536
9.
Mark Webber
Australia
Red Bull-Renault
58
1m07.319
10.
Michael Schumacher
Germany
Mercedes GP
58
1m09.391
11.
Jaime Alguersuari
Spain
Toro Rosso-Ferrari
58
1m11.301
12.
Pedro de la Rosa
Spain
BMW Sauber-Ferrari
58
1m14.084
13.
Heikki Kovalainen
Finland
Lotus-Cosworth
56
2 Laps
14.
Karun Chandhok
India
HRT-Cosworth
53
5 Laps
R
Timo Glock
Germany
Virgin-Cosworth
41
Suspension
R
Lucas di Grassi
Brazil
Virgin-Cosworth
26
Hydraulics
R
Sebastian Vettel
Germany
Red Bull-Renault
25
Brakes/Spin
R
Adrian Sutil
Germany
Force India-Mercedes
9
Engine
R
Vitaly Petrov
Russia
Renault
9
Spin
R
Bruno Senna
Brazil
HRT-Cosworth
4
Hydraulics
R
Sebastien Buemi
Switzerland
Toro Rosso-Ferrari
0
Accident
R
Nico Hulkenberg
Germany
Williams-Cosworth
0
Accident
R
Kamui Kobayashi
Japan
BMW Sauber-Ferrari
0
Accident
R
Jarno Trulli
Italy
Lotus-Cosworth
0
Hydraulics
FASTEST LAP:
Mark Webber
Australia
Red Bull-Renault
47
1:28.358