Australian GP 2009
MARCH 29, 2009
Australian GP, 2009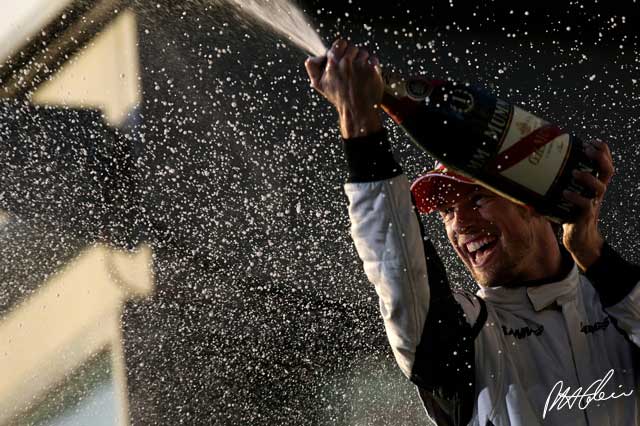 © The Cahier Archive
Formula 1 people may be kids at heart, but they don't tend to believe in fairy-tales. They are a little too cynical for that. And yet, ever since the retirement of Robochamp Michael Schumacher, the sport has been blessed with a series of fairy-tales. In 2007 we had Lewis Hamilton living out the ultimate teenage racing dream and almost winning the title at his first attempt. In 2008 we had Robert Kubica's first F1 victory in Montreal, the very same track where a year earlier he had had a huge crash. And then came Monza and the fable of Sebastian Vettel, a kid who took Scuderia Toro Rosso to an astonishing victory.
How can you top that? Well, it is possible. Indeed we just saw it happen again. Brawn GP rose from the ashes of Honda Racing F1 and built a car so fast that even the motor manufacturers cannot compete. In Albert Park Jenson Button and Rubens Barrichello both made mistakes but by the end of the day they were 1-2. There was a large element of luck involved for Barrichello, but not half as much as the string of coincidences that put Lewis Hamilton third place. A year ago Lewis would have been disappointed with such a result but it just goes to show that half the battle in Formula 1 is to be in the right car, at the right time.
It was ever thus...
Three months ago Button seemed to have no real future in F1. He had not done much for two seasons. His career has been eclipsed by Hamilton's rising star, and people were questioning his motivation. And then Honda decided that the F1 programme must stop. It was a sorry state of affairs
"It's not just for me but for the whole team, a fairy-tale ending really to the first race of our career together, and I hope we can continue this way," Button said. "We are going to fight every way we can to keep this car competitive and at the front."
Jenson admitted that there is still much to be done to get the Brawn team to speed.
The race began well for him but Barrichello fell victim to the car's anti-stall system and was swallowed by the pack. This meant that the first corner was very busy and a carambolage duly followed with Rubens bumping Mark Webber into Nick Heidfeld and then being hit by Heikki Kovalainen. Somewhere in all this Adrian Sutil gave the Force India a nose-job. The four cars headed for the pits but the Brawn lived up to its name and went on regardless.
"I was hit from behind and I hit someone in front," said Rubens. "I thought the car was done from that crash but I survived quite well. People think that our car is only good because of the diffuser. Well that big hit from behind broke the diffuser completely!"
Out front, Button was streaking away with Vettel in hot pursuit, followed by an aggressive Felipe Massa, Robert Kubica and Nico Rosberg, although the last-named was pushed backwards in the order at Turn 3 as Kimi Raikkonen moved up. Barrichello was still going but it was the men with KERS who were the ones to be watched. Hamilton made his way from 18th on the grid to eighth in those early laps. This was helped by the fact that some of the drivers chose to start on the softer tyres, which were (at best) marginal and needed to be handled with care. Massa, Raikkonen, Kubica, Trulli and Bourdais all took their medicine early on - and suffered for it
Things were thrown somewhat on lap 19 when Kazuki Nakajima messed up and planted his Williams in the wall, scrambling a Safety Car which seemed to stay out far longer than was necessary. Six laps later the field had been closed up and the fight was allowed to begin again, All of Button's advantage was gone. Despite struggling to get heat into the tyres, he began to edge ahead again. We lost Piquet at this point when the Brazilian spun out at the first corner.
The pattern that emerged was that Button and Vettel were able to disappear again but the Ferraris were eating tyres and holding up those behind to a massive extent. Massa was the first to pit for the second time - and needed to - but it would be another 14 laps before Button stopped again. He stayed ahead with Vettel next and then the recovering Barrichello and Kubica, who now became a force as he was on the harder tyres while the others went on to the softer rubber. As the finish drew nearer and the shadows lengthened Vettel began to struggle and Robert felt the race coming to him. But on lap 55 the two tangled at Turn Three. Both men managed to keep going after the bingle but both then crashed as they put strain on damaged parts. The Safety Car re-emerged. Vettel drove on, no doubt whistling "Three Wheels on my Wagon" and generally getting in the way. Later he would be given a 10-place grid penalty for Malaysia for admitting that he caused the crash with Kubica and then $50,000 for staying on the race track.
"I had a chance to win this race," Kubica said. "Button and Vettel were on soft tyres and struggling, while I was on the harder compound and was able to drive much quicker. I was already in front, but he didn't want to let me by. I think Sebastian was a bit too optimistic. Had this been the last corner OK, but there were still three laps to go and he really had no realistic chance to defend his position. I was so much quicker. My car was very good."
Vettel said that he was ahead when they turned into the corner but he could not hold the speed.
"At the time we collided he was in front," he said, "but I had nowhere to go, I couldn't stop the car, or turn to the right and my tyres were gone. It's a shame as it meant the end of the race for both of us. Maybe I should have said: 'Let him go' and brought third back home, but that's life. I'm sorry to the team and also to Robert."
This mess meant that suddenly Barrichello was back in second place, despite the early crash and a later brush with Raikkonen, which removed bits of the front wing and required a new one. Second was a surprise.
Trulli had started from the pit lane after the Toyota rear wing debacle after qualifying and he moved gradually through the order, avoiding trouble to inherit the third position but unseen during that final Safety Car was a moment when he went off and lost a place to Hamilton. He retook the position and the stewards felt this was wrong and gave him a 25-second penalty that dumped him to 12th and so Hamilton was surprised to be third (albeit some time after the race had ended). Glock, Alonso and Rosberg picked up points and the last-named also set the fastest lap but in doing so ruined his tyres and dropped several places in those closing laps.
Hamilton was happy to take the points
"Considering the package we've got, I wrung every last ounce of pace out of the car, drove one of my best ever races and absolutely raced my heart out," said Lewis.
Toyota took consolation from the fact that the car was at the front by the end, despite starting in the pits.
"This is proof that our car has real pace," said Glock.
Alonso ended up fifth in the lacklustre Renault but reckoned that things would have been better if he had not lost time in the first corner kerfuffle.
"It was difficult and so it's great to score points," he said. "We need to work on the tyres a bit more at the next race."
Rosberg felt that things would have been easier but for a problem during his pit stop.
"I believe we are faster than a couple of cars who finished ahead of us today," he said.
True, but on such occasions it is best to get points in the bag.
Sebastien Buemi drove a very solid debut and ended up with two points, while his team-mate Sebastien Bourdais ended up eighth.
"Maybe we had a bit of luck with the accidents, but even without that we were not too bad," said Buemi. "I made a mistake when I was alongside Massa, hitting the limiter button, but when he put the KERS on you could really see the advantage it brings. I am pleased with what happened today because to get a point in the bag at the first race takes some pressure off."
Sutil and Fisichella sandwiched Heidfeld. Sutil needed a new front wing after the first-corner drama, while Fisi ran strongly in the midfield early on but then made a mess of his pit stop and lost a load of time as the team had to push him into the right place.
"I was just confused with last year as we were always in the last slot in the pitlane, so I just overshot and had to be pulled back," he said, scraping the darkest depths of the barrel of excuses.
Heidfeld deserved more luck than he got after being clobbered in the first corner and never being able to recover from the damage. Webber too had reason to feel aggrieved.
"I lost a huge amount of downforce; we had a lot of damage and I wasn't going to be a threat to anyone after that," he said.
Vettel ended up listed in 14th, ahead of Kubica, and the Ferraris, both of which ended the day in retirement. The decision to start on the soft tyres was not a good one.
"After five or six laps we ran into trouble with the soft tyres, to such an extent that we had to pit early," said Massa. "We then switched to a very aggressive strategy, which with hindsight turned out to be the wrong one, as shortly after the pit stop, the Safety Car came out. At the second stop, we filled it for the finish, but then I was very slow." He went out with a damaged car, as did Kimi, who spun and clonked a wall after the brush with Barrichello.
"It was my mistake," he said. "Given what happened later, I could have finished second. We lost valuable points. Definitely the main problem was in managing the tyres, but we also need to improve our overall performance."
The day, however, belonged to Button and Brawn.
"It always looks easier than it is," Jenson said. "I struggled massively to heat my tyres after the first Safety Car, and flat-spotted the left front really badly. After that I was struggling with vibration and, towards the end, with the bad light. It was not easy. I made a mistake in my second pit stop. I was in the wrong gear because I was confused with Massa in front of me. I overshot the box and they couldn't get the fuel hose on. It was not my best race I have to say, but I won so I'm chuffed to bits. The good thing is we came out on top despite that. I made it difficult for us today, but we got there."
McLaren may not have been a threat all day but Mercedes-Benz ended up with a 1-2-3, with the customer cars ahead, giving the team's spin merchants the chance for a bit of drum-beating about customer service...
You do what you can with what you have.
Australian Grand Prix Results - 29 March 2009 - 58 Laps
POS
DRIVER
NATIONALITY
ENTRANT
LAPS
TIME/RETIRE
1.
Jenson Button
Britain
Brawn-Mercedes
58
1h34m15.784
2.
Rubens Barrichello
Brazil
Brawn-Mercedes
58
0.807
3.
Jarno Trulli
Italy
Toyota
58
1.604
DSQ
Lewis Hamilton
Britain
McLaren-Mercedes
58
2.914
4.
Timo Glock
Germany
Toyota
58
4.435
5.
Fernando Alonso
Spain
Renault
58
4.879
6.
Nico Rosberg
Germany
Williams-Toyota
58
5.722
7.
Sebastien Buemi
Switzerland
Toro Rosso-Ferrari
58
6.044
8.
Sebastien Bourdais
France
Toro Rosso-Ferrari
58
6.298
9.
Adrian Sutil
Germany
Force India-Mercedes
58
6.335
10.
Nick Heidfeld
Germany
BMW Sauber
58
7.085
11.
Giancarlo Fisichella
Italy
Force India-Mercedes
58
7.374
12.
Mark Webber
Australia
Red Bull-Renault
57
1 Lap
13.
Sebastian Vettel
Germany
Red Bull-Renault
56
Damage
14.
Robert Kubica
Poland
BMW Sauber
55
Accident
15.
Kimi Raikkonen
Finland
Ferrari
55
Differential
R
Felipe Massa
Brazil
Ferrari
45
Suspension
R
Nelson Piquet
Brazil
Renault
24
Spin
R
Kazuki Nakajima
Japan
Williams-Toyota
17
Accident
R
Heikki Kovalainen
Finland
McLaren-Mercedes
0
Damage
FASTEST LAP:
Nico Rosberg
Germany
Williams-Toyota
48
1:27.706