Australian GP 2008
MARCH 14, 2008
Practice 2 Report - Reality fails to bit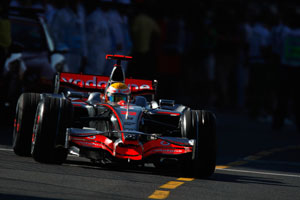 © The Cahier Archive
The Formula 1 teams are not giving much away at the moment. The second session in Melbourne on Friday afternoon gave little indication of what we can expect this year with Lewis Hamilton blitzing the field by nearly a second, but his major rivals failed to show their hands as everyone worked towards the race set-ups abd tyre choices. Mark Webber was second fastest in his Red Bull-Renault, a tenth ahead of Felipe Massa's Ferrari. The Braziilan had a big spin in the course of the session, one of several drivers to have incidents, although no serious damage was done to cars, although a few reputations were dented. Having said that the results created more questions than they did answers as the top 10 was a jumble of different cars. David Coulthard was there in fourth in his Red Bull, ahead of Kimi Raikkonen's Ferrari and the Toyota of Jarno Trulli. A tenth slower than the World Champion was the Williams of Nico Rosberg and Giancarlo Fisichella's Force India.
In ninth place was Timo Glock in his Toyota, followed by Jenson Button's Honda and the BMW of Nick Heidfeld. Fernando Alonso was next up in 12th place.
The timesheets were completed by Rubens Barrichello (Honda), Robert Kubica (BMW), Kazuki Nakajima (Williams), Adrian Sutil (Force India), Sebastian Vettel (Toro Rosso), Nelson Piquet (Renault), Sebastien Bourdais (Toro Rosso), Takuma Sato and Anthony Davidson (Super Aguri).
Taken at face value there are major disappointments for BMW, Toro Rosso and Piquet. The big question is whether one can safely accept that this is a true indication of what to expect on Sunday.
Probably not.