Australian GP 2006
APRIL 2, 2006
Australian GP, 2006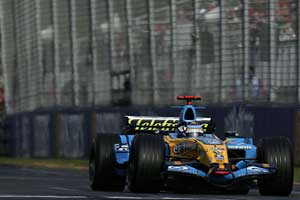 © The Cahier Archive
The Australian Grand Prix was a bruising business for most of the Formula 1 drivers. Bodies and egos took a thumping as the F1 fly-boys did their thing between the wicked walls of Albert Park. It is a terrific show with some wild action and some spectacular crashes. There were four Safety Cars. And all involved had troubles and strife - except Fernando Alonso in his Renault, who made it all look easy and romped away to an impressive victory, despite losing around half a minute because of the various interventions. When the hurly-burly was done and the battle won, Fernando crossed the line 1.8secs ahead of Kimi Raikkonen but in this case the statistics are telling lies. If Alonso had been really pushing he would have been 30secs ahead at the chequered flag.
The magic of Alonso's success comes not only from his DNA but also thanks to the alchemists and witches of Formula 1 who weave magic with their black arts. The tyre men, their fires burning and their cauldrons bubbling, find compounds and constructions that will weave that special magic where rubber meets tarmac. And while science is clearly involved along the way, getting it right remains a thing of much mystery. Out there on the cutting edge of tyre technology, each black round rubber thing will work in a different way with a different car and with a different temperature. They need to be handled with care.
The Australian Grand Prix was all about tyre temperature, intelligence and a little bit of magic.
The dramas began even before the start of the race when Juan Pablo Montoya spun his McLaren as he was just arriving on the grid. The Colombian was chucking the car from side to side to warm the tyres and chucked it a little hard. Ooops. It is fortunate that drivers wear helmets because otherwise the face in the McLaren would have been as red as a Ferrari's nose. Montoya is a man who is looking for a future in F1 at the moment and this sort of thing is not going to help his cause. But then again, he's also lucky. Moments after he spun Giancarlo Fisichella started waving his arms in the air up front. Naughty little gremlins running around inside the Renault caused the anti-stall system to fail to live up to its name. The start was aborted. Fisichella went to the pits and Montoya was allowed back to his original grid position.
Next time around things went according to plan and the field set off in all its splendour down to Turn 1 where traditionally things do not always work out quite right. And so it was again. Alonso was carrying a bit more speed than Jenson Button's Honda but his move to pass Button did not work and ended up with a cloud of tyre smoke. Jenson had the lead with Fernando snapping at his heels and then the two McLarens scrapping like a pair of mad dogs.
Behind them there was mayhem as Christian Klien clipped a kerb and spun across Felipe Massa's bows, taking out Nico Rosberg in the process. Further around the lap, Jarno Trulli clouted David Coulthard's Red Bull in Turn 6 and the Toyota spun into retirement.
Down at the Dispersal Hut, the telephone rang and the Safety Car was scrambled. And all the tyre-heating efforts came to nought. Montoya had a spin (yes, another one) behind the Safety Car while chucking his car about. Jenson Button seemed to be playing it cool and that appeared to be his problem when the race snapped back into action at the start of lap 4. Alonso has Button beaten before they crossed the start-finish line and sailed into the lead with perfect timing. And he was gone. By the end of the lap he was 2.7secs ahead of the undone Button, who was now more worried about Raikkonen in his mirrors.
A couple of laps later, Klien's Red Bull snapped to the left as the Austrian braked for Turn 9 and smote the wall a decent blow. The phone rang down at Dispersals and out came the Safety Car again. As the marshals brushed away bits and pieces of broken Red Bull, the tyre temperatures dropped again. At the restart Raikkonen took advantage of Button's tyre heating problem and sailed ahead. The fight, we thought, was on. But the reality was rather different. Getting ahead of Button, Kimi has squared off one of his tyres. The vibrations led to a part of the front wing falling off and with this little bit of carbonfibre went the performance of the MP4-21. Suddenly Kimi was dropping away like a stone. Button and Montoya were scrambling around behind and were followed by Mark Webber and Ralf Schumacher. Now it was a question of strategies. Montoya was the first man to pit on lap 18, followed by Button and Ralf Schumacher on 19 and Alonso on 20. Raikkonen pitted from the lead a lap later, handing the advantage to the national hero. On lap 22 an Australian led the Australian Grand Prix but the dancing on the streets in Queanbeyan did not last as long as it should have done. On lap 23 the Williams grumbled to a halt with a transmission failure and Alonso was back in the lead. Mark was due to run another six laps before his planned stop, which would have given him a big advantage and probably a podium as well.
As it was we had Nick Heidfeld up in second in his BMW with Raikkonen third, Michael Schumacher fourth and Montoya now ahead of Button as well. Heidfeld and Schumacher pitted on lap 25. This put Nick fourth and Schumi sixth. And then a funny thing happened. The Ferrari lit up its afterburner and was suddenly doing seriously competitive times. The second set of tyres had been nicely toasted in the pits and the car liked them. Michael was soon hunting down thee hapless Button. But on lap 33 Michael pushed too hard. The Ferrari slid over the kerb at the final corner, bounced along the grass and then decided to turn left into the wall. The air was filled with fluttering bits of red carbonfibre and Michael hopped out and was sufficiently bemused to wander into the Toyota garage rather than walking back to Ferrari. It is doubtful he learned much of value on his way through.
The shunt sent everyone hustling into the pits to get tyre stops done during the Safety Car period. For McLaren this was a blessing and a disaster because Raikkonen and Montoya arrived nose-to-tail. Montoya had to wait. In fact he had to wait rather a long time because the team had decided to give Kimi's car rapid rhinoplasty and so by the time the two were out on the track again Heidfeld was back in second with Kimi third, Button fourth, Ralf Schumacher fifth (the Safety Car having negated the effects of a drive-through penalty he had been given earlier for pitlane speeding. Then came Tonio Liuzzi and Fisichella, who was finally rejoining the fray up front after early frustrations including a spin at the first corner, when he arrived at speed having started in the pitlane.
When the race restarted it was chaotic as the leaders were tangled up with backmarkers and there was considerable bumping. Heidfeld slipped down the order as his BMW was unable to generate sufficient warmth in its tyres while Liuzzi, who had driven a super race for Toro Rosso which included a beautiful overtaking manoeuvre which left Michael Schumacher gasping on lap 12, was shoved onto the grass by Jacques Villeneuve and had a sizeable accident as result. There was more tidying up to be done.
Behind the Safety Car Montoya managed to overtake Heidfeld and would have been penalised if he had not had a massive moment (a la Schumacher) at the last corner on lap 46, after which his car decided it had had enough and shut down the electronics.
The final restart on lap 41 was a messy business with Alonso having the two lapped Midland-Toyotas behind him as a cushion. From the melee emerged Ralf Schumacher in third, Montoya, Heidfeld and Button, although the latter had an urgent Fisichella up his chuff.
The Raikkonen-mobile with its new nose, was now on song again and Kimi was soon lapping with great speed but it was clear that Fernando had him covered. Ralf was not in the ballpark and was soon so far back as not to matter. After Montoya exited Heidfeld was alone in fourth and the action was mainly from the scrap between Button and Fisichella and it was the Roman who ultimately got the fifth place when Jenson's engine lunched on itself at the penultimate corner on the last lap. The Honda flame-thrower was not enough to stop Fisichella and Button's frustration was complete as the team decided to sacrifice the points in order to avoid getting a penalty of 10 grid positions in Imola. This way Jenson starts with a fighting chance of winning in San Marino but loses four points. Such are the rules. This promoted Villeneuve to sixth, Barrichello to seventh and Scott Speed to eighth. The young American had held off David Coulthard for the last part of the race but afterwards the FIA stewards decided that he should be penalised for ignoring yellow flags. A disappointed Speed incurred a time penalty and so lost eighth and added to his own misfortune by saying rude things in the hearing and so went home with a $5000 fine.
It was an entertaining race. Good TV but when all was said and done, it showed once and for all that the magicians at Renault are well in control of this year's World Championship.
Australian Grand Prix Results - 2 April 2006 - 57 Laps
POS
DRIVER
NATIONALITY
ENTRANT
TIRE
LAPS
TIME/RETIRE
1.
Fernando Alonso
Spain
Renault
57
1h34m27.870
2.
Kimi Raikkonen
Finland
McLaren-Mercedes
57
1.829
3.
Ralf Schumacher
Germany
Toyota
57
24.824
4.
Nick Heidfeld
Germany
Sauber-BMW
57
31.032
5.
Giancarlo Fisichella
Italy
Renault
57
38.421
6.
Jacques Villeneuve
Canada
Sauber-BMW
57
49.554
7.
Rubens Barrichello
Brazil
Honda
57
51.904
8.
David Coulthard
Britain
Red Bull-Ferrari
57
53.983
9.
Scott Speed
United States
Toro Rosso-Cosworth
57
1m18.817*
10.
Jenson Button
Britain
Honda
56
1 Lap, Engine
11.
Christijan Albers
Netherlands
MF1-Toyota
56
1 Lap
12.
Takuma Sato
Japan
Super Aguri-Honda
55
2 Laps
13
Yuji Ide
Japan
Super Aguri-Honda
54
3 Laps
R
Juan Pablo Montoya
Colombia
McLaren-Mercedes
46
Electronics
R
Tiago Monteiro
Portugal
MF1-Toyota
39
Mechanical
R
Vitantonio Liuzzi
Italy
Toro Rosso-Cosworth
37
Accident
R
Michael Schumacher
Germany
Ferrari
32
Accident
R
Mark Webber
Australia
Williams-Cosworth
23
Mechanical
R
Christian Klien
Austria
Red Bull-Ferrari
4
Accident
R
Jarno Trulli
Italy
Toyota
0
Suspension
R
Nico Rosberg
Germany
Williams-Cosworth
0
Damage
R
Felipe Massa
Brazil
Ferrari
0
Accident
* Scott Speed penalized 25 seconds after the race for passing Coulthard under yellow.
FASTEST LAP:
Kimi Raikkonen
Finland
McLaren-Mercedes
57
1:26.045