Australian GP 2004
MARCH 7, 2004
Australian GP, 2004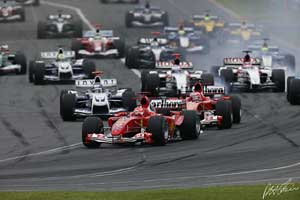 © The Cahier Archive
After what had been two very frustrating days of practice and qualifying, there was a long haul to get through to two o'clock on race day, enlivened (thank goodness) by on-track action from supporting events. Ron Walker, the chairman of the Grand Prix Corporation, is a showman by nature and understands that people come to his race to see a show. Given the number of people pouring through the gates of Albert Park, Ron had got it right again. Australia has a different deal to many other F1 races and so the programme is not restricted by the need for support races to pay the F1 mandarins.
In there somewhere is a lesson for those who worry about falling attendances at other Grands Prix.
Finally, however, we had what we had come to see: 20 screaming cars, driven by 20 screaming lunatics, heading down to the first corner, ducking and weaving. Launch control may be banned now but that did not seem to have had any effect on the two Renaults, which started the race as they have been starting all the races in recent years. Alonso was up and away and ahead of Button and looking for a way to deal with Montoya while Jarno Trulli made mincemeat of those round him. He went from ninth on the grid to be fifth out of the first corner. He was aided in his task by Montoya, who went howling down to Turn 1, braked just a hint too late as he tried to stay ahead of the surging Alonso. He went off and Alonso had to put some wheels on the grass to avoid a disaster. Monty went back to seventh. That condemned the Colombian to an afternoon stuck in traffic and put paid to any challenge there might have been for Alonso. Behind all this there were a few wheels off the grass as others sorted themselves out (notably both Saubers) while Takuma Sato bumped the rear end of Trulli's Renault, slightly (but significantly) damaging both cars.
The Ferraris were gone already and as the afternoon developed all that Fernando Alonso could do was to watch the rears of the two red cars as they disappeared from his view. It did not take long. By the fourth lap they were two seconds ahead. By the eighth lap they were five seconds clear and after that Alonso had nothing to do. No-one else could keep up with him.
Let us be quite honest here, although the two Ferraris were running close together in the first part of the race, there was never a suspicion that we would ever see an attack by Rubens Barrichello on Michael Schumacher. We know that is how Ferrari works and it is the reason that there were groans in the media centre and (no doubt) a certain amount of snoring on couches in Europe where watching a Ferrari procession in the early hours of the morning would have been helpful for those of an insomniac nature.
At the race tracks we journalists manage to keep busy and interested, particularly those who follow the battles all through the field, but when even we have time to think about having cups of tea and cakes, the show has truly lost its grip.
I had a very nice cake around lap 18 and some rather tasty cheese closer to the end of the race...
But one should not get suicidal about one event.
After practice on Friday there were journalists wandering around, sharpening their razors and bearing their wrists, mumbling about 18 Ferraris 1-2s this year. OK, the Melbourne race was not the greatest show on earth but there were very special and obvious circumstances why Ferrari had it so easy. The temperature was low. Indeed it was cold. And that has always tended to favour Bridgestone tyres. On Saturday when the temperature was much warmer the gap was only a few tenths and would have been even smaller if Juan Pablo Montoya had not botched his qualifying run. There was a hint therefore that the Australian race may not a true representation of the relative competitiveness of the various cars.
The Melbourne track is one where Ferrari always goes well but it is not necessarily a good indication of what is to come. The Ferraris are good in Melbourne. The red cars have won in 1999 (with Eddie Irvine) and in 2000, 2001 and 2002 with Michael Schumacher. But there are not many tracks with the same characteristics as Melbourne. Down in the paddock the reaction to the Ferrari domination was far less desperate than was the case up in the press room.
"If you think back to 2002 we got blown away in Melbourne and then we came right back to win in Malaysia," said Sam Michael of BMW Williams. "It can easily turn around. If Juan had not gone off at the first corner he would have been fighting with Alonso for third place. He would not have been able to challenge the Ferraris because our cars are not good in conditions where the ambient temperature is low. And we need to tune the car to the track surface a little more effectively. But I am reasonably confident that we can do a good job in Malaysia and Bahrain. We're not too worried."
If there is a worry in the Williams camp it must be that Montoya had gone off at the first corner (again).
Ralf Schumacher's day was unspectacular. He was fifth at the end of the first lap and lost a place to the recovering Montoya but later in the race used a better strategy to overtake the Colombian, Jarno Trulli and Jenson Button. Six plus one minus three equals fourth place.
Montoya's early stop on lap 10 was the reason he lost out to Ralf but after that he was able to deal with Trulli on lap 24 and then gave Button a choice between losing fifth place on the road or off it. The BAR driver chose the scenic route and so spent some time bouncing on the grass but rejoined to finish sixth. But for a fuel nozzle problem at his first stop he might have been able to keep Ralf Schumacher at bay so it was not the best possible result from BAR. It was still a pretty good one. Takuma Sato also drove a strong race but suffered from having snagged the back of Trulli at the first corner. His nosecone was replaced by the BAR tenders at the second pit stops and after that he was running at Button-like pace. Ninth was a disappointment but it must be said that any fears of Honda reliability were dismissed. These guys are going to be on podiums before too long.
So Trulli ended up seventh, a drab result which he blamed on a damaged diffuser from the first corner incident with Sato.
"After that the car just lacked grip," he said.
Still, it was better to be a Renault driver than a McLaren man. Here we have a disaster going on. It is not in the making, it is well-advanced. The team started with a new car earlier than everyone else and made all the right noises in public places. After other cars started to appear the whispers were never any good. The team must at least be happy to know that a new car in the mid-season should help matters and give them a second bite of the cherry.
The scary thing was not the fact that Kimi Raikkonen retired while running 11th nor that David Coulthard finished eighth. The scary thing was the list of fastest race laps which showed that McLaren was two seconds off the pace of Ferrari. Forgive me if I am wrong, but I do not remember anyone coming back from two seconds a lap down to win the World Championship. One wonders, in fact, why on earth Bernie Ecclestone was of the impression that Raikkonen might be a possible World Champion this year.
Bernie is usually a very good tipster.
Being McLaren, there were complicated explanations (using lots of interesting marketing phrases) and we learned that the poor performance was "amplified by the low ambient temperatures" and that "careful analysis and a team driven recovery plan" will resolve the problems. Terrific, let's hope that whatever it is, it works. Up in the press room the view was that he boys at McLaren should be singing that well-known cowboy song "Three Wheels on My Technical Package, but I'm still rolling along"...
When things go wrong it is always nice to be able to see someone else making a mess of it as well and so McLaren can draw some consolation from the fact that big budget Toyota was even deeper in the slurry, with one technical package being 12th and the other 13th. For most of the race Olivier Panis was behind even a Jordan. It was a shame, said one team member, that they could not have brought the old car...
"I am very disappointed," said the newly-retired Ove Anderson. "I knew that we were not good but I did not think it would be that bad."
Still, it will be a wake-up call for those who have taken over the reins of power in Cologne. Perhaps a few changes might be a good idea. One would imagine that the well-known paddock rottweiler Mike Gascoyne will be banging his fist on a few desks in the weeks ahead.
There must be some mention of Jaguar Racing at this point because if it had not been for a gearbox problem Mark Webber would possibly have been in the points, despite a pretty average start.
"There is more to come from us," said Webber, trying to find something positive to say.
His Jaguar team mate Christian Klien did a pretty good job to stay out of trouble and make up for his problems in qualifying. This allowed him to make some progress early on while his two-stop strategy helped to get him ahead of the Toyotas, Minardis and Jordans.
For those who felt that the new Sauber is a bit of a Ferrari, there was a wake-up call. It cannot be a Ferrari if it is this far off the pace. The Sauber was definitely not a rocket ship and Giancarlo Fisichella had to work hard for his 10th place, battling Nick Heidfeld for a lot of the afternoon. For most of the time Felipe Massa was ahead of him on the road but the Brazilian remains wild and whacky and did some high-speed grass cutting from time to time until he stopped with an apparent engine failure.
Jordan saw Nick Heidfeld go out with a clutch problem while F1 debutant Giorgio Pantano did a good solid job to come home in 14th place.
Minardi had Zsolt Baumgartner retire early with an electrical problem while Gianmaria Bruni had a misfire which caused him to stop in the pits. The team decided that it would fix the problem and Bruni was eventually sent back out but was too far back to be classified as a finisher.
It was an impressive display by Ferrari but those who write off the challenge of Williams and Renault do so at their peril. And even BAR may on occasion be in a position to do great things later this year...
Something to look forward to.
AUSTRALIAN GRAND PRIX RESULTS - MARCH 7, 2004 - 58 LAPS

POS

DRIVER
NATIONALITY
ENTRANT
LAPS
TIRE
TIME/RETIRE

1.

MICHAEL SCHUMACHER
Germany
Ferrari
58

1h24m15.757

2.

RUBENS BARRICHELLO
Brazil
Ferrari
58

13.605

3.

FERNANDO ALONSO
Spain
Renault
58

34.673

4.

RALF SCHUMACHER
Germany
Williams-BMW
58

1m00.423

5.

JUAN PABLO MONTOYA
Colombia
Williams-BMW
58

1m08.536

6.

JENSON BUTTON
Britain
BAR-Honda
58

1m10.598

7.

JARNO TRULLI
Italy
Renault
57

1 Lap

8.

DAVID COULTHARD
Britain
McLaren-Mercedes
57

1 Lap

9.

TAKUMA SATO
Japan
BAR-Honda
57

1 Lap

10.

GIANCARLO FISICHELLA
Italy
Sauber-Petronas
57

1 Lap

11.

CHRISTIAN KLIEN
Austria
Jaguar-Cosworth
56

2 Laps

12.

CRISTIANO DA MATTA
Brazil
Toyota
56

2 Laps

13.

OLIVIER PANIS
France
Toyota
56

2 Laps

14.

GIORGIO PANTANO
Italy
Jordan-Ford
55

3 Laps

R

FELIPE MASSA
Brazil
Sauber-Petronas
44

Engine

R

NICK HEIDFELD
Germany
Jordan-Cosworth
43

Clutch

R

GIANMARIA BRUNI
Italy
Minardi-Cosworth
43

R

MARK WEBBER
Australia
Jaguar-Cosworth
29

Gearbox

R

ZSOLT BAUMGARTNER
Hungary
Minardi-Cosworth
13

Electronics

R

KIMI RAIKKONEN
Finland
McLaren-Mercedes
9

Engine

FASTEST LAP: M.SCHUMACHER

Germany
Ferrari
29

1:24.125




DRIVERS CHAMPIONSHIP POSITIONS:

POS

DRIVER
NATIONALITY
ENTRANT

POINTS

1.

MICHAEL SCHUMACHER
Germany
Ferrari

10

2.

RUBENS BARRICHELLO
Brazil
Ferrari

8

3.

FERNANDO ALONSO
Spain
Renault

6

4.

RALF SCHUMACHER
Germany
Williams-BMW

5

5.

JUAN PABLO MONTOYA
Colombia
Williams-BMW

4

6.

JENSON BUTTON
Britain
BAR-Honda

3

7.

JARNO TRULLI
Italy
Renault

2

8.

DAVID COULTHARD
Britain
McLaren-Mercedes

1




CONSTRUCTORS CHAMPIONSHIP POSITIONS:

POS

CONSTRUCTOR

POINTS

1.

FERRARI

18

2.

WILLIAMS-BMW

9

3.

RENAULT

8

4.

BAR-HONDA

3

5.

MCLAREN-MERCEDES

1