Abu Dhabi GP 2021
DECEMBER 12, 2021
Sunday Team Quotes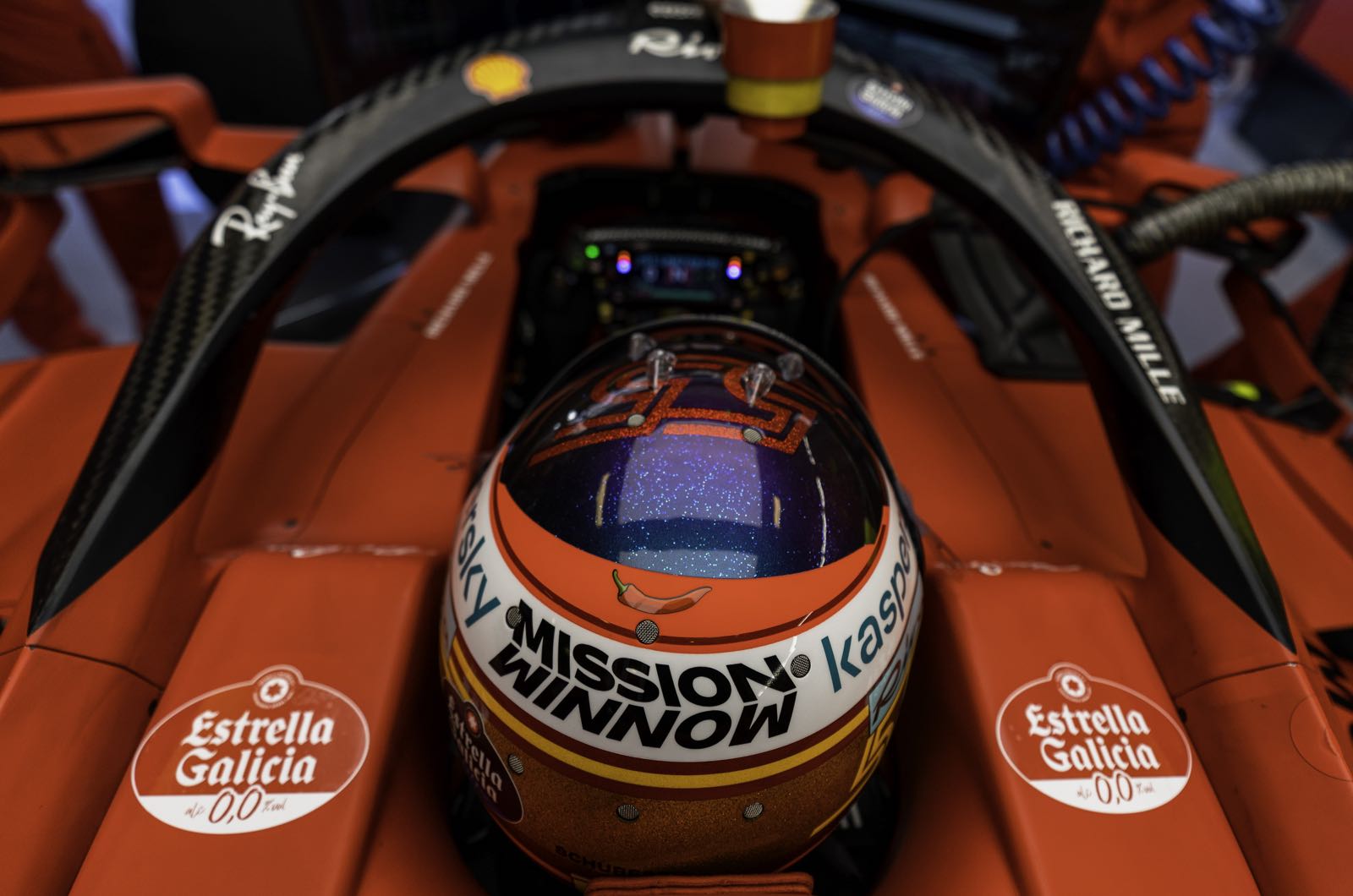 © Ferrari
Mercedes-AMG Petronas F1 Team
Lewis Hamilton (2nd):
Valtteri Bottas (6th):
Toto Wolff, Team Principal:
Andrew Shovlin:
Red Bull Racing
Max Verstappen (1st): "It feels incredible to be World Champion and I couldn't have asked for a more insane last race of the year. It was a bit of a rollercoaster, from not really having a chance of winning until the last lap, everything came together, and we had to go for it. I kept saying to myself, I am just going to give it my all and I have until the end and that is what we did. Of course, with that safety car restart in the last lap we had the fresher tyres but you still need to do the move – luckily it worked out. I want to say a big thank to Checo, because of his performance today, I won the Championship, he was driving his heart out for this Team. Today showed exactly what great teamwork is, he's an amazing teammate. Mercedes won the Constructors' and we won the Driver's Championship so it really shows that throughout the whole year we pushed each other to the very end. Lewis is an amazing driver, there is no discussion about it. Of course, we had our moments throughout the season but I think you know that after everything we had an amazing fight this season and I think both teams gave it their all."
Sergio Perez (15th, Retired): "First of all, I'm extremely happy for Max and for this Team because they have worked so hard throughout the year and for many years. Max really deserves this Championship with the level he has driven at. I'm very happy to contribute to his title, he's been a tremendous teammate and a great guy, I couldn't be happier for him. Lewis was in control of the race and Max was 10 seconds or so behind so I am extremely happy I could do something to help the outcome. I was on extremely old tyres so there was not much I could do but I managed to take a couple of seconds of out of Lewis, which was critical and had an impact on the race. You don't want to get involved in their Championship and their battle, they've worked so hard for to be in this moment, but this is my Team, I did that for my Team and for Max. I think finishing second was possible for me today with the way the race ended up concluding, but I had to retire because my car was not looking great and it could have ended up creating another safety car. It's a shame in the end that we didn't get the Constructions title, but I'm extremely happy with the job we've done this season."
Christian Horner, Sporting Director: "I said it was going to need something from the racing Gods in the last ten laps and thank goodness for that safety car. It has been a great competition this season and for Max to win the World Championship, it is not just about the race here, it is about the whole year and how incredible and consistent he has been as a driver. All credit to Lewis too, he has been a phenomenal opponent all year and a great World Champion, he has been formidable and that is what makes it even more of a monumental achievement to win this. This Championship came down to the last lap and it was a great strategy call by the Team to make that pit stop onto the set of softs and then it was down to Max to make it happen, which he did in typical Max style. I was screaming from turn five all the way down that back straight. He got the job done. I am just so proud of Max and the team for what we've been through this year and what we have achieved against some fierce and great opponents. Checo was the perfect teammate today, what he did keeping Lewis behind, on totally worn tyres, was just super driving. Without him today Max probably wouldn't be World Champion, the whole Team executed their strategy, flawlessly. On balance after 22 races we have won this World Championship on the facts. I would also like to thank Honda for their teamwork and support over the last few years. We will continue our partnership in a different way, but we look forward to continuing the success."
McLaren F1 Team
Lando Norris (7th): "I thought from my side it was a decent race. I lost out a little bit at the start – I maybe just didn't do the best job or place the car exactly where I should've done. After that, the race was going very well, I was keeping up with the Ferrari, the pace was pretty strong and then we had a slow puncture, which just took us out of the race and I lost a lot of points and a lot of positions because of that. Just more unlucky times! But the team did a good job today. I feel like I drove a solid race and it was just unfortunate again. There's nothing we could've done, but I think we should still be happy with the way we ended the season. We weren't quite quick enough at times, but that's not down to a lack of effort. Thanks to the whole team for all their hard work. They've been amazing all season. We still have a couple of days of testing to go before the break, but soon it'll be time for a well-deserved break and a reset before next year."
Daniel Ricciardo (12th): "We made a position on the first lap, which put us in the fight with the Alpines. I felt like I had a bit more pace than them, but it was honestly just really tricky to overtake. We tried to stick it out but with the Virtual Safety Car we lost positions. I think in clear air I would've had a bit more pace to show, but it was just tricky with track position. That's what happens when you qualify a little too far back. Something I want to improve next year is the performance on Saturdays, and I think that'll make the Sundays a bit easier. Thanks to the team for their hard work this year. We've had some fantastic moments, Monza being the highlight, and I can't wait to build on the progress we've made in 2021. Before that, I'm looking forward to heading home, recharging the batteries a bit and getting ready to come back fighting next year."
Andreas Seidl, Team Principal: "We end a positive season with a tricky and dramatic race. Lando did well to bring the car home in the points after plenty of disruption towards the end of the race. Unfortunately, for Daniel, the timing of the Safety Car limited his opportunity to fight with the Alpines. We thank Lando and Daniel for their hard work this year. They've helped us score the most points since 2012, secured five podiums, and achieved our first win in nine years. I'd also like to thank several groups of people for their commitment and dedication after this long season. Our race team, who spend their weekends away and sacrifice special moments with loved ones in service to the team, chasing performance at every opportunity, and our team back in Woking for their dedication and support around the clock to put us in the best possible position to perform on track. We're also lucky to have two fantastic simulator and development drivers in Oliver Turvey and Will Stevens. With so many new circuits this year, their work has been even more important. To our fans, whose support we feel all around the world, and are the reason we do what we do: we thank you for your continued passion and friendship and we hope you've enjoyed following our journey this year. To our sponsors, without whom we simply wouldn't be able to go racing: we value our partnerships and look forward to enjoying more success with you in the near future. To F1 and the FIA, who have worked exceptionally hard to deliver this season under tricky circumstances: that work has been rewarded with one of the most exciting seasons in memory. At the same time, we thank the outgoing FIA President Jean Todt for his service to our sport and wish his successor well. Coming into the 2021 season, one of the biggest changes for our team was the change of engine supplier. With the help of Mercedes HPP, we've been able to successfully implement this new power unit into our car, helping us deliver our first win since 2012. We also thank Pirelli for their hard work and collaboration, all while developing brand new 18-inch tyres for the new regulations next year. Finally, it's been an incredibly exciting year of Formula 1, and as a team we're proud of the progress we're making and the journey we're on. We're ready to take on the new regulations in 2022 as we embark on this new era of Formula 1."
Aston Martin Cognizant F1 Team
Sebastian Vettel (11th): "I think we had some decent pace today, but we were unfortunately stuck behind the Alfa Romeo of [Antonio] Giovinazzi for too long and that cost us too much time. When we were in clear air, the pace was good, but there was only so much we could do. The Safety Car situation at the end may have been unprecedented and we were just unable to end the season with points and finished P11. I also want to say congratulations to both Lewis [Hamilton] and Max [Verstappen] because both deserved the World Championship this year."
Lance Stroll (13th): "It was a tricky race today and we were not able to benefit from the late Safety Car because we were not waved through to overtake, which was frustrating and I did not understand. It was a late chance to make up some places and potentially aim for points after we made the decision to pit again. P13 is not how we wanted to end the season and my 100th Grand Prix, but we have learned a lot this year that will put us in good stead for 2022. It has been great to be a part of Aston Martin's first year back in Formula One, and I am sure there is a bright future ahead."
Otmar Szafnauer, Chief Operating Officer: "Sebastian and Lance both drove fault-free races to 11th and 13th respectively. That was not what we were hoping for - a double points finish was our aim - but we simply did not have the race pace necessary to make the progress required and there was not enough attrition ahead of us. I want to thank them both though. They have worked hard and uncomplainingly throughout a very long and extremely tough season. They both deserve a good rest, after which they will return next year; by that time we intend to offer them a more competitive car relative to those of our principal competitors. I also want to thank our staff back at the factory, and at the races, who never gave up all season. They too will come back refreshed next year, ready to push for better results than we have had this year."
Alpine F1 Team
Fernando Alonso (8th): "It was a fun race out there tonight and to see the championship fight go down to the last lap was exciting. For our race, we started on the Hard tyres and we did well to benefit from the Safety Car this time. I enjoyed the fights we had with the Alpha Tauris and to score double points for the team is a good result for Alpine. We weren't quite as competitive this weekend, but we executed another strong race, so it's a credit to the team. We now need to reset for next year and make sure we have a good winter ahead of 2022. I would also like to say Congratulations to Max Verstappen for winning the title. It was only a matter of time that he won the trophy and whilst there was some fortune in the incidents today, I think he is a deserving champion."
Esteban Ocon (9th): "Congratulations to Max [Verstappen] for winning the championship. It's well deserved as this year he's been great and hopefully one day we'll be up there battling with him in the future: that's our aim looking forward. In terms of today, I'd say it was a good race for us. We did well on the strategy we had going from Softs to Hards on a one-stop. We didn't benefit from the virtual safety car and we lost two places there unfortunately. Sometimes it goes your way, sometimes it doesn't, that's the way it is! I'm very happy to end the season on a strong note and that's a positive. Thanks to everyone at Alpine F1 Team at Enstone and Viry for their hard work all season. Let's keep pushing!"
Laurent Rossi, Alpine CEO: "Firstly, congratulations to Max Verstappen, Red Bull Racing, Lewis Hamilton and Mercedes for a fantastic finale to the season. It was a brilliant end to a captivating year in Formula 1 and the perfect advert for what an entertaining sport we have the privilege to compete in. The drama they created today only makes us hungrier to be up at the top of the grid fighting for wins and championships in the near future. That is our ultimate goal and we will not stop the hard work to achieve that. Our race today was a fitting end to what has been a very memorable campaign. Both Fernando and Esteban battled hard and dug deep to score double points. Credit to them, to the strategists, to the pit-stop crew and to everyone at Enstone and Viry who has contributed to this success and consolidating fifth in the championship. I hope everyone in the team enjoys a good break over Christmas while we keep an eye on seizing future opportunities, especially from next year with the rule changes. Thanks to everyone on both sides of the Channel for a great season, capped with memorable races including Fernando's podium and Esteban's victory. We want to create more memories and moments like this and we'll remain motivated yet humble in achieving our targets."
Scuderia Ferrari Mission Winnow
Carlos Sainz (3rd): "What a way to end my first year with Scuderia Ferrari! We knew it was going to be a tough race for the tyres but we used our experience of the entire year to extend the life of my Softs in the first stint and then to look after my Hards until the end of the race. To sign off my first season with the Scuderia with a podium, a third place in the Constructors' Championship and a fifth in the Drivers' is a great way to head into the winter break. I want to thank all the tifosi and the entire team, including Charles, the management and every single member of the factory and race team for the welcome I've had this year. I felt at home at Ferrari from the very first day and that, along with their incredible effort all year long, has been key to improving race by race and finishing this first season strongly. Finally I want to congratulate both Max and Lewis for their great season. I'm happy for Max, so a special congratulation for the Championship title. I'm already looking forward to next season! Forza Ferrari!"
Charles Leclerc (10th): "It wasn't a great race today. The first stint wasn't bad. Then, we tried something different and put on Medium tyres during the Virtual Safety Car. It was a decision we made together, as a team, and it just didn't work out as we wanted it to. Congratulations to the team for finishing in third place in the Constructors' championship. It was not easy after a tough season last year and a big thank you goes to everyone on our team, whether at the track or at our factory at home in Maranello, for all the hard work they did to make this possible. Carlos did a great job this season and congratulations to him for fifth in the Drivers' standings. Huge congratulations to Max for winning the title. We raced with each other as kids as far back as karting. I know how strong he has been from the very start. It was just a matter of time before he achieved this and he deserves it. The 2021 season ended today and the 2022 season begins from tomorrow. We will start learning a lot for the coming season starting with the test we have planned this week. We believe the foundation we have is a solid one and we will keep working to be able to fight further in the front in the next World Championship."
Mattia Binotto, Team Principal: "We wanted to finish this season with a smile and we did it. Having Carlos on the podium was the best way to end a championship in which we made significant progress compared to last year. We are aware that the gap to those fighting for the titles is still very big, but it cannot be denied that we took a considerable step forward over the course of the season. Third place in the Constructors' Championship was down to the efforts of everyone in the team, at the track and back in Maranello, who worked really hard with determination, humility and in a united fashion. This team spirit and this will to improve together also extends to our drivers, Carlos and Charles, who have shown with their performance and their behaviour that they are up to the task they have been given as Scuderia Ferrari drivers. They are the best pairing on the grid. Now we can concentrate 100% on the development of next year's car, when we want to give our fans all around the world something to cheer about. In fact, we thank them for their unwavering support, even at the most difficult moments. Finally, I want to thank our Partners who continue to support us, first and foremost Philip Morris International, who have been with us for over forty years. Their support is always important and will continue to be so in the future."
Scuderia AlphaTauri Honda
Yuki Tsunoda (4th): "I'm so happy, what an incredible result to end the season with. I think overall this weekend the car has been really strong, I didn't expect the race pace to be quite as good but in the end it has been a great day. It's amazing to be finishing the season on such a high, it's been a long journey getting back to this point, but I've really rebuilt my confidence and it's great heading into the off-season with this incredible result. Huge congratulations to Max, it was such a tough battle throughout the season and I think he really deserved it today. I want to thank him also for giving this great result to Honda, as he's given them the best way to celebrate their last year in F1."
Pierre Gasly (5th): "I'm extremely happy to finish in P5 today, it's the best way to end this year. It's been an incredible season, the most successful for us as a team in 15 years, we've scored a lot of points and there have been many highlights. We've focused on ourselves every single race and I think we've performed well this season, so I'm really proud of everyone. I'm really pleased for Max, we grew up racing together, we knew he would have been World Champion one day and he did it today. It's well deserved and I'm also happy for Honda, after all the years of hard work they've managed to get this Championship in their final year."
Franz Tost, Team Principal: "What an unbelievable race for the final round here in Abu Dhabi. Congratulations to Max Verstappen, Red Bull Racing and Honda for winning the World Championship title, they did an incredible job during the year and Max really deserved this. This year he was the fastest driver and the team did a fantastic job. We are also happy from our side, because today we brought home a very good race result, the best of the year, and collected 22 points with Yuki in 4th and Pierre in 5th position, having started the race in 8th and 12th. We mixed up the strategy, with Yuki starting the race on the Mediums whilst Pierre was on a new set of hard tyres. Both of them did a very clever first stint and managed their tyres very well. Pierre got caught up behind Alonso, I think he could've been much faster but nevertheless, thanks to the safety car and very good strategy decisions, the team managed to cross the chequered flag with both drivers in the top 5. We finish the season on 142 points, this is the highest we've ever scored in the history of the team and only 13 points behind Alpine. The team made a big step forward in all areas and I'm now really looking forward to next year with hopefully a competitive new car to fight for strong positions."
Jody Egginton, Technical Director: "What a fantastic end to the season! Congratulations to Red Bull Racing and Max Verstappen for bringing home the Drivers' World Championship tonight! With regards to our race in the midfield, Yuki has put together his best weekend of the season, delivering a very strong performance to secure a fourth place finish. Pierre has shown his skill and composure with a good recovery from a difficult Qualifying to bring his car home fifth, adding further points to what is the highest points tally ever scored by the team. The trackside team, drivers and also the staff back in Faenza and Bicester should be very proud with what they have achieved this year. The car and team performed very well in what is a very competitive midfield, demonstrating another clear step forward in the team's development. We will now close the season with the test, then a well-deserved break before we head off into the 2022 season."
Alfa Romeo Racing ORLEN
Antonio Giovinazzi (DNF, Power unit): "It's a pity to end the season like this, the first DNF after a full season of finishing. We were having a good race, fighting a world champion like Vettel, but at least I could enjoy watching the final laps of this race. It's been a great battle between Max and Lewis, both would have deserved the title. It's been an emotional day overall, seeing Kimi retire and seeing all the things the team did for us today. He's a great person, very fair and all of F1 will miss him. As for me, I hope this is just a 'see you soon': my full focus is now on Formula E, but I hope to be back next year. I'm happy with my journey, the way I progressed over the years, I gave everything I could."
Kimi Raikkonen (DNF, Brakes): "It's been nice to see so many people showing their appreciation today, even if the race didn't go as we hoped. We had an issue after the pit-stop, a technical problem that meant we finished earlier today. That's racing, sometimes things fail, but today's result doesn't influence how I feel about my career. I'm happy to move on to a normal life, I am looking forward to it. Of course, I will miss a lot of the great people I met over the years; 20 years have gone quickly, I made lots of memories, some good, some bad, and these are going to stay with me forever."
Frederic Vasseur, Team Principal: "Ending any race with two retirements is always disappointing, even more so when it's the final one of the season. We really wanted to give our drivers a better send-off and finish the season with a good result. As we head into the off-season, we'll need to take the positives from the year past and use them to build on them for 2022. We need to acknowledge that the step forward we made in performance this year was good, but unfortunately the results didn't back it up. We have let some big chances get by, we have made some mistakes and we didn't really get everything we deserved. There is a lot of work to do in the winter but we are prepared for it and we can't wait to see the results of all our efforts when we line up on the grid next year."
Haas F1 Team
Mick Schumacher (14th): "We attempted a different strategy to most of the field which I think worked for us. We made the C3 last and that's what we needed to do, and we were fighting with Latifi, so overall we can be happy with what we've achieved today. We have lots to work on and lots to look forward to next year."
Guenther Steiner, Team Principal: "It was a very exciting final race of the championship, it was very good for Formula 1, and for us it was the best race we did. Unfortunately, Nikita couldn't take part after returning a positive COVID-19 test, but Mick did a fantastic job today. He fought all race long, we know our car is what it is, but cars that beat us all year ended up behind us, so very good to go into the winter season knowing that we are ready for a better season next year. We will work hard over the winter and come back stronger. Thanks to the whole team for holding up all season and putting their best into it and today it paid off – you just have to wait for your day."
Williams Racing
Nicholas Latifi (DNF, Accident): "It was a tough race out there today and we were struggling for pace throughout. Towards the end of the Grand Prix, I was racing with Mick Schumacher and was forced slightly wide, but fairly, at Turn Nine. My tyres got dirty from running off track and I subsequently made a small mistake and unfortunately crashed. This obviously wasn't how I wanted to end our season, so it's disappointing."
George Russell (DNF, Gearbox): "We had a gearbox issue which ultimately ended our race and may have been caused by something flying into the airbox. We need to review whether that was the case but there's nothing we can do about that, so it's unfortunate to finish our season in that way. The important thing though is that we sealed P8 in the Constructors' Championship, which was much more than we could have hoped for this year and was our goal at the start of the weekend. I'm proud of what we've achieved as a team and I'm grateful to everyone at Grove for their hard work."
Dave Robson, Senior Race Engineer: "A very frustrating way to end the season with both cars failing to finish the race. George was unfortunate to collect some litter or a visor tear-off in the cooling duct, which we wouldn't have been able to remove at a pitstop. We managed the high temperatures for a long time on track but in the end, we couldn't prevent the gearbox from overheating and forcing us to retire the car. Nicholas was embroiled in a tight battle with Schumacher but despite several attempts to overtake and some robust defending from Schumacher, he couldn't make the pass stick and eventually made a mistake in the dirty air and hit the wall. It wasn't the way that we wanted to secure our Championship position; however, we can still be proud of the work we did earlier in the year which got us into a strong position. Our attention now turns to the test next week followed by a well-earned rest over Christmas before we regroup to tackle the new season. Congratulations to Red Bull, Mercedes, Max and Lewis who have fought hard throughout the year and given us one of the most thrilling Championships for some time."