Abu Dhabi GP 2021
DECEMBER 11, 2021
Qualifying Report - Max 10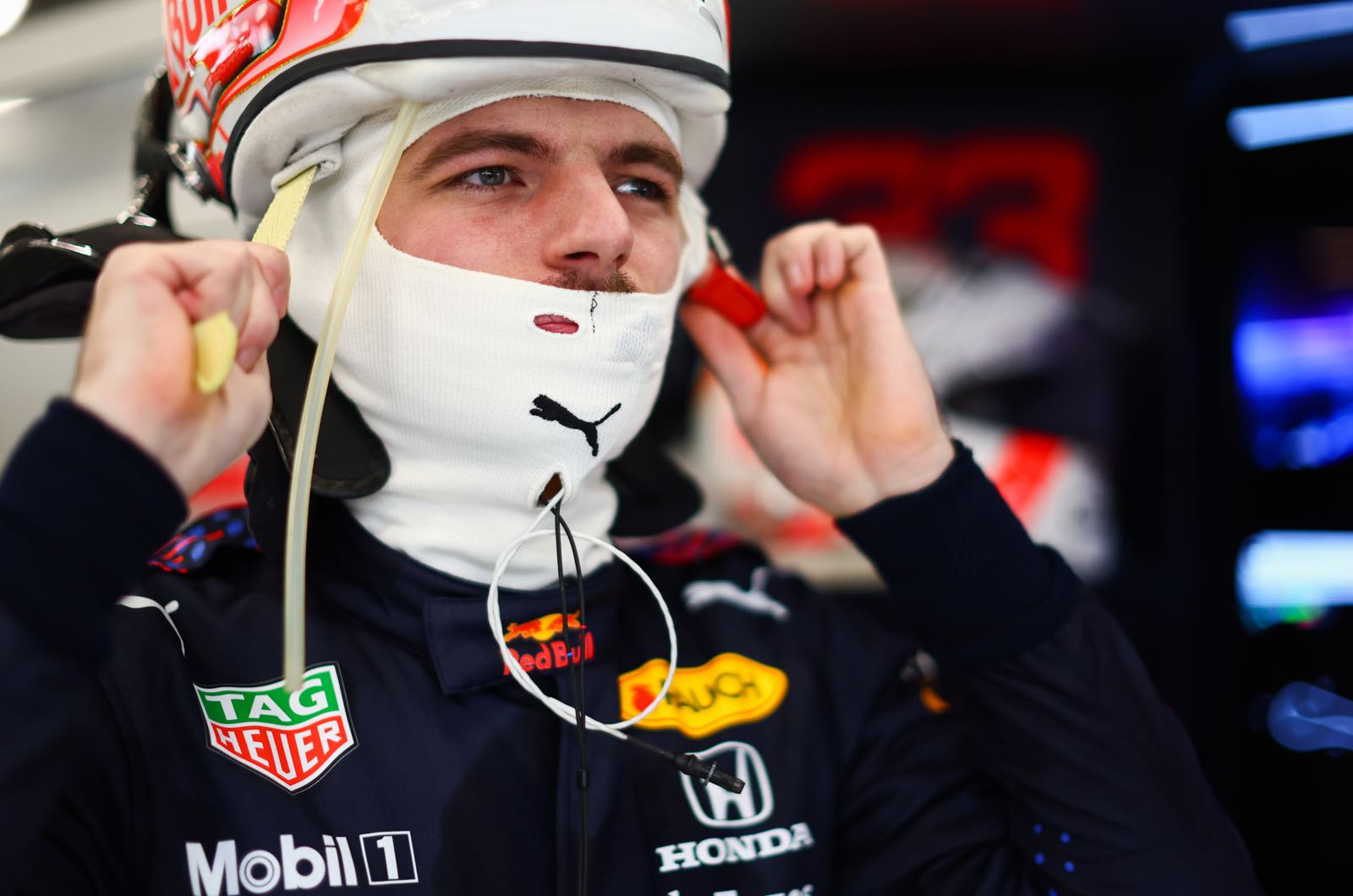 © Red Bull
By Dan Knutson
Max Verstappen earned pole position in his Red Bull for the final race of the season. It was his 10th pole of the season.
The line-up for the weekend was: Mercedes – Lewis Hamilton and Valtteri Bottas; Red Bull Honda – Max Verstappen and Sergio Perez; McLaren Mercedes – Lando Norris and Daniel Ricciardo; Aston Martin Mercedes – Lance Stroll and Sebastian Vettel; Alpine Renault – Fernando Alonso and Esteban Ocon; Ferrari – Charles Leclerc and Carlos Sainz; AlphaTauri Honda – Yuki Tsunoda and Pierre Gasly; Alfa Romeo Ferrari – Kimi Raikkonen and Antonio Giovinazzi; Haas Ferrari – Nakita Mazepin and Mick Schumacher; Williams Mercedes – George Russell and Nicolas Latifi.
Fastest in FP3 was Hamilton who was two tenths of a second quicker than Verstappen.
QUALIFYING 1
Q1 lasted 18 minutes, and Vettel was the first on track.
Verstappen set the early mark with a lap of 1:23.680.
Hamilton waited a few minutes before going out, and then clocked a 1:23.266 to take the lead ahead of Bottas, Verstappen, Norris and Alonso. Then Perez popped into third.
Verstappen then clocked a 1:23.322 which slotted him into second.
The session was red flagged with six minutes and 25 seconds remaining after a Haas knocked a bollard onto the track.
Giovinazzi was 15th and on the cutoff line. Russell was 14th and Vettel was 16th.
After a brief delay the session was restarted.
Hamilton and Bottas took to the track while Verstappen stayed in the pits. Hamilton improved to a 1:23.845.
The five drivers who were eliminated at the end of Q1 were: Latifi, Russell, Raikkonen, Schumacher and Mazepin.
The fastest 15 drivers who moved on to Q2 were: Hamilton, Bottas, Verstappen, Perez, Tsunoda, Leclerc, Gasly, Norris, Sainz, Ocon, Ricciardo, Alonso, Stroll, Giovinazzi and Vettel.
QUALIFYING 2
The sun set as the session started.
The top 10 qualifiers would start the race using the same compound tires they used to clock their fastest lap time in Q2. So some of the quicker drivers could take a safe chance of running the medium compound Pirelli slicks in this session.
First out was Hamilton. Both Mercedes and both Red Bulls were fitted with the mediums.
Hamilton turned a 1:23.185 and Verstappen a 1:23.189.
Bottas took third ahead of Tsunoda, Norris and Perez.
All 15 cars were on track with 10 minutes to go. Sainz, on the softs, took the lead with a 1:23.174.
Tenth and on the bubble with five minutes to go was Perez, and Norris was ninth while Ricciardo was 11th.
Hamilton improved to a 1:23.145. Then Perez, on the softs, clocked a 1:23.135. Verstappen, also on the soft, jumped ahead with a 1:22.800.
The five drivers who were eliminated at the end of Q2 were: Alonso, Gasly, Stroll, Giovinazzi and Stroll.
The fastest 10 drivers who moved on to Q3 were: Verstappen, Perez, Hamilton, Sainz, Leclerc, Bottas, Norris, Tsunoda, Ocon and Ricciardo.
QUALIFYING 3
Q3 lasted 12 minutes, and first out were Verstappen and Perez.
Verstappen clocked a 1:22.109 and Hamilton a 1:22.660.
Perez was third ahead of Bottas, Sainz, Leclerc, Norris, Ocon, Ricciardo and Tsunoda.
All 10 drivers were in the pits with four minutes remaining. Then, with three minutes remaining, they headed out.
Hamilton turned a 1:22.480 so did not get the pole.
And when the noise stopped, the top 10 were Verstappen, Hamilton, Norris, Perez, Sainz, Bottas, Leclerc, Tsunoda, Ocon and Riccardo.