Abu Dhabi GP 2020
DECEMBER 13, 2020
Race Notes - Verstappen wins flag-to-flag in Abu Dhabi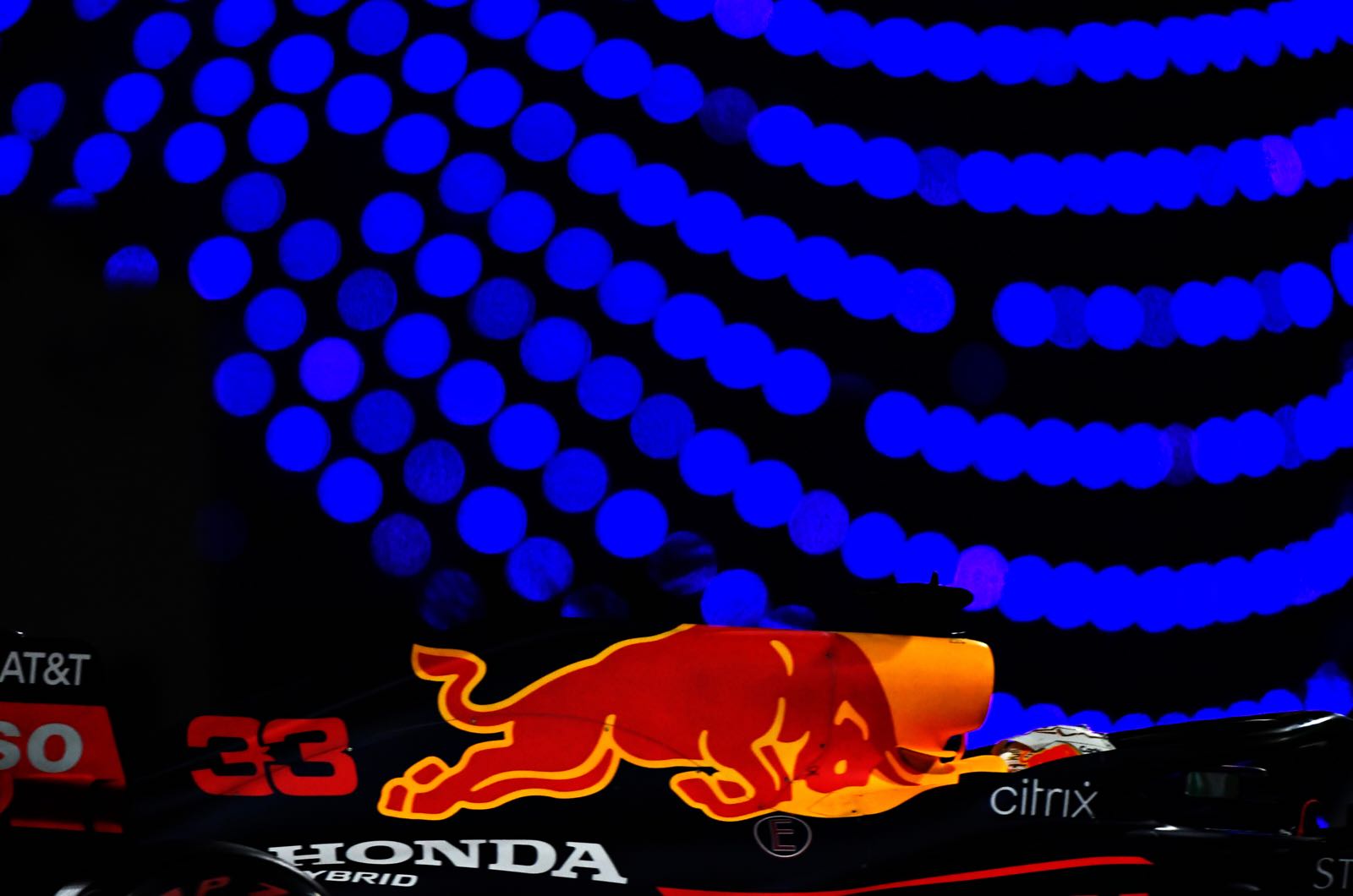 © Red Bull
By Mark Karp
Max Verstappen won the Abu Dhabi Grand Prix in his Red Bull-Honda, Valtteri Bottas in the Mercedes GP was second 15.976 seconds behind, his team mate Lewis Hamilton finished third, 18.415 seconds behind the winner.
The win is Verstappen's second of the season, and tenth of his career.
Alex Albon (19.987s) in the second Red Bull was fourth, followed by Lando Norris (1m00.729s) in the McLaren-Renault was fifth, Carlos Sainz (1m05.662s) was sixth, Daniel Ricciardo (1m13.748s) in the Renault was seventh, Pierre Gasly (1m29.718s) in the AlphaTauri-Honda was eighth, Esteban Ocon (1m41.351s) in the second Renault was ninth, and Lance Stroll (1m42.839s) in the Racing Point-Mercedes was tenth.
Before the start, for the final round of the championship for 2020, for our third consecutive night race in a row, Verstappen sits on pole in his Red Bull, with Bottas alongside on the front row. Hamilton, back from his week away due to a positive covid test is on row 2 with Norris alongside. Albon and Sainz are on row 3, Kvyat and Stroll on row 4, and Gasly and Ocon rounding out the top ten. Last week's winner Perez starting from 19th.
At the appointed time the field went on the formation lap, lining up on the grid and the lights went out and the race began with Verstappen getting off strongly in the lead, Bottas and Hamilton, Norris in the lead. Ricciardo getting past Leclerc for 11th.
On lap 2 Gasly passes Ocon foer ninth place.
On lap 3 Verstappen sets fast lap at 1m42.207s.
On lap 4 Verstappen leads Bottas by 2.5 seconds.
On lap 6 Norris and Albon battling for fourth, Albon taking the position.
Ricciardo let by Ocon for tenth place.
On lap 8 Stroll passes Kvyat for seventh.
On lap 9 Gasly passes Kvyat for eighth.
Perez pulls off to the side of the track with a mechical problem, the Virtual safety car, and then the full Safety car.
Most of the drivers pit for new tyres.
Under Safety car, Verstappen leads Bottas, Hamilton, Albon, Ricciardo, Norris, Vettel, Lelerc, Sainz and Stroll in tenth place.
They remove Perez's car with crane truck.
Ricciardo, Vettel and Leclerc not pitting.
At the start of lap 14 the race resumes with Verstappen in the lead with Bottas and Hamilton following.
Sainz passes his future team mate Leclerc for eighth.
Ocon and Giovinazzi battling for 11th.
On lap 19 Stroll passes Leclerc for ninth.
Gasly passes Leclerc for tenth place.
At lap 20 Verstappen leads Bottas by 3.8 seconds, followed by Hamilton (5.7s), Albon (10.4s), Ricciardo (18.0s), Norris (20.0s), Sainz (24.8s), Vettel (27.6s), Stroll (29.5s) and Gasly (31.4s) in tenth place.
On lap 23 Lecerc pits for hard tyres and rejoins in 19th.
Verstappen is wondering about the pace of the two Mercedes behind him, looking to make his hard tyres last as long as he can.
Stroll, trying to catch Vette for eighth, locks up and loses some time.
Hamilton tells the team, "I don't these tyres are going to the end."
On lap 28 Leclerc passes Latifi and Magnussen for 15th.
On lap 29 Latifi passes Magnussen for 16th.
Gasly passes Stroll for ninth.
At lap 30 Verstappen leads Bottas by 7.4 seconds, followed by Hamilton (9.8s), Albon (16.3s), Ricciardo (33.9s), Norris (36.3s), Sainz (43.7s), Vettel (54.9s), Gasly (55.3s) and Stroll (58.4s) in tenth.
On lap 32 Gasly passes Vettel for eighth.
On lap 35 Leclerc passes Russell for 14th.
On lap 37 Vettel pits for medium tyres and rejoins in 15th.
On lap 39 Riccciardo pits from fifth place for medium tyres and rejoins seventh.
At lap 40 Verstappen leads Bottas by 7.7 seconds, followed by Hamilton (11.2s), Albon (19.9s), Norris (48.8s), Sainz (54.6s), Ricciardo (1m10.0s), Gasly (1m11.9s), Stroll (1m18.4s) and Ocon (1m21.2s) in tenth place.
Leclerc receives the black and white flag for continuing to exceed track limits.
Hamilton is slowly closing on Bottas in second place.
On lap 49 Verstappen tells Red Bull, "you can turn the engine down if you want to."
At lap 50 Verstappen leads Bottas by 11.1 seconds, followed by Hamilton (14.8s), Albon (19.3s), Norris (58.7s), Sainz (1m02.8s), Riccardo (1m14.9s), Gasly (1m25.4s), Stroll (1m33.4s) and Ocon (1m34.8s) in tenth place.
On the last lap Ocon passes Stroll for ninth place.
McLaren's strong finish with Norris fifth and Sainz in sixth, promotes McLaren to third in the Constructors' Championship over Racing Point.
At the line for the final race of the season Verstappen wins over Bottas and Hamilton.
On the final lap Daniel Ricciardo sets the fast lap at 1m40.926s.