Abu Dhabi GP 2020
DECEMBER 14, 2020
Race Analysis - Static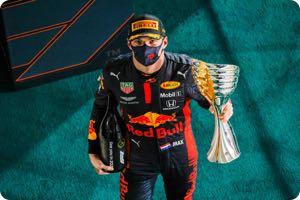 By Dan Knutson
The season-finale Abu Dhabi Grand Prix was a static affair with Max Verstappen, Valtteri Bottas and Lewis Hamilton starting and finishing the 55 lap race in that order.
FIRST
Red Bull Honda driver Verstappen won the pole for the first time this season. It was the first time this season that a Mercedes-powered car did not line up on pole position.
CLOSING IN
"The whole year we were closing in (on pole) a little bit," Verstappen said. "Missed out a few times and then finally got it. After the dominance they (Mercedes) had throughout the year, I think it's very nice for us, and the whole team."
BACK
After missing the Sakhir Grand Prix because he tested positive for COVID-19, Hamilton was back in the Mercedes cockpit. He qualified third while his teammate Bottas qualified second.
DIFFICULT
"It's definitely been a difficult weekend," Hamilton said. "Just getting back into a rhythm, even though it's only been a couple of weeks off, it just felt like you'd lost that momentum. I really struggled so far with the balance this weekend."
SPLIT
McLaren drivers Lando Norris and Carlos Sainz qualified fourth and sixth, and were split by Red Bull driver Alex Albon.
RED LIGHTS
When the red lights went out to start the race, Verstappen took the lead ahead of Bottas, Hamilton, Norris, Albon and Sainz.
DECENT
"We had a decent start," Verstappen said, "and from there onwards I could manage the gap and could look after my tires."
PARKED
After experiencing the thrill of winning his first F1 race just one week before, Sergio Perez experienced the disappointment of retiring on lap 7 when his Racing Point lost power.
VSC TO SC
That car parked on the side of the track brought out the virtual safety car and then the safety car.
OPPORTUNITY
Many drivers used the opportunity to pit for tires, and most of them switched to the hard compound Pirelli tires.
UNFORTUNATE
"The safety car came out at a little bit of an unfortunate time because we then had to do a very long stint on the hard," Verstappen said. "Luckily the tire coped with it but you still have to manage it a bit more. The car was really good today. Just a good balance and then you can also look after your tires, and I could then build a gap all the way through the race."
PACE
"I tried everything I could," Bottas said after finishing second, "and I noticed pretty early on in the first stint that Max and Red Bull had more pace."
GLAD IT'S OVER
"Considering the past couple of weeks I've had I'm really generally happy with the weekend," Hamilton said after finishing third. "That was a really hard race for me, physically. All year, physically I have been fine but today I definitely wasn't. So, I'm just glad it's over."
14 to 165
Hamilton's 14th podium in 17 races this year raised his F1 career total podiums to 165.
DROP OFF
Albon finished fourth, 1.5 seconds behind Hamilton.
"If the race was a couple of laps longer I feel we could've got past Lewis and taken another podium," Albon said. "I was managing my tires at the beginning of the stint. Maybe I was too conservative as I had lots of life left in them at the end of the race whilst everyone else's were starting to drop off."
GESTURES
Sebastian Vettel finished 14th in his final race for Ferrari.
"This race is not one I will remember," he said. "But what I will remember are the gestures of all the team members, the mechanics, the engineers, the catering guys and so on. I think the energy has been different today, and I felt that, and will carry it with me forever."
10
This was win number 10 for Verstappen.
FIRST
And it was his first win where he led every lap.