Abu Dhabi GP 2020
DECEMBER 12, 2020
Qualifying Report - First and first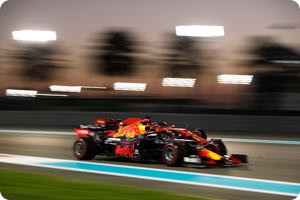 By Dan Knutson
Red Bull Honda driver Max Verstappen earned his first pole of the 2020 season, and in doing so he became the first non-Mercedes-powered driver to qualify on pole in the 17-race season.
The line-up for the weekend was: Mercedes – Hamilton and Bottas; Ferrari – Sebastian Vettel and Charles Leclerc; Red Bull Honda – Max Verstappen and Alexander Albon; McLaren Renault – Carlos Sainz and Lando Norris; Renault – Daniel Ricciardo and Esteban Ocon; AlphaTauri Honda – Daniil Kvyat and Pierre Gasly; Racing Point Mercedes – Sergio Perez and Lance Stroll; Alfa Romeo Ferrari – Kimi Raikkonen and Antonio Giovinazzi; Haas Ferrari – Pietro Fittipaldi and Kevin Magnussen; Williams Mercedes – George Russell and Nicolas Latifi.
Verstappen set the fastest time in FP3 earlier in the day – a 1:36.251. No matter where they qualified, Perez and Magnussen would start the race at the back of the grid because of engine change penalties. Leclerc would get a three-place grid penalty for causing a collision with Perez in the Sakhir Grand Prix.
QUALIFYING 1
The ambient temperature at the start of the 18-minute session was 73 degrees Fahrenheit (23 degrees Centigrade) and the track temperature was 84 degrees Fahrenheit (29 degrees Centigrade).
Bottas clocked a 1:35.699 to take an early lead ahead of Perez, Albon and Stroll. Hamilton had been second but had his lap time deleted for exceeding track limits at Turn 20. Worse, he might have damaged the floor of his car on the curbs.
Hamilton stayed out and did a slow lap and then another fast lap which put him seventh.
When there were five minutes remaining in Q1, Raikkonen was 15th and on the cutoff line. Vettel was 14th and Magnussen was 16th.
Meanwhile, Verstappen had moved up to second ahead of Perez, Albon, Stroll, Sainz, Leclerc and Hamilton.
There was a flurry of activity in the final two minutes, at the end of which the five drivers who were eliminated at the end of Q1 were: Raikkonen, Magnussen, Russell, Fittipaldi and Latifi.
The fastest 15 drivers who moved on to Q2 were: Hamilton, Bottas, Leclerc, Verstappen, Perez, Albon, Kvyat, Stroll, Sainz, Gasly, Vettel, Ricciardo, Ocon and Giovinazzi.
QUALIFYING 2
Hamilton, Bottas, Leclerc, Ocon, Ricciardo, Verstappen, Leclerc, Albon and Sainz headed out on the medium compound Pirelli tires. If they qualified in the top 10 they would start the race on a tire more durable than the soft slicks.
Hamilton turned a 1:35.466, and Bottas was 0.061 of a second slower. Norris took third ahead of Sainz, Verstappen, Gasly, Leclerc, Kvyat, Stroll and Vettel. Albon and Ricciardo had their lap times deleted for exceeding track limits.
Tenth and on the bubble with two minutes to go was Vettel, and Stroll was ninth while Ocon was 11th.
The five drivers who were eliminated at the end of Q2 were: Ocon, Ricciardo, Vettel, Giovinazzi and Perez
The fastest 10 drivers who moved on to Q3 were: Hamilton, Bottas, Verstappen, Albon, Norris, Leclerc, Stroll, Sainz, Kvyat and Gasly.
QUALIFYING 3
The final Q3 of the 2020 season lasted 12 minutes. First out in the session was Stroll, and the other nine drivers joined him on track.
Hamilton did a 1:35.550, but Bottas with his 1:35.415 and Verstappen with his 1:35.519 moved into first and second.
Albon slotted into fourth ahead of Sainz, Norris, Stroll, Leclerc, Leclerc, Kvyat and Gasly.
All 10 drivers headed back to the pits to prepare for their final runs. And all 10 were back on track in the final two minutes.
Bottas clocked a 1:35.271, but Verstappen's 1:35.246 put him on pole. The top 10 qualifiers were: Verstappen, Bottas, Hamilton, Norris, Albon, Sainz, Kvyat, Stroll, Leclerc and Gasly.nc