Abu Dhabi GP 2019
DECEMBER 1, 2019
Race Analysis - Grand Slam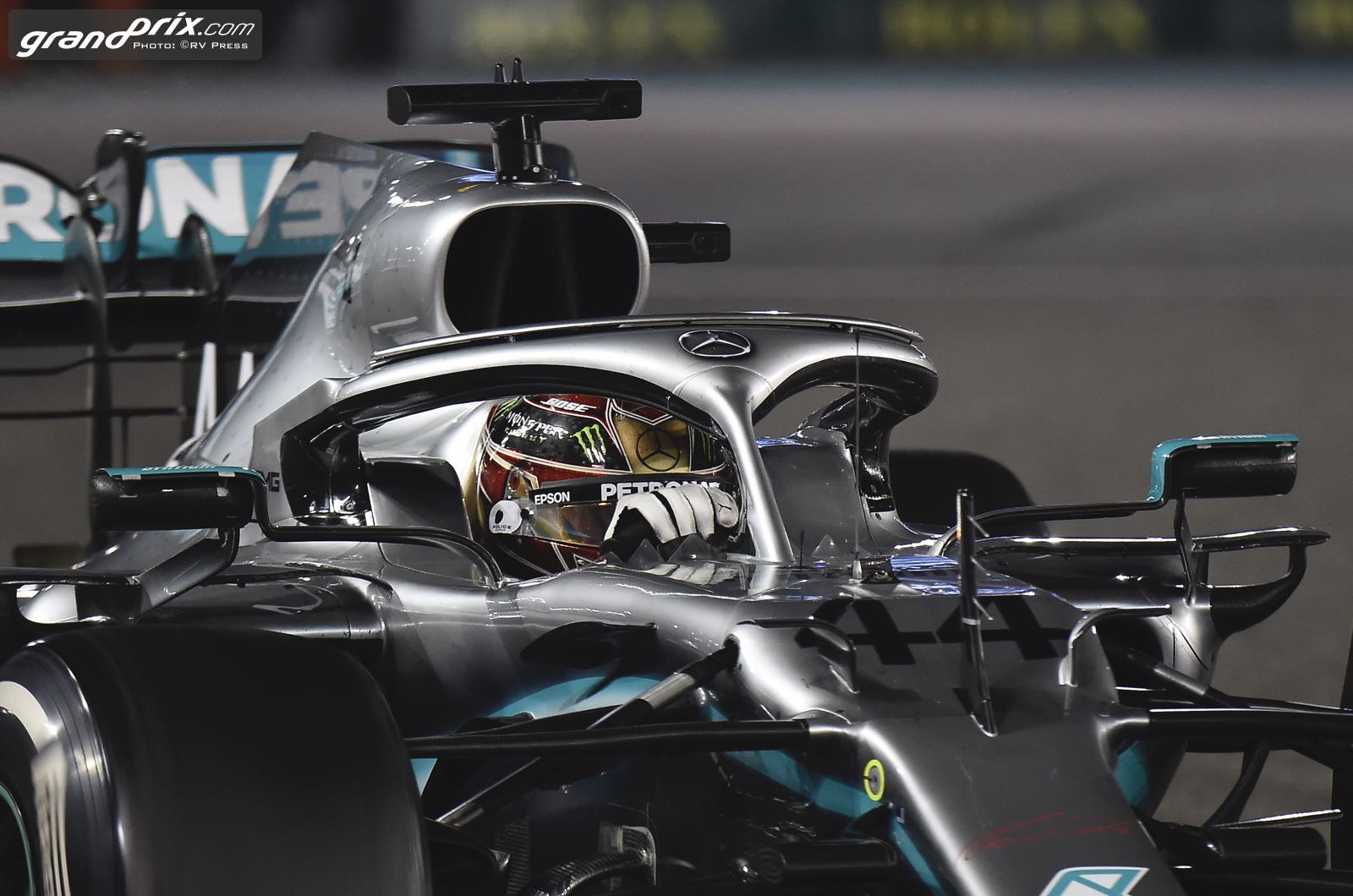 © RV Press
By Dan Knutson in Abu Dhabi
Lewis Hamilton finished out his championship-winning season with a grand slam in Abu Dhabi where he started from the pole, clocked the fastest lap of the race, and won the grand prix. Here is how his final race of the season unfolded.
THE LONG WAIT
One area where Hamilton has not been overly strong this season has been the pole position department. He "only" got five of them, and had a long wait between number four in Germany at the end of July and number five in Abu Dhabi at the end of November.
TWENTY TO TWO
Hamilton's Mercedes teammate Valtteri Bottas qualified second, but he was moved back to 20th on the grid because of the penalty for getting a new power unit.
MOVED UP
So everybody behind Hamilton moved up one spot. As a result, Max Verstappen (Red Bull) was third on the grid while Ferrari's Charles Leclerc and Sebastian Vettel were third and fourth.
OH OH
The FIA Formula One Technical Delegate Jo Bauer released a statement shortly before the start that said: "The fuel declaration of car number 16 was checked before the car left the pit-lane. There was a significant difference between the declaration of the team and the amount of fuel inside the car. As this is not in compliance with TD/12-19 I am referring this matter to the stewards for their consideration."
AFTERWARDS
It was decided to investigate the matter after the race, and only then would it be determined if Leclerc's car was legal.
CRUCIAL
Hamilton, Bottas, Verstappen and Leclerc all set their fastest lap time in Q2 using the medium compound Pirelli slicks. Therefore they could start the race on those tires which had a much longer range than the soft compound that Vettel had.
GOODBYE
Hamilton took the lead at the start of the race, said goodbye to the other drivers, and led all 55 laps.
THE REST
Verstappen slotted into second ahead of Verstappen, Leclerc, Vettel, Alex Albon (Red Bull), Lando Norris (McLaren), Carlos Sainz (McLaren) and Daniel Ricciardo (Renault). The latter trio would have their own fight that included Nico Hulkenberg (Renault), but that was for 10th place and a lap behind Hamilton.
NO DRS
Because of a technical glitch – a data server crashed – the drivers were unable to use their DRS systems for the first 17 laps. This made overtaking extremely difficult, especially on this particular circuit.
THE SWITCH
Ferrari had both drivers pit at the end of lap 12 to switch to the hard Pirelli slicks.
ONE STOP
Verstappen pitted at the end of lap 25 to switch to the hard compound tires. Hamilton did the same a lap later and kept the lead. Both drivers would only stop once.
TWO STOPS
Ferrari had both drivers pit at the end of lap 38. Leclerc got the softs and Vettel the mediums.
MEANWHILE
Bottas, meanwhile, had been charging through the field and got up to fourth by lap 18. He was on a one-stopper and eventually finished fourth.
"It was a really tough race," he said. "I was giving it everything I could, but I have to say it was pretty good fun, coming from the back. We had a really strong car today but it was the easiest of races. In the beginning we did nearly the first 20 laps without DRS and that made it more difficult to make progress through the field. I tried and I feel I couldn't have done anything more, so I feel pretty satisfied about today. Obviously, it would have been nice to be on the podium, but it doesn't matter, I feel I have it all and that's what matters."
ENGINE WOES
Verstappen's car did not have the speed to stick with Hamilton, and the situation became even worse when Verstappen's engine had problems.
"Torque holes and throttle," he said. "There was some delays and stuff so it was not great. And we couldn't fix it. So we drove around the problem, but at the end of the day it wouldn't have made a difference to the result."
NINTH
Verstappen finished second and made his ninth visit to the podium this year.
"On this track today Mercedes and Lewis were just a bit too quick," he said, "but as a team we had a good strategy, good pit stops and the car was working really well so second place is a good result on this track. The pace was good and overall we were quite a bit faster than the other guys which is a nice feeling."
FOR NOW
Leclerc finished third.
"It was a bit of a strange race because in the first stint I was very hopeful," he said. "I was behind Lewis. OK, we weren't as quick as Lewis but I still thought the pace was there – but then we tried to pit pretty early to try to force them to stop early but then basically I understood I would see Lewis at the end of the race because we were just not quick enough and we never put a challenge to them in front."
FERRARI FINED
Officials fined Ferrari 50,000 euros because the team had made an illegal fuel declaration on Leclerc's car. But they did not disqualify him.
11
Hamilton's grand slam weekend gave him his 11th win of the year.
"What a way to end the season!" he said. "As a team, as a whole, we've been very strong this weekend and Valtteri did a great job today as well. I'm just so grateful for everyone's continued hard work and dedication this year, we continue to raise the bar together."