Abu Dhabi GP 2019
NOVEMBER 30, 2019
Qualifying Report - The long slog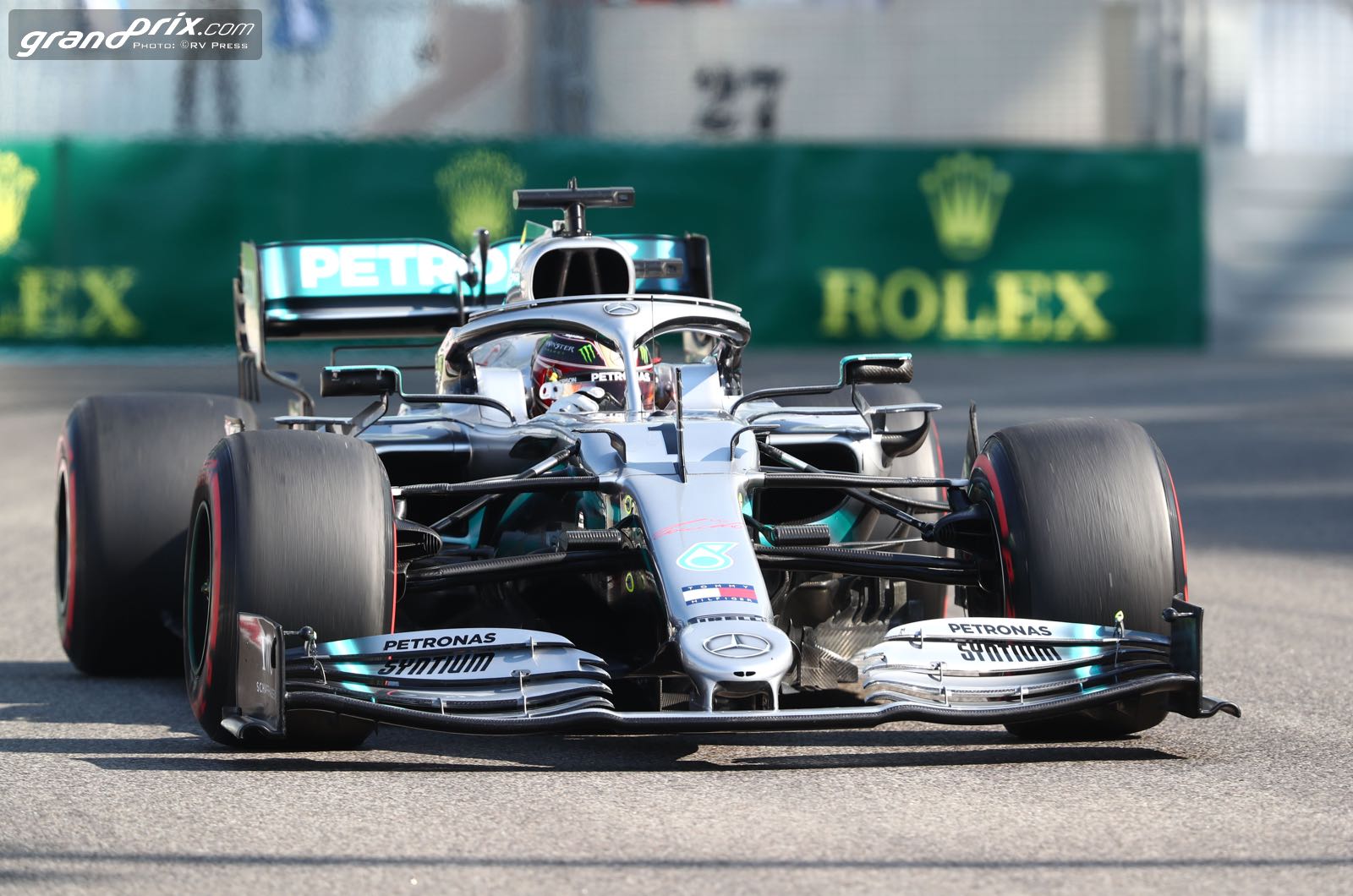 © RV Press
By Dan Knutson in Abu Dhabi
Lewis Hamilton earned the 88th Formula 1 pole of his career after clocking the fastest lap time during qualifying for the Abu Dhabi Grand Prix. It was his fifth pole of the season, but number four was way back in the German Grand Prix at the end of July. So he had gone nine races without the prime starting spot.
"It has been such a long slog trying to get this pole position," he said.
The line-up for the weekend was: Mercedes – Hamilton and Valtteri Bottas; Ferrari – Sebastian Vettel and Charles Leclerc; Red Bull TAG Heuer – Max Verstappen and Alexander Albon; Renault – Daniel Ricciardo and Nico Hulkenberg; Haas Ferrari – Romain Grosjean and Kevin Magnussen; McLaren Renault – Carlos Sainz and Lando Norris; Racing Point Mercedes – Sergio Perez and Lance Stroll; Alfa Romeo Ferrari – Kimi Raikkonen and Antonio Giovinazzi; Toro Rosso Honda – Daniil Kvyat and Pierre Gasly; Williams Mercedes – George Russell and Robert Kubica.
Verstappen topped FP3 with a time of 1:36.566. Bottas, fastest on Friday, would be required to start at the back of the grid because of getting a new power unit.
QUALIFYING 1
The final Q1 of the season lasted the usual 18 minutes it did on the 20 previous occasions this season.
The ambient temperature at the start of the session was 79 degrees Fahrenheit (26 degrees Centigrade) and the track temperature was 90 degrees Fahrenheit (32 degrees Centigrade).
Verstappen set the early marker at 1:36.390. Hamilton beat that with his 1:36.231, crossing the start/finish line just after Vettel spun coming out of the last bend and rolled backwards down the straight!
Bottas was next up, and he clocked a 1:36.468 which put him third, and ahead of Leclerc, Sainz and Norris. Vettel didn't spin on his next run and slotted in behind Leclerc.
Then Hamilton did another lap and improved to 1:35.851. Bottas also improved but stayed second.
There were two minutes left in Q1 when Magnussen was 15th and on the bubble. In 14th was Stroll and in 16th was Raikkonen.
Everybody but the top five were on track on those final two minutes.
The five drivers who were eliminated at the end of Q1 were: Grosjean, Giovinazzi, Raikkonen, Russell and Kubica.
The fastest 15 drivers who moved on to Q2 were: Hamilton, Albon, Bottas, Leclerc, Perez, Vettel, Ricciardo, Gasly, Sainz, Hulkenberg, Stroll, Norris, Kvyat and Magnussen.
QUALIFYING 2
The question before the start of Q2 was which if any drivers would try to set their best times on Pirelli's medium compound slicks rather than the softs? The medium would be a far more durable tire to start the race on, but the soft had shown better wear as the weekend progressed.
The medium takers for their first runs were: Albon, Magnussen, Hamilton and Verstappen. The Ferrari boys, having tried the mediums in FP3, were on softs.
Hamilton posted a 1:35.634. Leclerc, Vettel and Verstappen could not beat that time and took the next three spots. Next came Sainz, Albon, Ricciardo and Perez.
Bottas, on the mediums, came out with six minutes left in the session and when the other 14 drivers were in the pits. His 1:35.674 put him second.
On the bubble with three minutes remaining was Hulkenberg. Perez was ninth and Kvyat was 11th. Everybody but Hamilton went back out, and this time Leclerc was on the mediums. And Leclerc grabbed first in the final seconds.
There was plenty of changes, and the five drivers who were eliminated at the end of Q2 were: Perez, Gasly, Stroll, Kvyat and Magnussen.
The fastest 10 drivers who moved on to Q3 were: Leclerc, Hamilton, Bottas, Vettel, Verstappen, Sainz, Albon, Norris, Ricciardo and Hulkenberg.
QUALIFYING 3
The sun had set during Q2.
Hamilton's first run in Q3 yielded a 1:34.828. He held the lead over Verstappen. Bottas, even though he was going to the back of the grid, did a run that put him third.
Leclerc and Vettel were fourth and fifth, and Leclerc's 1:35.219 was four tenths slower than Hamilton. Next came Sainz, Norris and Hulkenberg.
Ricciardo waited until all of them were back in the pits before making his first run. He moved from 10th to seventh.
But now the other nine were going back out. But Vettel and Leclerc did not get their warmup lap completed in time so could not do a flying lap.
And when it was all over, Hamilton had improved to 1:34.799 to win the pole.
The top 10 qualifiers were: Hamilton, Bottas, Verstappen, Leclerc, Vettel, Albon, Norris, Ricciardo, Sainz and Hulkenberg.