Abu Dhabi GP 2017
NOVEMBER 25, 2017
Qualifying Report - Finnishing Business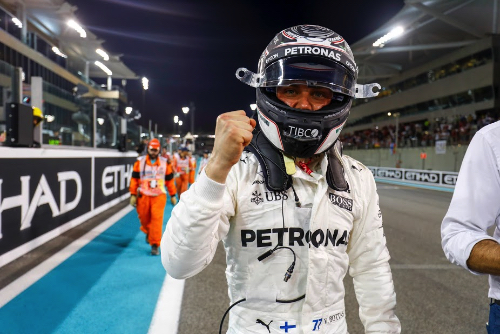 © RV Press
By Dan Knutson in Abu Dhabi
Lewis Hamilton was fastest in the first two rounds of qualifying for the Abu Dhabi Grand Prix, but in the third session his Finnish teammate Valtteri Bottas finished the business of the pole by qualifying his Mercedes in first place. Hamilton wound up second on the grid.
"Things went better and better for me in practice and also in qually," said Bottas after earning the fourth pole of his F1 career.
The lineup for the weekend was: Mercedes - Hamilton and Bottas; Red Bull TAG Heuer - Daniel Ricciardo and Max Verstappen; Ferrari - Sebastian Vettel and Kimi Raikkonen; Force India Mercedes - Sergio Perez and Esteban Ocon; Williams Mercedes - Felipe Massa and Lance Stroll; McLaren Honda - Fernando Alonso and Stoffel Vandoorne; Renault - Nico Hulkenberg and Carlos Sainz; Toro Rosso Renault - Brendon Hartley and Pierre Gasly and; Haas Ferrari - Romain Grosjean and Kevin Magnussen; Sauber Ferrari - Marcus Ericsson and Pascal Wehrlein.
QUALIFYING 1
Hamilton's lap of 1:37.627 in FP3 had been the fastest of the weekend so far, and the fastest ever at the Yas Marina circuit.
With the track cooler than it was in FP3, the times were coming down as Hamilton demonstrated by clocking a 1:37.391 and Bottas turning a 1:37.356.
The ambient temperature at the start of qualifying was 75 degrees Fahrenheit (24 degrees Centigrade) and the track temperature was 88 degrees Fahrenheit (31 degrees Centigrade). The track temperature in FP3 had been 109 degrees Fahrenheit (43 degrees Centigrade).
After the first round of runs, Bottas, Hamilton, Raikkonen, Vettel, Ricciardo and Verstappen were out front. The top four were all below the 1:38 mark.
Stroll was 16th and on the elimination bubble with Grosjean 15th and Wehrlein 17th.
Everybody used Pirelli's ultra soft compound slicks. Also available: soft and super soft.
With less than five minutes remaining in the 18-minute session most drivers were in the garages. With less than five minutes remaining, the 12th through 20th drivers were back in action.
The five drivers who didn't make it at the end of Q1 were: Grosjean, Gasly, Wehrlein, Ericsson and Hartley.
The fastest 15 drivers who moved on to Q2 were: Bottas, Hamilton, Raikkonen, Vettel, Ricciardo, Verstappen, Perez, Massa, Vandoorne, Hulkenberg, Sainz, Alonso, Ocon, Magnussen and Stroll.
QUALIFYING 2
The 15-minute Q2 session started at 5:25 p.m. local time. The sun set at 5:34 p.m. The race was scheduled to start at 5 p.m.
It was ultra tires for Bottas and Hamilton as they began their flying laps. Bottas' time was a 1:36.977, and moments later Hamilton clocked a 1:36.742.
Everybody else was on the ultras including Vettel and Raikkonen who set times of 1:37.034 and 1:37.464. Ricciardo grabbed fifth ahead of Hulkenberg, Verstappen and Perez.
As the sun set, Alonso was in 10th and on the cut line with Ocon ninth and Vandoorne 11th.
The track was quiet with four minutes left in the session. About 40 seconds later all the drivers filed back out.
Bottas improved to a 1:36.822, still not quick enough to beat Hamilton who did not improve his time.
The rest of the top 10 were Vettel, Raikkonen, Ricciardo, Verstappen, Hulkenberg, Perez, Ocon and Massa.
The five drivers who were eliminated at the end of Q2 were: Alonso, Sainz, Vandoorne, Magnussen and Stroll.
QUALIFYING 3
The final Q3 of the season lasted 12 minutes. Would anybody be able to knock Hamilton off his perch?
Out they all went. Raikkonen was first to cross the line, clocking a 1:36.985. Bottas then recorded a 1:36.231, beating Hamilton's 1:36.403 and Vettel's 1:36.859.
Verstappen was fifth ahead of Ricciardo, Hulkenberg, Ocon, Perez and Massa.
And so it came down to the final three minutes of qualifying for the season.
Bottas was slower on his final run, so was Hamilton. Vettel stayed third while Ricciardo jumped up to fourth ahead of Raikkonen and Verstappen. Hulkenberg, Perez, Ocon and Massa rounded out the top 10.