Abu Dhabi GP 2017
NOVEMBER 25, 2017
Practice 3 Report - A shady character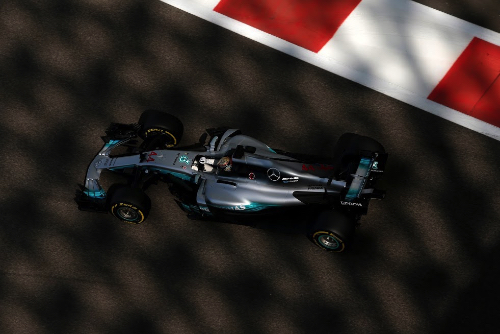 © RV Press
By Dan Knutson in Abu Dhabi
A shady character took to the track halfway through Free Practice 3 for the Abu Dhabi Grand Prix. It was a large umbrella that was blown onto the circuit at the end of the back straight. There was also a fast character on track in FP3. It was Lewis Hamilton who outpaced his Mercedes teammate Valtteri Bottas by clocking the fastest lap in the session.
The lineup for the weekend was: Mercedes " Hamilton and Bottas; Red Bull TAG Heuer " Daniel Ricciardo and Max Verstappen; Ferrari " Sebastian Vettel and Kimi Raikkonen; Force India Mercedes " Sergio Perez and Esteban Ocon; Williams Mercedes " Felipe Massa and Lance Stroll; McLaren Honda " Fernando Alonso and Stoffel Vandoorne; Renault " Nico Hulkenberg and Carlos Sainz; Toro Rosso Renault " Pierre Gasly and Brendon Hartley; Haas Ferrari " Romain Grosjean and Kevin Magnussen; Sauber Ferrari " Marcus Ericsson and Pascal Wehrlein.
The fastest lap, and also an unofficial lap record, on Friday belonged to Hamilton who turned a 1:37.877 using Pirelli's ultra soft compound slicks.
"It's been a really good Friday," Hamilton said after FP2. "It's been really positive, lots of good information today, lots of laps. Really long sessions they felt, felt like they went on forever and it's quite hot. It's more physical here than it's ever been, because the cars are quicker than they've been in the past - hot and your heart rate is higher than usual so it was a good work out today. I definitely feel it more after this Friday than last year.
"And the car's feeling good - we've got some improvements to make on both long and short runs but it's very close with Ferrari I think it's like within a tenth."
Vettel's Ferrari was the first car on track in FP3.
The ambient temperature at the start of the 60-minute session was 79 degrees Fahrenheit (26 degrees Centigrade) and the track temperature was 109 degrees Fahrenheit (43 degrees Centigrade).
Not much happened in the first dozen minutes until Raikkonen clocked a 1:38.999 on the ultra soft Pirellis. Then Vettel used the same compound to bring in a 1:39.152.
A couple of minutes later Hamilton crossed the line in a 1:38.702. Bottas beat that with his 1:38.637. Hamilton responded by setting a 1:38.159.
Raikkonen was now third, and the only other driver below 1:39, albeit barely with his time of 1:38.999.
So, just before the midpoint of the session, the order was: Hamilton, Bottas, Raikkonen, Vettel, Ricciardo, Verstappen, Alonso, Sainz, Hulkenberg and Perez. All 20 drivers were using the ultras.
Then the VSC was deployed as a large umbrella blew onto the track at Turn 8. A marshal retrieved the errant shading parasol.
Twenty-two minutes remained when Raikkonen sliced 0.002 of a second off of Hamilton's fastest time. Then Bottas had a lurid slide out of the last corner but managed to keep the car off the wall.
Vettel improved to third, with a 1:38.174 that was 0.017 of a second slower than his teammate.
Hamilton was back on top with 16 minutes to go when he slammed in a 1:37.627. Bottas claimed second with a time of 1:37.900.
The order with 10 minutes to go was Hamilton, Bottas, Raikkonen, Vettel, Verstappen, Alonso, Ricciardo, Vandoorne, Hulkenberg and Massa.
Five minutes later Ricciardo slid into fifth.
The final top 10 ended up being: Hamilton, Bottas, Raikkonen, Vettel, Ricciardo, Verstappen, Alonso, Vandoorne, Sainz and Perez.